The Masked Singer: Fans Believe The Russian Dolls Are This '90s Band With A Super Loyal Fanbase
The Masked Singer is one of the most delightfully bizarre shows on television, so it's only fitting that the most talked about contestant of Season 5 is a couple of Russian dolls, which may or may not contain more than two people and whose performances will send chills down any music lover's spine. When they first performed on The Masked Singer in early March, it began as one large Russian doll, crooning Michael Jackson's "Man In The Mirror." It was a jaw dropping performance, until another, small doll was revealed behind the first, in perfect harmony and the judges looked like they had lost their minds. 
There were many reasons that the performance was so exciting. Judge Jenny McCarthy exclaimed, "Wait, it's two voices?!?!" showing just how shocking the reveal that it might be more than — or even two! — people was. And then there was just the quality of the performance. In another clip, the dolls perform "Shallow" from A Star Is Born and people in the audience are visibly moved. There's just something about these Russian Dolls, and if you listen closely and think about the choice of the music they're performing, it's easy to see why Masked Singer fans think they've already figured out who's underneath the costumes. Clearly, we don't want to spoil a Masked Singer identity, but if it does turn out to be who fans think it is, it would be every '90s kid's dream.
The Russian dolls are clearly this 90s boy band
The thing about Russian dolls is that they multiply, as they did into two during their first performance on The Masked Singer. It's unlikely that another doll will come out this season, because it just wouldn't make sense, but given the size of the first doll, fans believe that there are two people in the large doll costume and one in the smaller one. So we're talking about a three person performance group. In the YouTube comments under a video a of their performance of Michael Jackson's "Man In The Mirror," fans are convinced that they hear three voices in all. In fact, one sleuth even feels that you can hear the different voices come in at the 0:08, 0:26, and 0:43 marks. So who is it? Fans think its Hanson, and if you go in with that knowledge (and knowing that they are way more than "Mmmbop") it's hard not to hear it. 
As user Lisa H. wrote, "90s kids rejoice, it's Hanson! Starts out with Zac, then in comes Ike, and then Taylor comes in for the chorus. Taylor's voice is and always has been unmistakable, but unless they've been following them for years and have heard their more mature albums, most people don't know how Isaac and Zac sound solo nowadays." Every Hanson fan is convinced. 
Fans think it's obvious that the Russian dolls are Hanson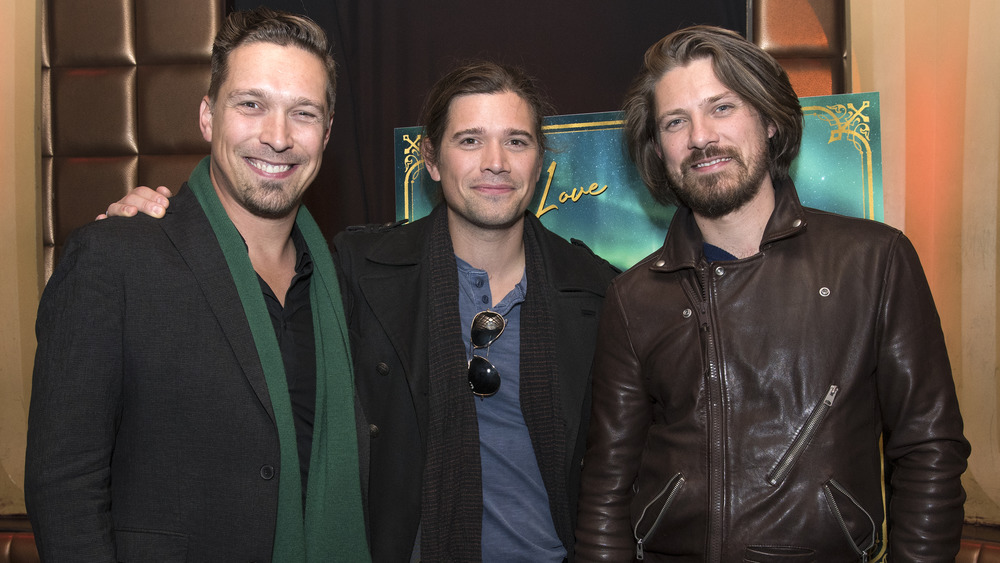 Debra L Rothenberg/Getty Images
For once, the YouTube comments are actually almost all in agreement when it comes the Russian Doll's performance of "Man In The Mirror" on The Masked Singer. One person wrote, "Hanson!! I've never been so freakin sure in my LIFE!!! I hear All 3 of them! They're so clever!TAYLOR GIVES IT AWAY!! Even Ike gives it away, zac is the sneaky one!" Another fan added, "Isaac and Zac in the big doll and Taylor in the smaller one." A comment under their performance of "Shallow" thinks that the Masked Singer is about to give the band a comeback. "I think the world is about to rediscover Hanson. These brothers have spent decades blending and crafting these beautiful harmonies! Outstanding arrangement," the user wrote. On Instagram, another person wrote, "Well this is INSANELY obvious lmao." 

It does seem likely that its the Hanson fam in those brightly-painted Russian doll costumes, though not everyone is convinced. On Instagram, other people think they hear Dan + Shay, Bruce Springsteen, and even the Boss's wife, Patti Scialfa. But listen again. It's totally the Hanson brothers.