The Masked Singer: Fans Believe Seashell Is A Famous Twin
Season 5 of Fox's The Masked Singer premiered on March 10, 2021, and it appears to still be the nation's favorite guessing game. The popular show not only continues to have fans trying extra hard to figure out who is underneath the interesting costumes, but it's also full of surprises. Seashell made their performance debut during the season's first episode and stunned the panel — Nicole Scherzinger, Jenny McCarthy, Robin Thicke, and Ken Jeong — with their voice. Scherzinger noticed they were nervous before singing, but that didn't stop them from slaying a rendition of Roxette's "Listen To Your Heart."
In their first clue package, Seahorse revealed that when they were young, they went "all around the world" with their family. They "never felt grounded," but ended up "[finding] peace by the shore." When Seashell's "career took off," it felt "like a massive tsunami of success." They were seen wearing a cowboy hat and playing with a witch's broom. During one part of the clip, a chameleon was shown. They also admitted, "I'm nervous. I haven't sang in a really long time, but I want to face my fears."
The panelists' guesses were quite literally all over the place. Jeong said Anne Hathaway, Sarah Jessica Parker, and Kristin Chenoweth. Scherzinger assumed the cowboy hat could be a Texas clue, so she went with Dakota Johnson, Hilary Duff, and Renee Zellweger, while Thicke guessed Jessica Simpson and Jennifer Love Hewitt. However, fans on social media think they've figured out who Seashell could be.
Fans believe Seashell could be the iconic Tia or Tamera Mowry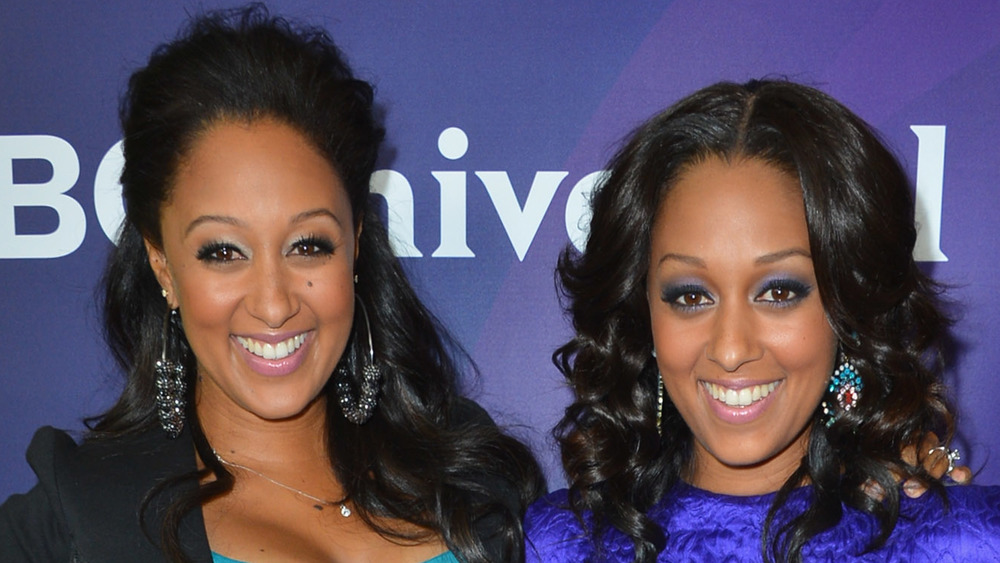 Alberto E. Rodriguez/Getty Images
After guessing a whole bunch of names, it seems the panel is not quite 100 percent confident with their choices. After all, they've only seen Seashell perform once at this point. However, some viewers already feel certain that Seashell is one half of a famous duo that the panelists didn't even mention: Sister Sister actors Tia and Tamera Mowry.
"I got Tia/Tamera vibes for the sea shell on masked singer," one user tweeted, while another person shared, "Seashell = Tia or Tamera Mowry." As a third viewer remarked on Twitter, "So the seashell on The Masked Singer is 100% Tamera Mowry-Housley and if I'm wrong about that ima be shocked cause it's definitely her. Lol."
While the clue package didn't give away which twin it could potentially be, it seems social media think it's more likely Tamera — and that could possibly be the case. In a 2019 episode of The Real, the actor-singer (who has since left the talk show) admitted she would take part in The Masked Singer if she were asked. The following October, Tamera told O, The Oprah Magazine that she hopes to release her own music, saying, "I want to sing so badly. I want to do like a Christmas album, an inspirational album. I grew up listening to gospel."
Seashell has yet to be unmasked and currently remains in the competition, meaning fans will have to keep watching and stay tuned to find out if Tia or Tamera Mowry is actually underneath the mask.