Lavender From Matilda Has Grown Up To Be Gorgeous
There are several movies that remind us of our childhoods, but there's no other movie that kicks in the nostalgia better than the 1996 cult-classic film, Matilda. Based on Roald Dahl's children's novel of the same name, Matilda follows the story of the 6-year-old title character (Mara Wilson) who uses her telekinetic powers and intellectual prowess to manage life with her distant, unmotivated family and an oppressive school principal. Matilda received great critical response following the release of the film in August 1996. Additionally, the film grossed $33.5 million in the United States, per Box Office Mojo. The Dahl-inspired film still remains relevant over two decades later. Matilda is making its way back to our TV screens in Netflix's adaptation of the musical, per Playbill.
As much as Matilda is a memorable character in the title film, we can't forget her adorable, blossoming friendship with her classmate Lavender. If you're wondering how Lavender looks today, read on!
Kiami Davael doesn't look recognizable from her Matilda days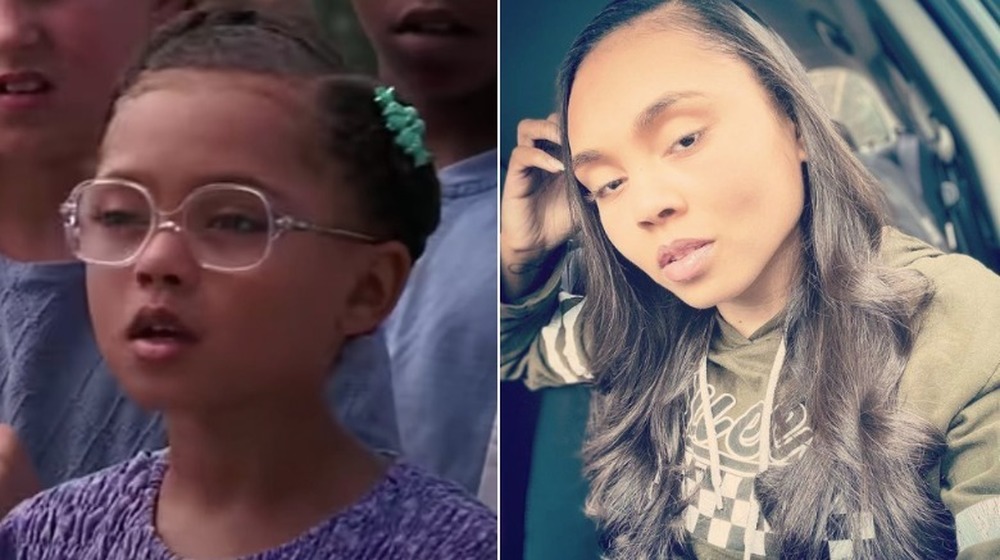 YouTube, Kiami Davael/Instagram
Matilda didn't always cross paths with friendly faces in the film, but her best friend Lavender shows her that kindness exists among good people. Lavender, played by Kiami Davael, befriends Matilda while the two are hiding on the school playground away from their crude principal Miss Trunchbull. Much similarly to Matilda's signature red hair bow, Lavender notably wore large glasses and braids with colorful clips.
Although we may remember her in her role as the tiny, innocent Lavender, Davael doesn't look recognizable from her Matilda days. All grown up, Davael wears several hats as an actress, singer-songwriter, model, and screenwriter. The Kentucky native has also made appearances in sitcoms such as Moesha and The Steve Harvey Show. As of March 2021, Davael maintains an active social media presence on Instagram, where she regularly shares selfies, fan-submitted content, and adorable candids of her nieces and nephews. It's been a while since we've seen Davael on our film screens, but we can't help but remember her iconic character!