The Truth Behind Mariah Carey's New Year's Eve Performance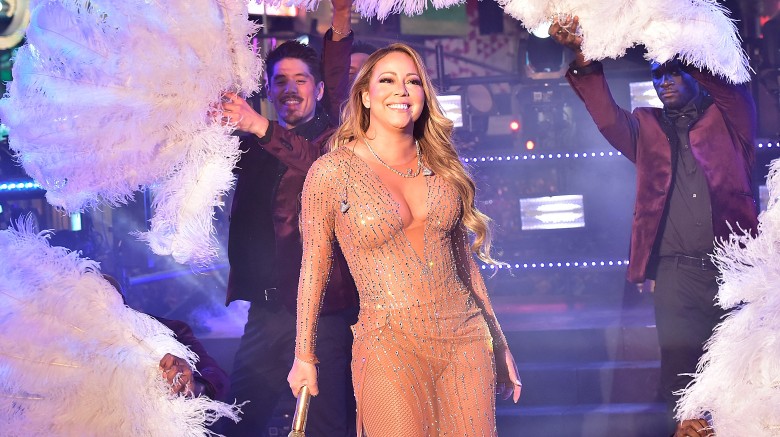 Getty Images
As bonkers as 2016 was, it probably shouldn't be too surprising that its final send-off soiree somehow went awry, but the fact that Mariah Carey's New Year's Eve performance for Dick Clark's New Year's Rockin' Eve with Ryan Seacrest was such a spectacular fail has some jaws still planted on the floor. The cringeworthiness of the moment has caused the network and Carey's team to engage in a public back-and-forth bout over who's to blame for the epic end-of-year flub, so here's a review of what happened and the conflicting party reasons as to why things went so south on-stage.
What we saw
For those that somehow missed the stunning series of mortifying miscues, it's worth the six minutes of secondhand embarrassment just to understand how messy things were for her during the show. In short, spectators noticed from the start that the audio on her rendition of "Auld Lang Syne" didn't quite match up with her lip movements, and when her the next song, her own hit "Emotions," began, she came back through and announced to the crowd that she couldn't hear but would "get through the moment" and that she didn't have a sound check for that song. For the next few minutes, she proceeded to prance (and be awkwardly guided by her backup dancers) around the stage and belt out just a line or two, complaining, "we're missing some of this over, but it is what it is."
After the song was finished, a visibly frustrated Carey proclaimed, "that was ... amazing." Then, even when the audio for the third song, "We Belong Together," came on properly, she seemed to give up on trying to keep in sync with the voiceover, ultimately dropping the mic and shrugging her shoulders at the unrecoverable moment and saying things like, "This song went to number one, so it is what it is," and "I want a holiday, too. Can I not have one?" It was a big ball of yikes that dropped right on her head, and now everyone's talking about it. So, how did this happen? This is the part where the finger-pointing comes in.
The blame game begins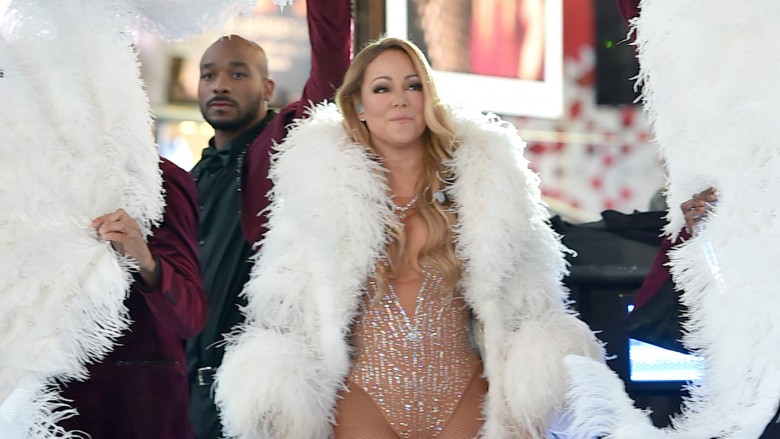 Getty Images
Shortly after the show, Mariah took to Twitter to declare "sh*t happens" in an effort to brush off the negative buzz, but her reps took it a step further. Her manager Stella Bulochnikov told Billboard that the blame lay solely with the production team behind the event, saying, "we told them that the in-ears were not working 10 minutes before the performance [and] they then changed the battery pack, and they were still not working on the frequency four minutes before the show. We let them know again, and they just kept counting her down and reassuring her that they will work as soon as they go live, which never happened—at which point she pulled them out but could not hear the music over the crowd." She also denied any allegations that Carey didn't rehearse for the performance, saying that she showed up several hours beforehand to ready for the show but that "production set her up to fail."
What about the lip-syncing?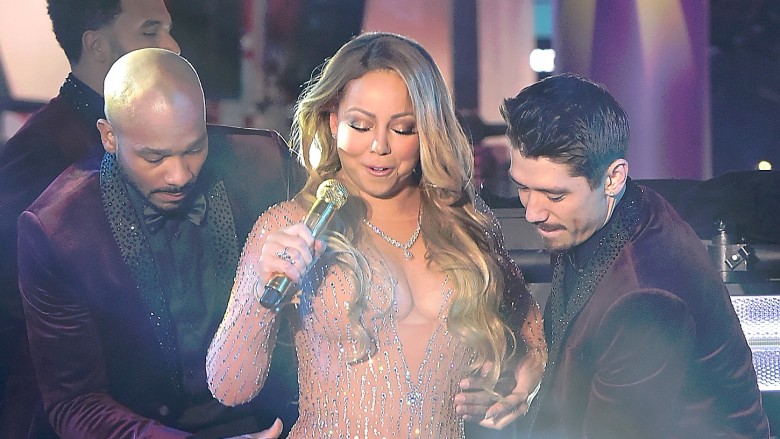 Getty Images
Once upon a time, an artist being caught in a moment of lip-syncing might be a full-on career killer (see also: Milli Vanilli and Ashlee Simpson), but the stigma of such an increasingly common stage technique has subsided some. Consider how well Beyonce has weathered the storm of being caught lip-syncing her inaugural "National Anthem" performance in 2012. Even so, there are some who have criticized Carey's perceived use of pre-recorded audio for this show, but Bulochnikov claimed that it was "not uncommon for artists to sing to track during certain live performances" in a statement obtained by ABC News. "Any allegations that she planned to lip sync are just adding insult to injury," the statement continued.
Deny, deny, deny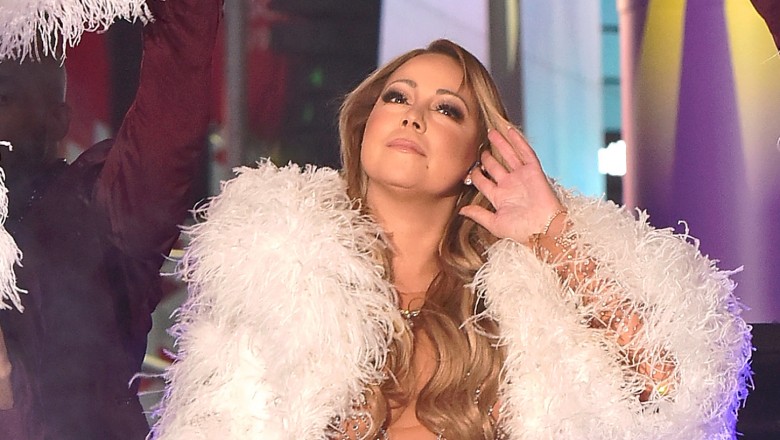 Getty Images
Countering Carey's rep's statements to Billboard, some sources from the production side of things have painted a very different picture of what went down in the final moments of last year. One such claimed that while she did have time to rehearse the performance, she chose not to and all the music that was used during the performance was provided for her own team alone. Meanwhile, audio producer Robert Goldstein told the New York Times that he disputed any supposed in-ear technical issues and claimed that whatever went wrong with the performance had nothing to do with the sound functionality.
Producers of the show eventually offered their own rebuke to Carey's rep's suggestion of sabotage to Entertainment Weekly, calling the claim "absurd." "As the premier producer of live television events for nearly 50 years, we pride ourselves on our reputation and long-standing relationships with artists," they explained. "To suggest that [Dick Clark Productions], as producer of music shows including the American Music Awards, Billboard Music Awards, New Year's Rockin' Eve and Academy of Country Music Awards would ever intentionally compromise the success of any artist is defamatory, outrageous, and frankly absurd. In very rare instances there are of course technical errors that can occur with live television, however, an initial investigation has indicated that [we] had no involvement in the challenges associated with Ms. Carey's New Year's Eve performance."
He said … and she said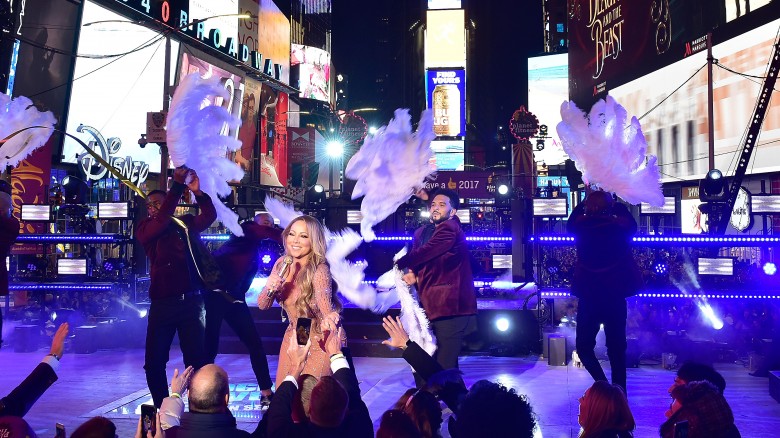 Getty Images
In response to the production team's statement, Carey's reps again fired back and told Entertainment Weekly that the company was "sloppy and unprofessional" to allow Carey to carry forward with a glitchy device and that, while they might not have purposefully caused her to fail on-stage, their lack of apology for "failing to do a good job producing her performance" left Carey shouldering all the blame for the showstopping disaster.
The nitty gritty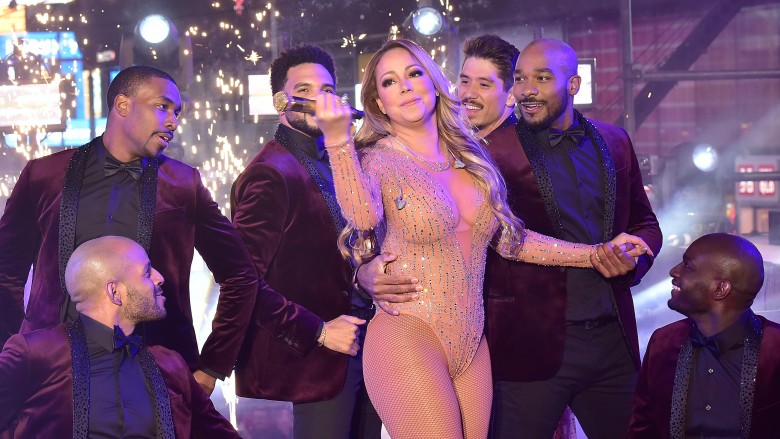 Getty Images
Once it was clear the story wouldn't be buried in the mire of other New Year's items, Carey's rep again spoke with Entertainment Weekly to offer even more insight into her team's perspective on the letdown and doubling down on the assertion that it was an earpiece malfunction which caused her so much trouble.
"So, right when it goes live, she can't hear anything. The ears are dead. They're dead. So she pulls them out of the ear because if the artist keeps them in their ears then all she hears is silence. Once she pulled them off her ear she was hoping to hear her music, but because of the circumstances—there's noise from Times Square and the music is reverberating from the buildings—all she hears is chaos. She can't hear her music. It's a madhouse. At the point, there's no way to recover," Bulochnikov explained. "On the third song when she could hear her track playing it was so bad she said, "F— it, I've had enough."
Bulochnikov added that she believes her client did make one mistake along the way, saying "She should have walked off and thrown the mic at somebody's head—that would have been a great moment." She also threw one more jab in at the team behind the show by claiming that producers "begged her to do" their show and that when she called them back after it aired on the east coast and asked them to cut the west coast feed, they declined to do so.
"He said, 'We just won't do it. Do you want to do a joint statement?' And I said, 'No, I want you to go f*** yourself,'" she recalled. "[The producer's] direct request was, 'I'm begging you to do this. America needs this moment after Donald Trump, etc.' What a bunch of nonsense ... when it didn't work [when live], when she pulled her ears out, they should have cut to commercial. That says to me they wanted a viral moment at any expense." Whether they orchestrated the viral moment by design or not, they certainly got it.
The aftermath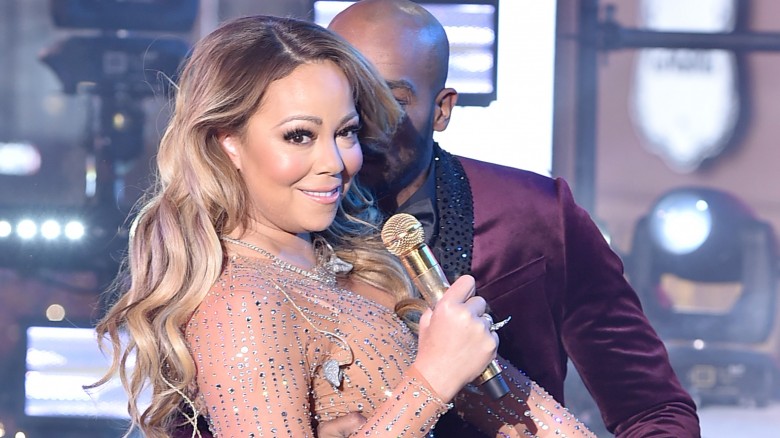 Getty Images
According to Bulochnikov's chat with Entertainment Weekly, Carey's response to the hubbub surrounding her flailing effort on the New Year's show stage has been to "ignore" the bad buzz. "She's got so many more important things to do. And this goes under the heading of 'no good deed' because she was doing them a favor." However, according to Carey herself, the impact has definitely been felt during her subsequent retreat from the spotlight.
Speaking to Entertainment Weekly, she revealed that she was "mortified" during the show and that while it won't affect her future in doing live shows, "it will make [her] less trusting of using anyone outside of [her] own team." She also added that she doesn't believe the show's namesake would've allowed things to unfold as they did. "All I can say is Dick Clark was an incredible person and I was lucky enough to work with him when I first started in the music business. I'm of the opinion that Dick Clark would not have let an artist go through that and he would have been as mortified as I was in real time," Carey said.