Why Kat Von D Decided To Blackout Some Of Her Tattoos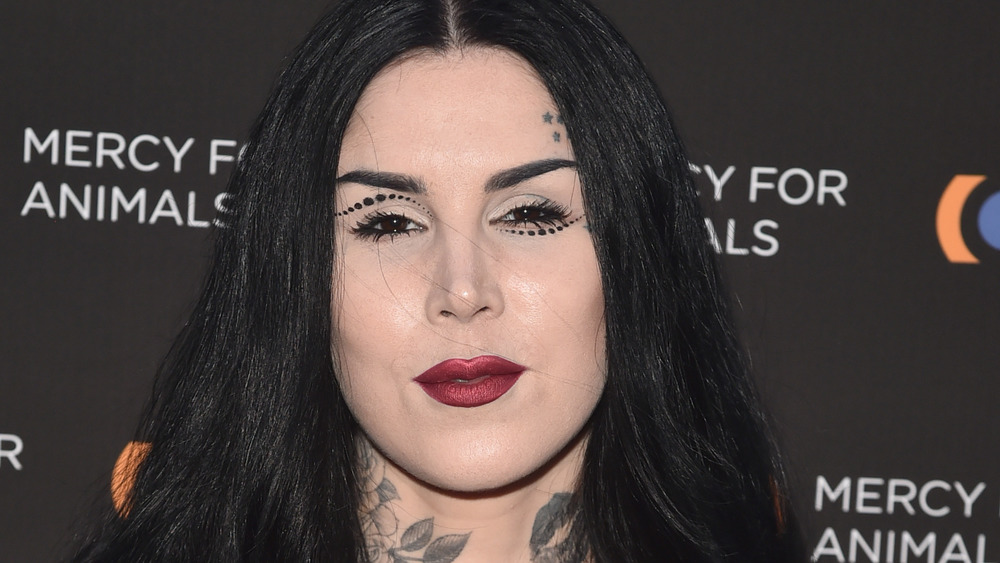 Alberto E. Rodriguez/Getty Images
Reality star Kat Von D has gone through many transformations since first appearing on Miami Ink. The tattoo artist expanded her empire with spinoff L.A. Ink, founded an eponymous makeup brand, started a singing career, began designing shoes, and became a wife and mother. In fact, Von D has made millions with her entrepreneurial spirit — but now she's also opted to change her signature tattoos. 
Von D had a rocky path to stardom riddled with feuds and A-list exes. But some don't realize that the versatile makeup mogul began practicing sober living in 2007 due to alcohol affecting her career. "When I realized that drinking was getting in the way, I woke up one day and said I don't want to drink anymore, and it stuck," Von D admitted on The Rosie Show in 2012.
Von D later posted on Instagram in October 2017 to commemorate her decade of sobriety. "Look at old photos from back when I used to drink + get high is a tough one for me," Von D captioned. "I looked like I was probably just having a good time...but if you look closely, I was obviously desperately hurting." 
While Von D doesn't regret her "drunken past," she also doesn't look back fondly at that era. In late 2020, she took a further step to remove reminders of her partying days from her life — and body. Keep scrolling to find out why Von D decided to blackout some of her iconic tattoos!
Kat Von D removed her ink from her past life
Kat Von D unveiled a striking new look in December 2020 on Instagram. The tattoo artist chose to blackout the tattoos that covered her right forearm, per Pop Buzz, leaving "only a portrait of her father visible." Why? Von D didn't keep fans guessing for very long. 
"Feels so good to finally cover up so many of the tattoos I got back when I used to drink," Von D captioned on Instagram. "Those tattoos meant nothing to me but landmarks in dark times...Now my arm looks so nice and clean, and the portrait of my Father stands out even more." 
Von D similarly received a blackout tattoo in November 2019 that garnered backlash from fans claiming it was bad for her health. Von D addressed any possible negativity towards her second all-black tattoo in the December 2020 caption. "I don't think there should be room for criticism when it comes to self expression, and a tattoo is personal to the person wearing it," she continued. 
Von D also told fans that she tried laser tattoo removal in the past but that the procedure would have been too rigorous on her skin. "I also love the simplistic look of this so it was a win-win," Von D commented. She's blacking out any reminder of a harmful past, and cheers to that!