How Robert Kraft Feels About Tom Brady Today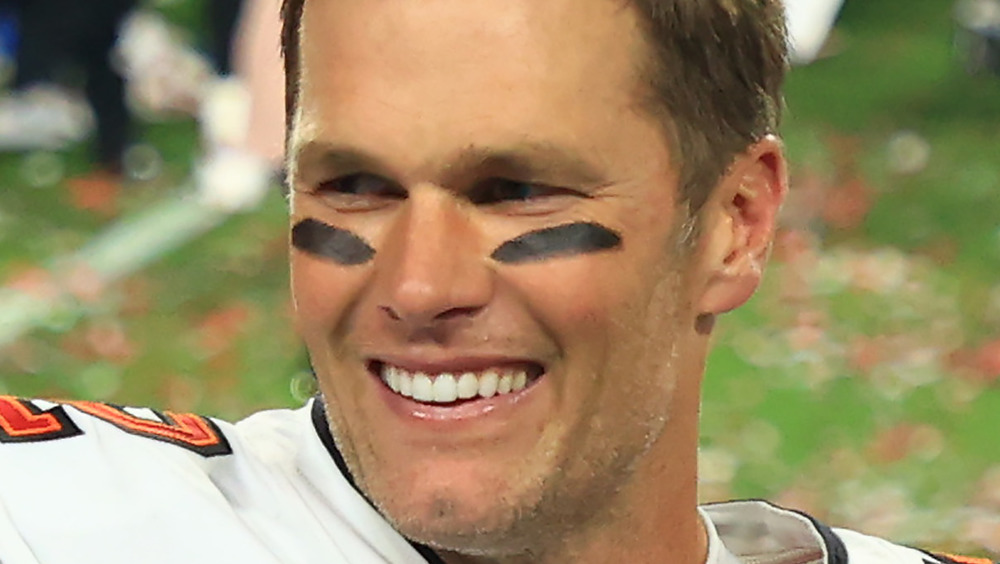 Mike Ehrmann/Getty Images
New England Patriots owner Robert Kraft and his former star quarterback Tom Brady used to be extremely close. In fact, in March 2020, Kraft told ESPN that he loved Brady "like a son" shortly after Brady's decision to leave the Patriots became headline news. Over the two decades that Brady played for New England, fans witnessed a very special bond between him and Kraft, but once Brady decided to trade in his snow shoes for sunglasses, many wondered how his relationship with Kraft would fare. 
Brady's decision to sign with the Tampa Bay Buccaneers ended up being a good one: He led his new team to a Super Bowl win in his first season as a non-Patriot, earning himself his seventh Super Bowl ring in 2021. Many people found themselves wondering how Kraft felt about Brady's success, and whether he harbored any ill feelings after losing the greatest thing to happen to New England, maybe ever. So, where does Kraft and Brady's relationship stand today? Read on to find out.
Robert Kraft maintains that he's happy for Tom Brady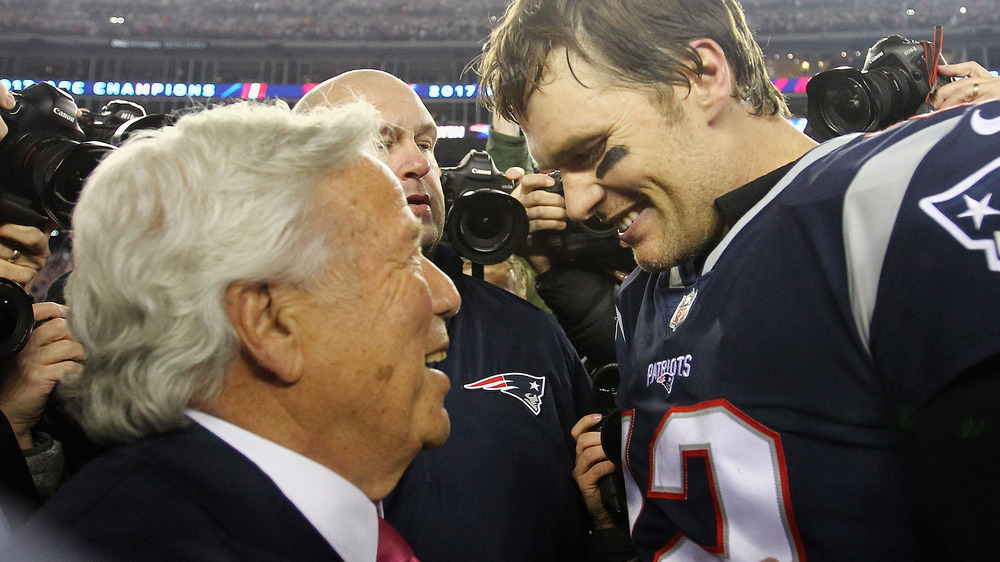 Jim Rogash/Getty Images
In a March 2021 Sports Illustrated interview, Robert Kraft revealed how he really feels about Tom Brady — and not much has changed since Brady left the Patriots. "I was really happy for him. He's a great guy and he gave us 20 wonderful years, and he made the choice to do what he wanted to do," Kraft said. "Look, I wasn't that happy to see him leave, but we gave him that opportunity to do it. And I want to say if we're not going to win, and someone's got to do it, I'm happy for him. He deserves it."
Kraft's latest remarks about Brady echo what he told CBS Sunday Morning in February 2021. He said he was "rooting for Tom Brady," adding that he was "so excited" to watch him in the postseason. Calling Brady "a special human being," Kraft continued to sing his praises. "We were privileged to have him here for two decades, and he's one of the finest human beings I've ever met. He knows how to lead, and I wish him well."
Hopefully Kraft is able to keep up those happy feelings, because Super Bowl LV most likely won't be Brady's last rodeo. Brady has a four-year contract extension with Tampa Bay, which is worth $50 million (plus $9 million in incentives), according to Sporting News. As the site notes, Brady's new contract ranks him 12th among current NFL quarterbacks' salaries.