Prince Harry And Prince William's Reconciliation Could Be Sooner Than We Think
Chris Jackson/Getty Images
Prince Harry and his older brother Prince William have been at odds for quite some time. Harry confirmed this long-rumored information during a March 7, 2021, interview with Oprah Winfrey that aired on CBS. Of course, since that interview, Harry's relationship with William has become even more strained. Oprah's friend Gayle King apparently spoke with Harry and his wife Meghan Markle, and found out that Harry had spoken with his brother, but Gayle said that the conversation was "not productive" (via CBS This Morning).
Now that Harry and Meghan live in the United States, it has become more challenging for them to mend relationships with the royal family; the long distance certainly won't help Harry and William work out their differences any faster. However, the two princes have an upcoming engagement that they are both slated to attend, according to Fox News, and that date is fast-approaching. And while Harry and William could both show up to the event while still angry at one another, it sounds like a reconciliation may happen whether they are expecting it to or not. Keep reading to find out why.
Prince Harry and Prince William are slated to appear together in July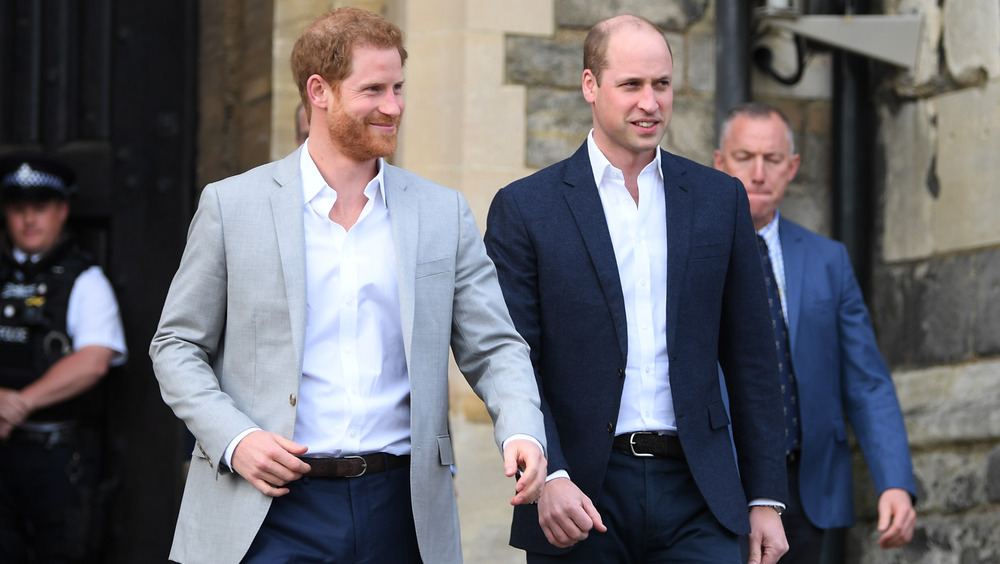 Shaun Botterill/Getty Images
Prince Harry and Prince William are scheduled to be in the same place at the same time sooner than we think. According to Fox News, the brothers will be attending the unveiling of a new statue of their late mother, Princess Diana, which is scheduled to take place on what would have been her 60th birthday — July 1, 2021. Royal author Anna Pasternak told Fox News that the two reconciliation between the two brothers may happen on that very day, as the two will be together at Kensington Palace for the special occasion. 
"The greatest hope of reconciliation lies in the memory of their mother. That is what will unite them still today. I believe they will put their differences aside for her. And I believe there is a possibility of us witnessing that at the unveiling," Pasternak told Fox News. The statue of Lady Di was commissioned by the Duke of Cambridge and the Duke of Sussex back in 2017. Its unveiling will undoubtedly be an emotional moment for both Harry and William as they get to see the sculpture for the very first time together. The memory of their mother, coupled with her tragic passing that has united these brothers for decades, may prove to be the key to mending their broken relationship.