Chadwick Boseman's Wife Sparks A Call To Action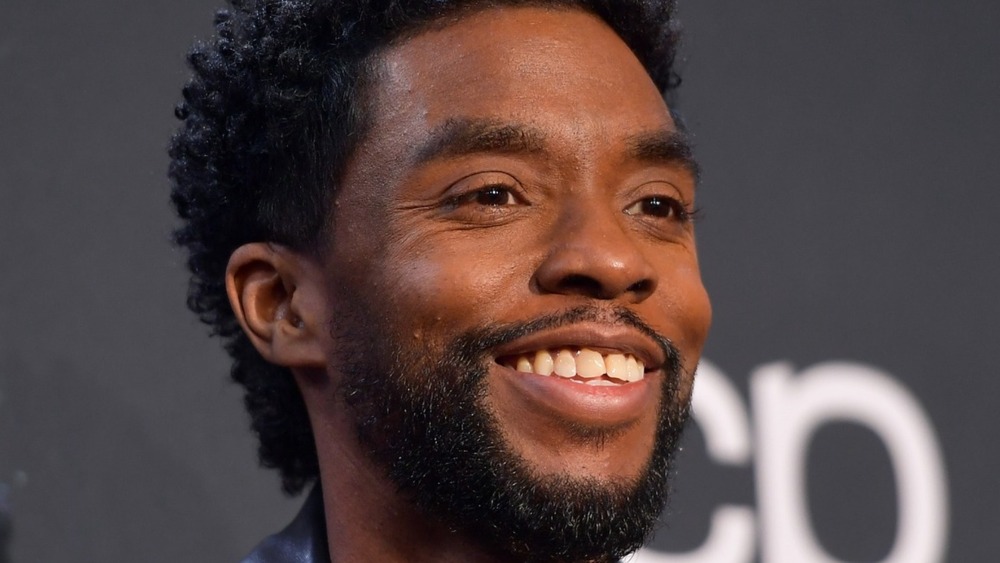 Matt Winkelmeyer/Getty Images
Chadwick Boseman's widow, Taylor Simone Ledward, sparked a touching call to action when she accepted an honor for her late husband at the NAACP Image Awards on March 27, 2021. The beloved Black Panther star tragically died at the age of 43 in August 2020 of colon cancer. However, he earned multiple nominations for his work during the latest awards season, and his wife has made several heartbreaking speeches on his behalf.
In January 2021, for example, Ledward delivered a speech at the 30th Independent Filmmaker Project Gotham Awards that was particularly moving to fans. "Chad made a practice of telling the truth. He is the most honest person I've ever met, because he didn't just stop at speaking the truth, he actively searched for it; in himself, in those around him and in the moment," she said when Boseman was posthumously honored with an Actor Tribute for his work in Ma Rainey's Black Bottom (via Indiewire). She added, "The truth can be a very easy thing for the self to avoid, but if one does not live in truth, then it's impossible to live in line with a divine purpose for your life."
Utilizing her latest acceptance speech to motivate the audience to take action, Taylor Simon Ledward carried on Chadwick Boseman's legacy of facing the truth at the NAACP Image Awards.
Taylor Simone Ledward encouraged the Black community to get screened for colon cancer
When Taylor Simone Ledward accepted an NAACP Image Award for late husband Chadwick Boseman's work in Ma Rainey's Black Bottom, she used the moment to raise awareness and encourage viewers to get screened for colon cancer.
After thanking the NAACP Image Awards for honoring Boseman's work with the outstanding actor in a motion picture award, Ledward said in her emotional speech: "He was an uncommon artist and an even more uncommon person. But the manner in which we lost him is not uncommon at all. Not in our community." She then shared the alarming truth about colon cancer in the Black community: "Black people in this country are 20 percent more likely to be diagnosed with colon cancer and 40 percent more likely to die from it." Explaining that colon cancer is a "beatable" form of cancer, if caught early, Ledward then urged Black people to get tested, "even if you have no family history and even if you think that nothing is wrong." Noting that the screening age has been lowered to 45, she asked those younger to "please be proactive about your health."
Concluding the speech, Ledward gave viewers a website to visit about colon cancer symptoms, saying, "Please, you are so needed and you are so loved. Please take your health into your own hands." BET later amplified the message, tweeting, "We can honor his legacy by visiting https://standuptocancer.org/coloncancersymptoms to gain awareness."