Here's Why Carrie Fisher Isn't On The Hollywood Walk Of Fame Yet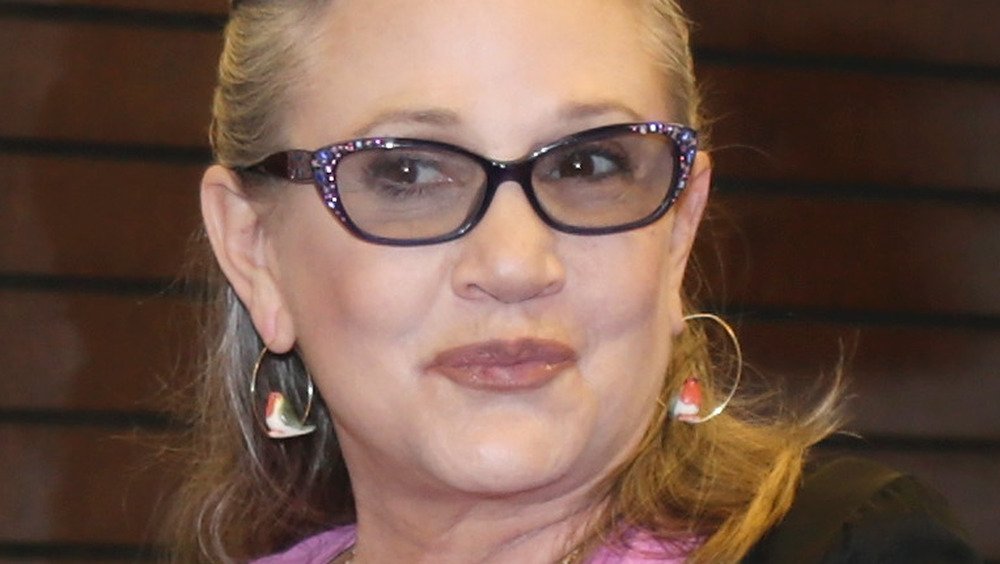 Jerritt Clark/Getty Images
Carrie Fisher is one of the most successful actors of all time, and her impact can be felt throughout the Star Wars universe and beyond. The actor passed away on Dec. 27, 2016, due to "sleep apnea and other undetermined factors," according to CNN. Her death shocked Hollywood, and she left a legacy for generations to come.
Fisher is best known for her role as Princess Leia in Star Wars. The actor opened up to NPR before her death, dishing about that famous gold bikini when Jabba the Hutt chained her up in Return of the Jedi. It was not her favorite scene to film, and she "couldn't wait to kill him."
She recalled, "It was like, 'Where am I in all of this?'... I have to stay with the slug with the big tongue! Nearly naked, which is not a style choice for me... It wasn't my choice. When [director George Lucas] showed me the outfit, I thought he was kidding and it made me very nervous. I had to sit very straight because I couldn't have lines on my sides, like little creases. No creases were allowed, so I had to sit very, very rigid straight."
Despite that less-than-pleasant memory, Fisher's iconic run as Princess Leia certainly calls for a star on the Hollywood Walk of Fame, but you will not find her on the famous stretch of pavement. Keep reading to see why Fisher does not have a star — at least not yet.
Fans created an unofficial memorial for Carrie Fisher after her death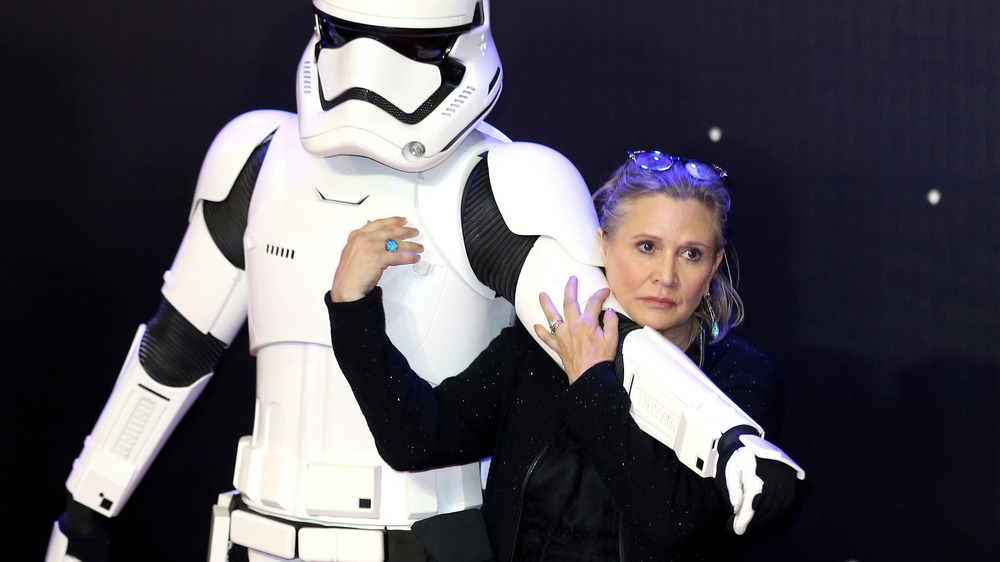 Chris Jackson/Getty Images
Fans were quick to create a star for Carrie Fisher after her death in December 2016, according to Variety. They found an unused square near Orange Drive and Hollywood Boulevard, writing, "May the force be with you. Always hope." Fans wrote out her name and decorated the area with flowers and cinnamon rolls, just like her Princess Leia hairstyle in the Star Wars movies.
Walk of Fame producer Ana Martinez let the memorial stay for a bit, telling The Wrap, "It's done with details, it's not damaged. We want the fans to have a place to mourn." Martinez told the outlet at the time that Fisher was never nominated for a star when she was alive, however, in an interview with Nicki Swift in July 2021, she revealed that Fisher's brother had nominated her posthumously after waiting what was then a five-year waiting period following a star's death (that period has since been reduced to two years). 
Fortunately, and to the delight of Star Wars fans everywhere, Fisher nabbed the one posthumous award that is handed out each year for the Hollywood Walk of Fame Class 2022. As of June 2021, no dates had been set for the ceremonies, but we're sure that when the time comes, fans will don their best cosplay and turn out for the event.