The Real Meaning Behind Demi Lovato's 'Met Him Last Night' With Ariana Grande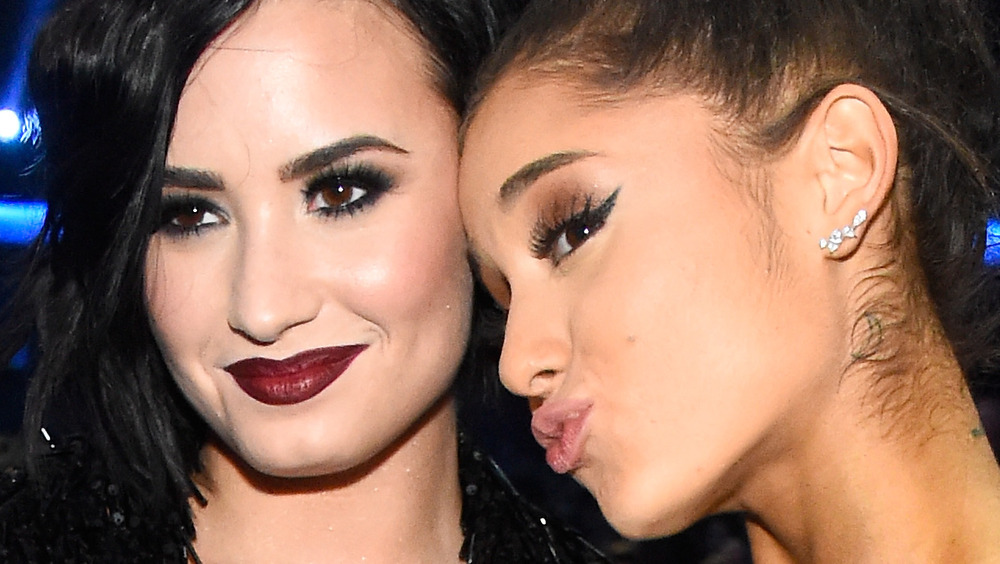 Frazer Harrison/ama2015/Getty Images
Not only do Demi Lovato and Ariana Grande share a manager (cc: Scooter Braun), but they also share a deep bond. "I love the fact that Ariana and I have such a supportive friendship because it's hard to find," Lovato gushed to Harper's Bazaar in April 2020. "Two women who are in a competitive industry—the whole world seems to want to pit women against each other, so it would be so easy to do that."
The feeling is mutual for Grande, who helped Lovato link up with Braun. "Demi and Ari went for coffee," the famed music manager recalled during a March 2020 chat with model Ashley Graham. "Ariana called me later like, 'You have to do this — I want her with us. She's in our family! She'll be protected, and she's my friend. I want you to help her.'" Aw.
Considering the two are so close, it made perfect sense for Grande to lend her vocals on a track from Lovato's seventh album, Dancing With the Devil... The Art of Starting Over. So without further ado, here's everything you need to know about the duet, "Met Him Last Night," released April 2, 2021.
'Met Him Last Night' talks falling for the wrong one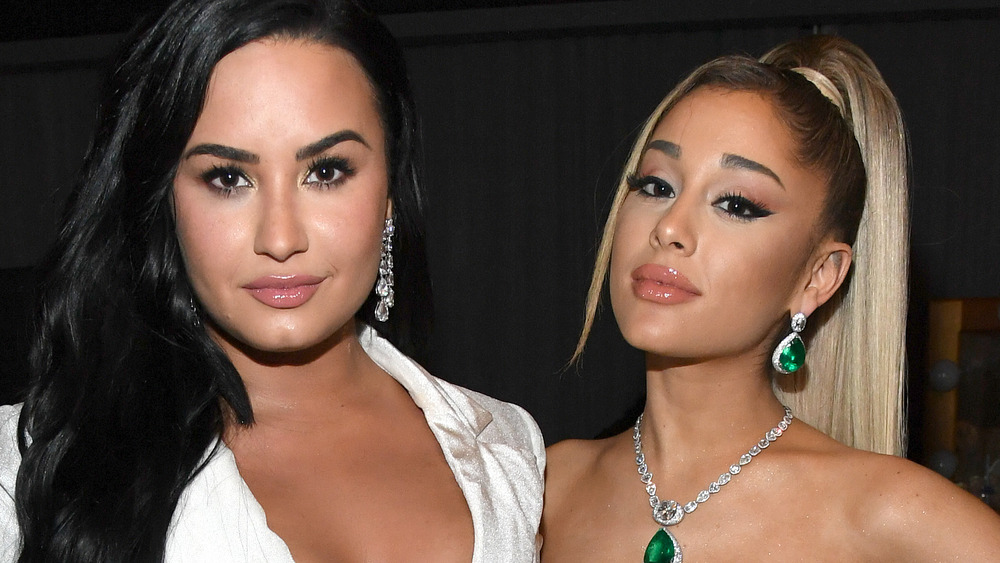 Kevin Mazur/Getty Images
Demi Lovato's vocals come through first on the track, with the singer crooning, "Late at night, I'm sippin' as you pass me by/Red or white, you pour another, say 'It's fine.'" Uh-oh —trouble ahead. Lovato sings about "seeing right through" this person — and with the help of Ariana Grande — makes it known how she feels about the mysterious character. "I seen the devil, yeah, I met him last night/Had conversations, yeah, I think he's alright/Seem kinda funny, yeah, he kinda my type."
But right when you think there could be a positive outcome, the chorus darkens the possibility. "I seen the devil, yeah, I met him last night/One conversation, now he spendin' the night/ I think I Iove him, though I know it ain't right." Grande takes the shade a step further, accusing the person of taking advantage of her innocence.
Of course, it's more than possible Grande and Lovato are referencing relationships from their past. Lovato ended an engagement to Max Ehrich in September 2020, and the split was not amicable. "We were only together four to five months, and like, honestly, it was false advertising," Lovato admitted in her Dancing With the Devil docuseries, per Us Weekly. As for her Grande? Although Grande got engaged in December 2020, she has had her fair share of heartache, including a highly publicized breakup from Saturday Night Live's Pete Davidson. "BOTH OF THEM WERE ENGAGED TO MESSY CLOUT CHASERS," one fan tweeted about the theory. Hmm.