The Truth About Justin Thomas' Girlfriend Jillian Wisniewski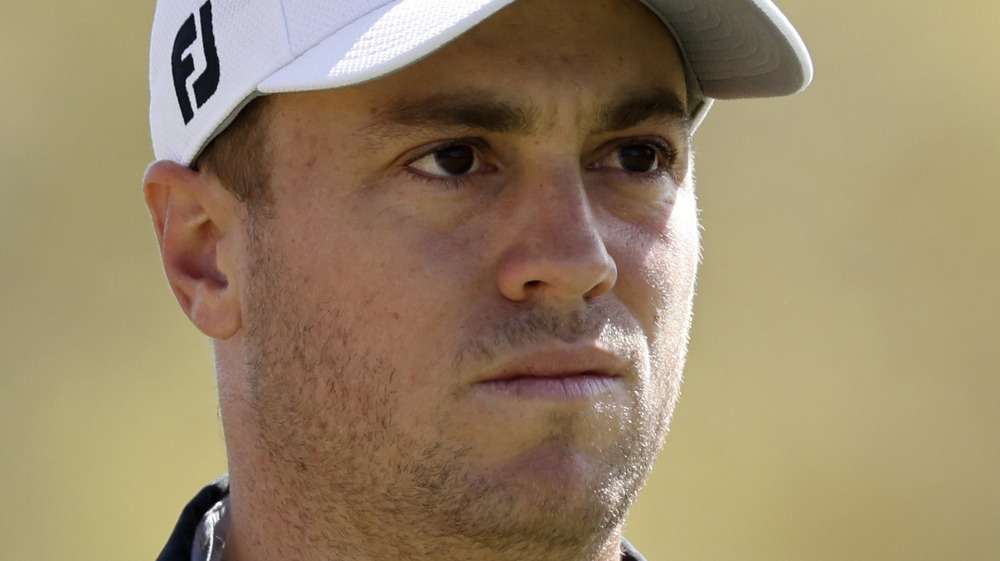 Michael Reaves/Getty Images
Justin Thomas has won five PGA tournaments in a row, and with every win, his girlfriend Jillian Wisniewski has been there to cheer him on and offer a celebratory kiss, much to fans' delight. Like Thomas, Wisniewski hails from Kentucky, although they didn't meet until way after they finished college, with Thomas attending the University of Alabama and Wisniewski sticking closer to home at the University of Kentucky. 
The couple has reportedly been together since 2016, but she was first spotted in 2017 when the two were seen kissing "behind the 18th green after his victory win at the 2017 FedEx Cup Championship," per the Southampton Golf Club. It was quite the showing, but she clearly values her privacy, as her Instagram is private. The outlet reports that they share a home in Chicago, though she mostly has the place to herself given his travels. Thomas often shares pictures of the two of them together, though, when they can make the time. For example, Thomas captioned one picture from 2018, "Glad I could make the quick trip to Chicago for this ones bday! Year 25 is gonna be a great one." They definitely seem to make sure their paths cross when they can. 
Thomas might be the golf superstar of the two, but Wisniewski also has a very rich professional life, too.
Jillian is always cheering Justin on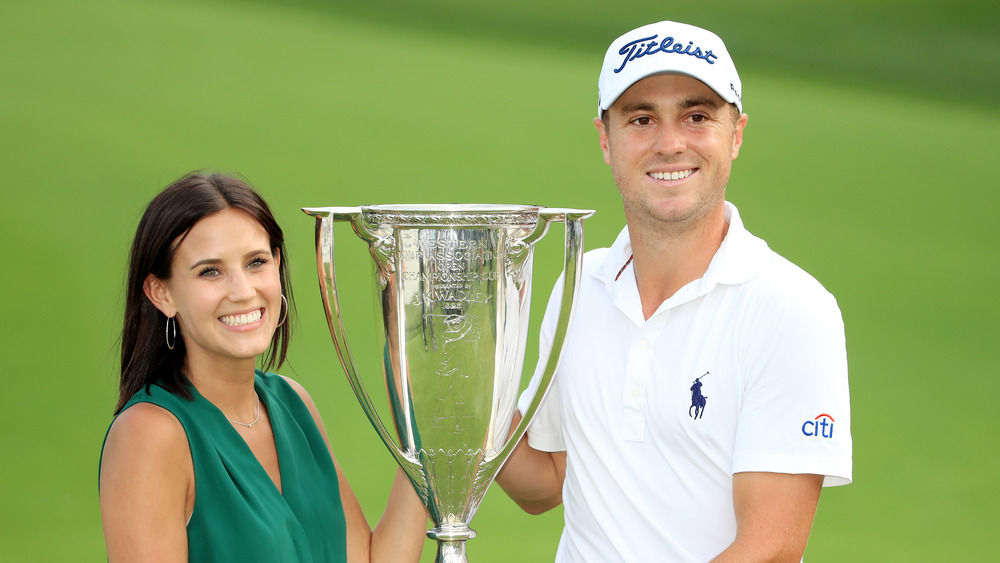 Andrew Redington/Getty Images
In college, Jillian Wisniewski studied journalism and worked at the school's television station, per Golf Monthly. Per her LinkedIn page, she now works as a production manager at McGarry Bowen, a creative advertising agency based in Chicago. She says that she manages clients such as Olive Garden, Burt's Bees, Fresh Step, and even Hidden Valley Ranch, which sounds like a very fun job. Like her beau, she also travels often for work, but she's still a presence on the green to cheer Justin Thomas on, sometimes even caddying for him or helping him hold up his many awards. 
Sometimes she just barely makes it, though. Jillian almost missed watching her boyfriend win his first major title at the 2017 PGA Championship. She was supposed to be on a later flight, but Thomas called her to hurry up. "I truly felt like I was going to win. I remember my girlfriend was supposed to fly out at about 7pm and I was like, you need to change your flight to later, I just feel like I don't want you to miss this. I feel like I'm going to get it done," Thomas said, per Golf Monthly.  

Jillian is also a skincare consultant
Stuart Franklin/Getty Images
Although Jillian Wisniewski keeps her personal Instagram account private, she is also a skincare consultant for Rodan + Fields under a different handle. There, she shares the products that she loves, and will even post a selfie in a sheet mask now and again. Adorably, her golf superstar boyfriend Justin Thomas will often comment on the pics, usually something short and sweet, like an "oh hey" with a heart eye emoji or something similar. On another post in which she shared a series of pics from her nighttime skincare routine, he teased her about how she got them all in one take. You gotta love a man who continues to slide into your DMs and comments after years of dating, right? 
The couple hasn't spoken publicly about their plans for the future, like marriage or kids, but it seems like they are just fine where they're at right now. With both of their careers going so well at the moment, why rush?