Trisha Yearwood Shows Off Her Fresh Face Without Makeup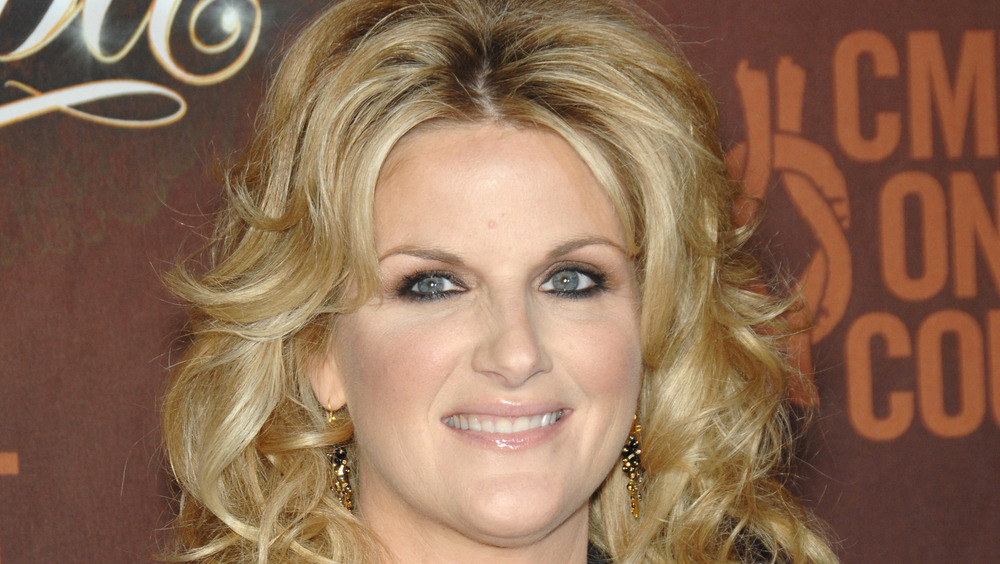 Shutterstock
When fans think of Trisha Yearwood, they probably picture the 56-year-old country music singer on stage with big hair and a full face of makeup. There's also a good chance that many of Yearwood's admirers imagine the American girl looking picture-perfect in front of a stove, thanks to her Food Network series Trisha's Southern Kitchen. However, she prefers to rock a more understated look when she's not performing in front of an audience or appearing in front of a camera.
Yearwood's list of accomplishments is long — it includes three Grammy wins, a trio of best-selling cookbooks, and a Daytime Emmy Award in the outstanding culinary program category, per CMT. She can also boast being happily married to fellow country music icon, Garth Brooks, who is her occasional duet partner and muse. However, no matter how much a woman in the public eye has achieved, sometimes all fans can talk about is her appearance.
The buzz isn't always bad — Yearwood received a flood of compliments when she posted an Instagram selfie that showed her looking gorgeous after a photo shoot. However, the reaction to the picture prompted the musician to share a follow-up photo of what she looks like on a "real" day.
Trisha Yearwood reveals how she really feels about makeup
While Trisha Yearwood let her Instagram followers know that she appreciated all the positive responses to her glammed-up photo, her second post included an important message about the difference between what people see on social media and what celebrities like herself look like when they're bare-faced. She explained that the picture was taken after her hair and makeup had been professionally done, and she also credited a filter and good lighting for her flawless appearance.
Yearwood's post included a picture that showed her without a stitch of makeup on. She had her hair pulled back with a headband, and she was rocking a pair of eyeglasses with clear frames. "It's important for you to know that I have dream days like that, and I also have really 'real' days like tonight...this is me, after a hard workout with my trainer, no glam, no lighting, no filter," she wrote.
During an interview for the Spring 2021 issue of NewBeauty, Yearwood revealed that she rarely wears makeup when she isn't working. In fact, she joked that her neighbors wouldn't recognize her if she showed up at the grocery store with makeup on. And when she's on the road touring, she always makes sure to get all of her face paint off after she's finished performing. "What I swear by is some good soap and water, some makeup remover, and I finish with a witch-hazel pad," she revealed.