Celeb Kids Who Never Lived Up To Their Parents' Careers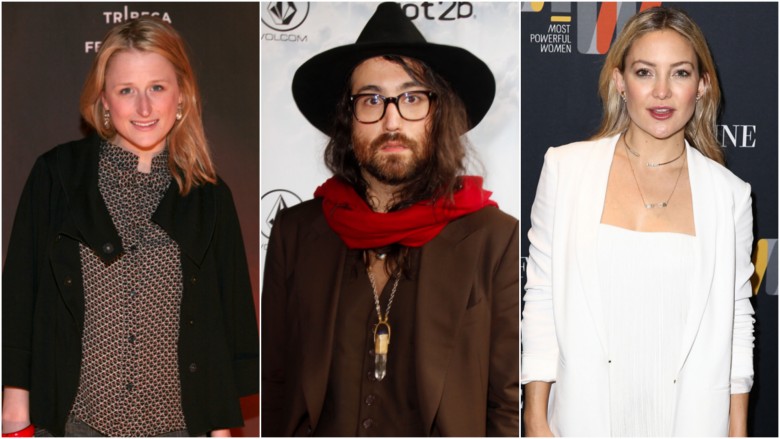 Getty Images
Hollywood children usually find themselves in two positions — wildly successful or stuck in their parents' shadow. Unfortunately for these 13 artists, actors and musicians, they'll never escape their famous parents because, quite frankly, their parents are legends. Living up to Oscars, Grammys, Nobel Prizes and more isn't easy — even if talent is in your DNA. From Mamie Gummer and Kate Hudson to Sean Lennon, these celebrity kids will never measure up to their parents' success.
Colin Hanks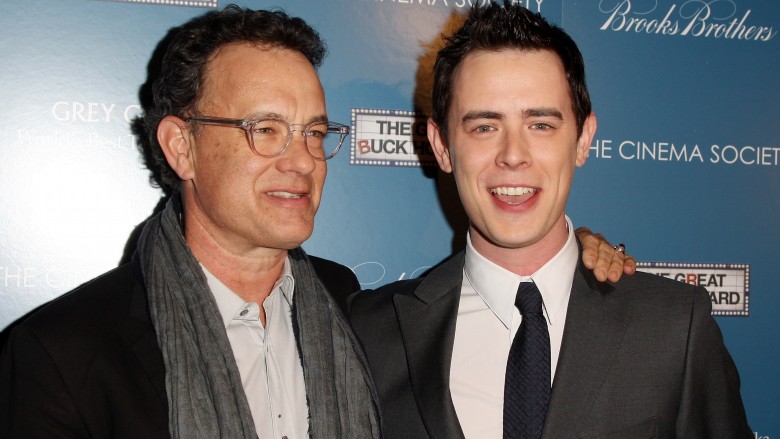 Getty Images
By the time Tom Hanks was his son, Colin's age, 39, Tom had an Oscar. If Colin wants his career to catch up to his father's, he'll have to work twice as hard. Colin is an actor with a long list of credits, but no real hits to his name. Sure, he appeared in 12 episodes of Dexter and 11 episodes of Fargo, but nothing that has him to fame. The current buzz about him seems to be his role as Greg in Life in Pieces.
While thoughts and criticism on Colin are lukewarm, at best, his father continues to make soaring headlines. Tom caused quite the stir with his David S. Pumpkin skit on Saturday Night Live this past fall — but attention is nothing new for Tom. He's got five Academy Award nominations and two wins, eight Golden Globe nods and four wins, and 13 Primetime Emmy Award nominations and six wins.
Eva Amurri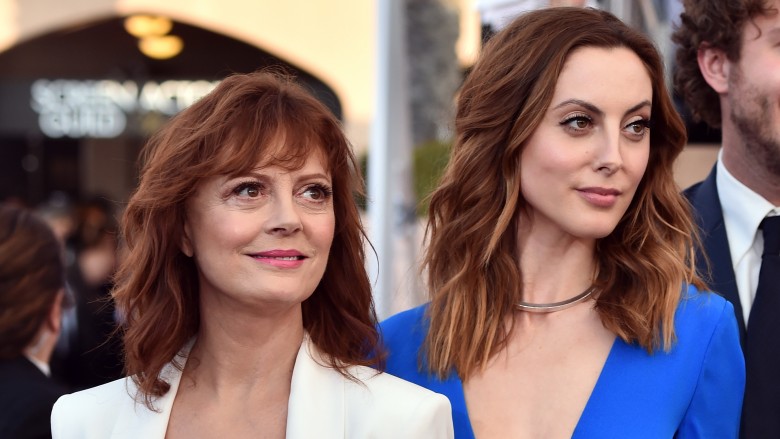 Getty Images
Eva Amurri is Susan Sarandon's only daughter. And like her mom, she's an actress in Hollywood. But unfortunately, she may never be as great as her mother. Even after spending most of her childhood in the spotlight and adult years working toward being a star, she has yet to make a big name for herself, though, Eva, 31, has had a number of guest spots on TV movies and sitcoms.
Her mother, on the other hand, has a career that's wildly successful and respected. Susan has been a fixture in Hollywood since the '70s and has earned five Oscar nominations, winning one. And she's been recognized by the Foreign Press Association with eight Golden Globe nominations to top it off. Beyond the glitz and the glamour, Susan is incredibly outspoken when it comes to politics. Just before the 2016 presidential election, Susan bashed both Hillary Clinton and Donald Trump, calling them both "un-trustable" on CNN. She's never been a woman afraid to speak her mind or stir up drama.
Tracee and Evan Ross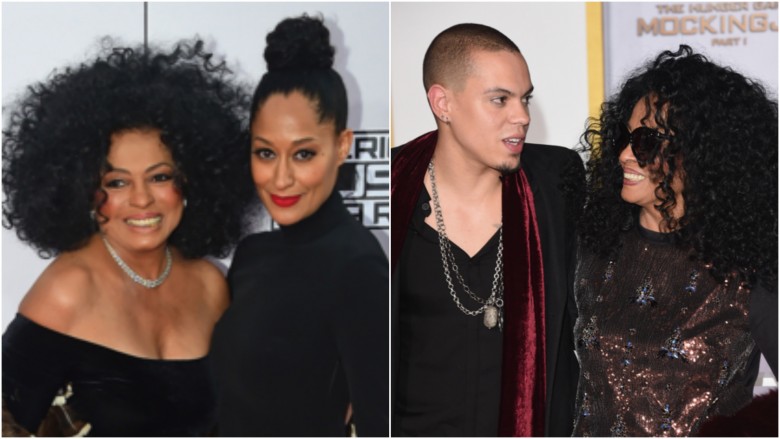 Getty Images
For the rest of their lives, Tracee and Evan Ross will always be in the shadow of their mother, Diana Ross, and her laundry list of accomplishments. Together, this sister-and-brother duo have tackled television, film and music. Tracee, 44, who recently picked up her first Golden Globe for her work on the comedy Black-ish, has been a working actress in Hollywood since the mid '90s, according to IMDb. Evan, 28, who's starred in the Hunger Games 1 and 2, as well as several TV shows, hasn't had the same level of success. Evan even tried his hand in music, according to Billboard. In 2015, he released a song dedicated to wife Ashlee Simpson. Despite all that Tracee and Evan have accomplished, their mother is still "The Boss."
According to Billboard, Diana has recorded 39 albums, achieved five number one singles and was a founding member of The Supremes. The legendary group was inducted into the Rock and Roll Hall of Fame in 1988. Diana earned a star on the Hollywood Walk of Fame in 1982, she's earned three Golden Globes nominations, won one in 1973 for her turn as Billie Holiday in Lady Sings the Blues, and was nominated for an Academy Award for the same film. Tracee and Evan may work a lifetime to achieve just a tenth of the success and respect Diana has earned in her five-decade career.
Kelly Osbourne
Getty Images
Kelly Osbourne's career pales in comparison to that of her famous father, rocker Ozzy Osbourne. Kelly is an outspoken media personality who rose to fame on the now-defunct reality show The Osbournes, which launched in 2002, according to Billboard. From there, she attempted a career as a music artist releasing just two albums — neither one truly making waves despite her famous upbringing. After music proved to be a no-go, the 32-year-old tried her hand in acting. She took roles in Life As We Know It, Sharknado 2: The Second One and more. In 2010, Kelly seemingly found her lane as a panelist for E! show Fashion Police.
Ozzy, on the other hand, continues to be the real headliner in the family. Looking back at his decades old career, he's caused much controversy. According to Rolling Stone, Ozzy once said he's not a musician but a "ham" (hot-ass mess). And on two separate occasions, he bit the heads off live animals. Beyond that, Ozzy's most famous for being the lead singer of rock band Black Sabbath, which has sold millions of records, per RIAA. No matter how much Kelly tries to drum up headlines, she'll never make the waves her father has with his drugs, infidelity and music.
Spencer Grammer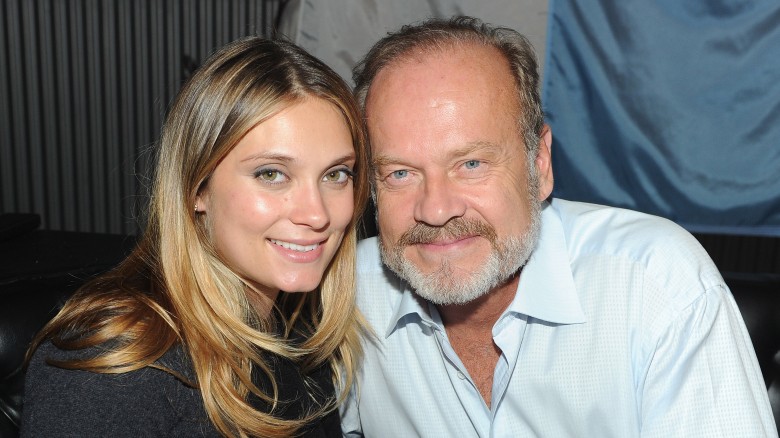 Getty Images
Spencer Grammer has watched her father, Kelsey Grammer's, career soar to astronomical heights of fame and fortune. At the age of 33, she's still striving to hit her mark in Hollywood. Although she's achieved minimal success by comparison, she's not giving up. That hardworking can-do attitude is evident from her acting resume. According to IMDb, she's got five projects coming out in 2017 alone. Her past credits include appearances on Scorpion, Rick and Morty, Chicago P.D., and of course a five-year run on Greek. As Spencer says, her father has always been in her corner as she tries to push her career forward. "He has been great about me being an actress," she told People in 2007. "He always tells me to follow my heart and to do things for the right reasons."
And it appears that Spencer really respects her father's legacy. It's a career that saw him play Dr. Frasier Crane on two different shows for exactly 20 years. Kelsey has earned three Golden Globes and five Primetime Emmy Awards. But he's more than an actor. In fact, he's a celebrated producer who brought The Game, Girlfriends and Medium to life.
Mamie Gummer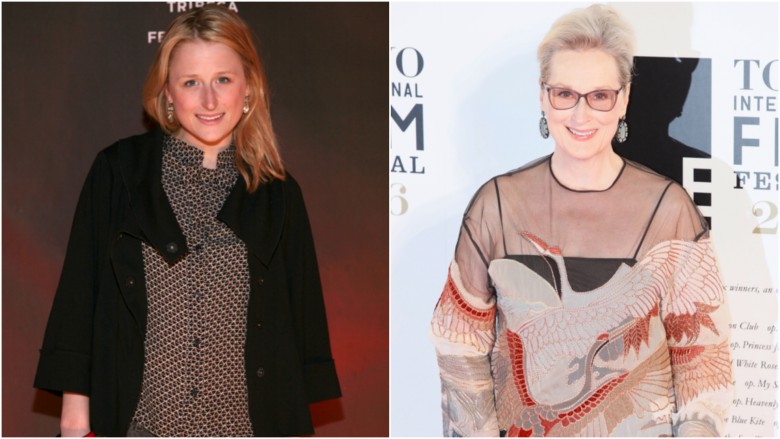 Getty Images
Being Meryl Streep's daughter is both a gift and a curse. Sure, Mamie Gummer has inherited her mother's good looks, but the talent falls short. As Mamie explains, her Hollywood titan of a mother hasn't passed on any acting skills. "Well, I've been watching her my whole life," Mamie, 33, told The Telegraph. "Not just how she acts — if she has a secret to her success, she hasn't passed that on — but how she behaves and interacts with the world; like any kid does with a parent."
But Mamie shouldn't be so hard on herself. Her mother, after all, is one of the best actresses in history, so the bar is incredibly high. Mamie thus far has landed roles in Cake and The Ward, and appeared in several episodes of The Good Wife. No matter how much work she takes on, she'll probably never rack up 19 Oscar nominations and three wins. But after all, acting is in her blood — literally. "I always loved it [acting]," she excitedly told Grazia Daily. "When I was a kid I was definitely a star! I even had a big star on my bedroom door."
Rumer Willis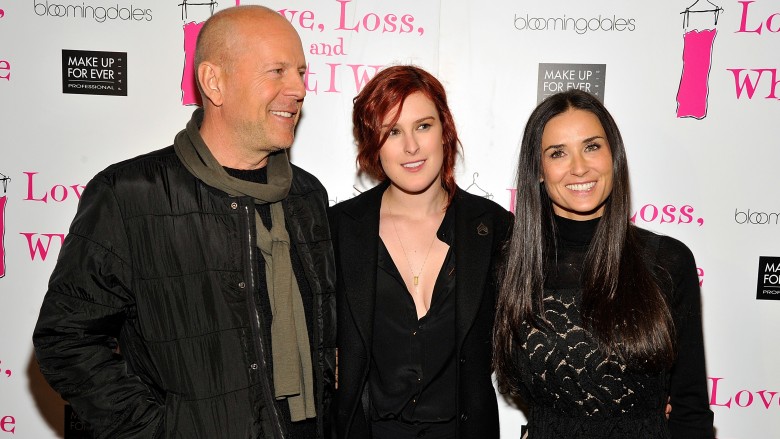 Getty Images
In 1988, two of the biggest movie stars on the face of the planet, Bruce Willis and Demi Moore, welcomed daughter Rumer Willis to the world. While raising their daughter, and two other girls, the acting duo dominated Hollywood with a number of blockbuster films that earned them big recognition and a host of award nominations. Demi was a certified sex symbol in the '90s by the time she filmed Striptease, and Bruce was a bonafide action-hero star with the Die Hard franchise earning box-office gold.
By comparison, Rumer, 28, has cracked a small portion of her parents' success. She had a small recurring role in 90210 from 2009 to 2010. But she didn't become a household name until winning Dancing with the Stars in the spring of 2015. And by that fall, she had begun her run in Broadway's Chicago, according to People. Although her career is on the rise, Rumer says her parents never pushed her into the spotlight. "I have been very, very blessed with not having stage parents," she told People in a separate story. If she wants to make a dent in a crowded field of actresses and other celebrity offspring, mom and dad may need to give her a boost.
Enrique Iglesias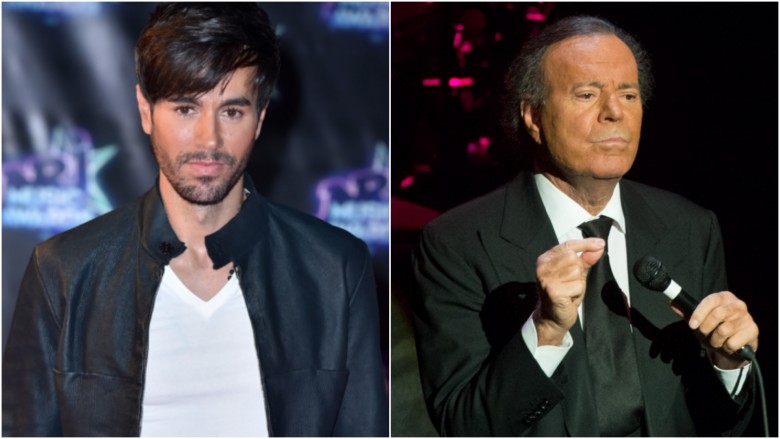 Getty Images
Enrique Iglesias is a mega Latin star with several number one singles and millions of albums sold. According to Billboard, the 41-year-old burst onto the music scene in 1995 with a self-titled debut album, which has sold more than six million copies around the globe. In the following years, his fame would skyrocket, with him becoming a heartthrob with a killer voice. In 2001, he followed up with Enrique, which pushed his total number of album sales around the world to 23 million.
Although those numbers are nothing to scoff at, it's still nothing close to his father Julio Iglesias' career, which is nothing but legendary. At the age of 73, Julio has released more than 80 albums in 14 different languages, earned 2,600 gold and platinum certifications and sold a stunning 250 million albums worldwide. The numbers alone make him the best-selling male Latin artist in history, according to the Guinness World Records. And Julio is showing no signs of slowing down. In 2015, he put out yet another album. If Enrique wants to be anything like his father, he's got his work cut out for him.
Kate Hudson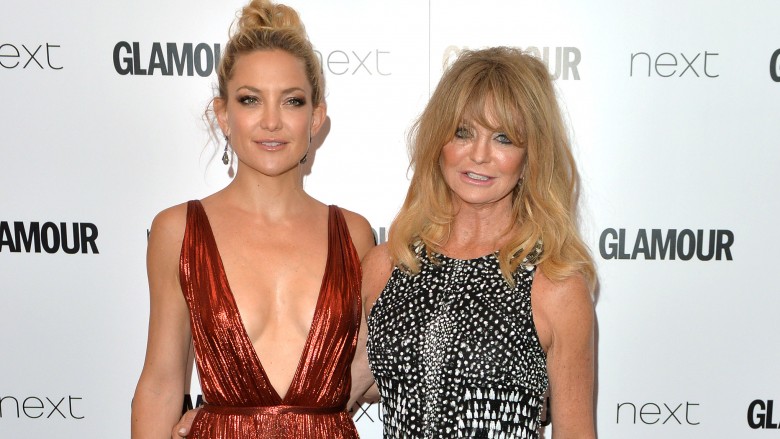 Getty Images
There are few mother-daughter duos as famous — and good looking — as Kate Hudson and her iconic mother Goldie Hawn. Although Kate, 37, got her mother's good genes, she hasn't quite accomplished as much in Hollywood. She's got a fair amount of acting credits, including her biggest hit to date, Almost Famous. That movie earned her a 2011 Oscar nomination and won her the Golden Globe for best performance by an actress in a supporting role.
Goldie, a sex symbol, started her career in the '70s, making dozens films over the years — including the cult classics Overboard, Death Becomes Her and The First Wives Club. Goldie has been nominated for two Academy Awards and won one in 1970 for Cactus Flower. She's also been nominated for nine Golden Globes, winning just one in 1970 for the same film, reports IMDb. Kate may never step out of her mother's shadow if she doesn't begin selecting more serious roles for her career. It's time to give up romantic comedies for good.
Redfoo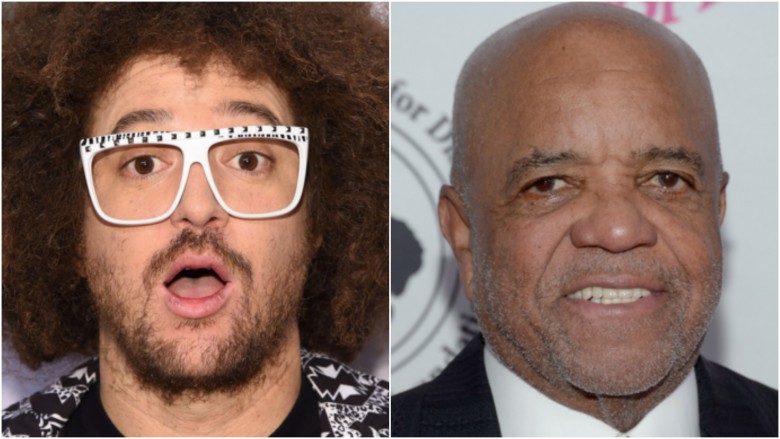 Getty Images
RedFoo, born Stefan Gordy, hails from one of music's most respected families. His father is the incomparable Berry Gordy, the founder of Motown Records. Berry launched the careers of Diana Ross, Marvin Gaye and Smokey Robinson among others, reports the BBC. Quite frankly, he's responsible for the sound of an entire generation of music.
His 41-year-old son, unfortunately, hasn't made such a lasting affect on the music world. According to Billboard, RedFoo is part of the pop duo LMFAO. Together with his nephew, and Gordy's grandson, Sky Blu, they released two albums and an EP. Their biggest hit was "Party Rock Anthem." Although they've earned marginal success, it still doesn't hold a candle to the countless artists Berry has influenced. The only way RedFoo could ever match his father's musical imprint would be to launch his own record company and have it be twice as successful. Maybe he can find the next Beyoncé?
Jakob Dylan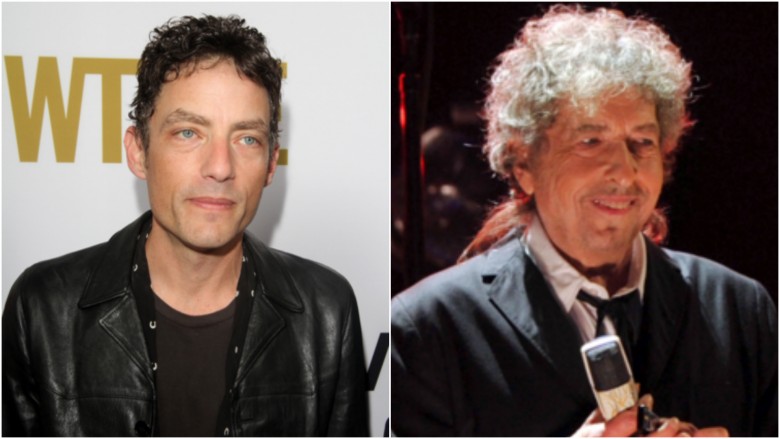 Getty Images
Jakob Dylan, unlike many children of celebrities, realizes he will never escape his father's shadow. As he acknowledged to The New York Times, people will never stop asking about Bob Dylan. "If people want to talk about Bob Dylan, I can talk about that," Jakob, 47, said. "But my dad belongs to me and four other people exclusively... When I was a kid, he was a God to me for all the right reasons. Other people have put that tag on him in some otherworldly sense."
Jakob achieved decent success as the lead singer of the '90s group The Wallflowers, whose 1996 album sold more than four million copies. Since then, he's released other albums but has yet to make a wave like his father, who was recently awarded the Nobel Prize, according to another New York Times report. Bob's accomplishments could go on for pages — in short, he's perhaps considered one of the greatest songwriters of a generation. In a sense of defeat, Jakob said, "Look, he's the best at what I do. I know that, and so do my heroes. I got to watch my heroes meet him and saw how they reacted, whether it was Joe Strummer or Tom Waits. It was peculiar. I'm so stoked to meet Tom Waits, and he's so nervous to meet my dad. It's a head spin."
Sean Lennon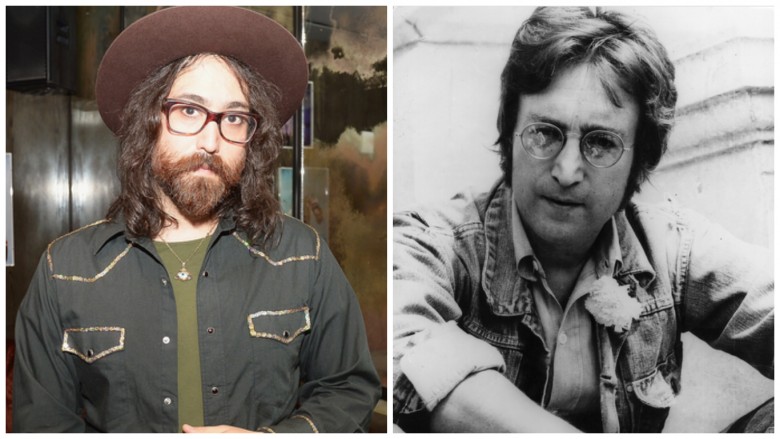 Getty Images
There's no job Sean Lennon can't do. Unfortunately, the 41-year-old will forever be expected to match the success of Beatles founder John Lennon, who requires no other introduction. But it's become clear in recent years that Sean is doing anything but resting on the laurels of his last name. According to a profile with The Guardian, Sean is a producer, musician, band member, environmental activist and much more. "No matter what I do, people see me as the spoiled slacker son of John and Yoko," Sean regrettably told the site. He dives deeper into how he's perceived because of his famous lineage saying, "I found that ... I was surprised, let's say, that that kind of sentiment just remains, no matter what I do. I feel like no matter what I do, there's always going to be that element, and I kind of have to accept it and just do things anyway."
Sophie von Haselberg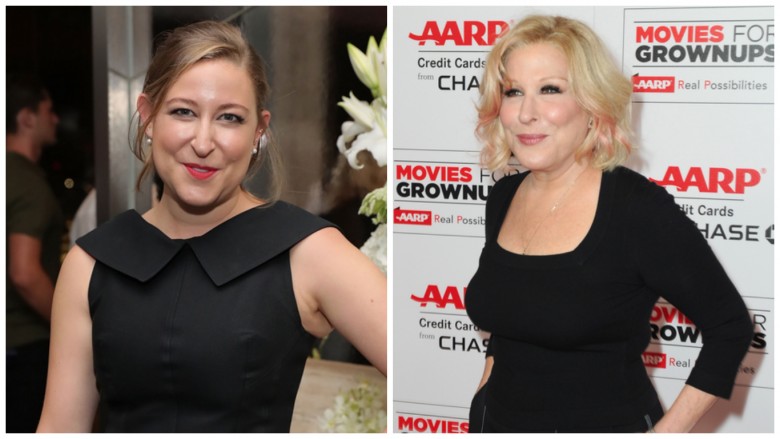 Getty Images
It'll be a long shot if Sophie von Haselberg ever reaches her mother's success in Hollywood. Sophie is the only child of Bette Midler. At age 30, she got a seemingly late start to Hollywood. "I grew up performing, but when I got to college I decided to sort of become a 'more serious person,' whatever that means," Sophie told W Magazine. "After that I moved to China and was working at this advertising agency, but I'd be sitting in meetings and having these pangs of missing out on being an actor. I knew that's what I really wanted, so I moved back and spent a couple of years taking classes, and then I realized that if I wanted to be taken seriously, and if I wanted to take myself seriously, I needed really hardcore training. So I went to Yale Drama, which was the best decision of my life, and graduated from their MFA program about a year and a half ago. It's been a pretty wild ride since then."
Sophie has starred in a Woody Allen movie, Irrational Man, and landed a few other films, according to IMDb. Like others in her position, she's well-aware that comparisons to her mother, who's a triple threat with three Golden Globe awards, three Emmys, two Grammys and a Tony, will never end. "Acting was something I always knew I was going to do, but I didn't for a long time because of my mom," Sophie told the New York Post. "You know you will always be compared to your parent."
Future of hollywood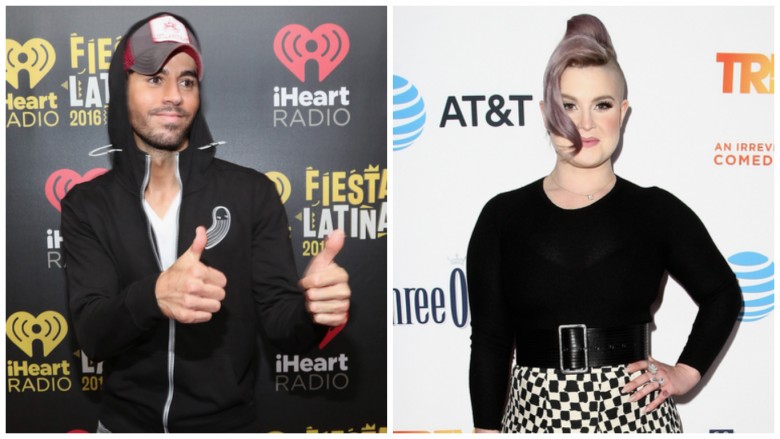 Getty Images
Despite being born to famous parents, life isn't easy for these celebrity kids. Many of whom are still struggling to find their place in the spotlight and get big breaks. It just goes to show that having incredibly talented parents doesn't always equate to success in the real world. And for most of these laboring stars, they'll never amount to what their parents were able to achieve. If it all goes to hell, at least they can sit back and rest on their parents riches.