Who Is Black Ink Crew Star Ceaser Emanuel's Girlfriend, Suzette Samuel?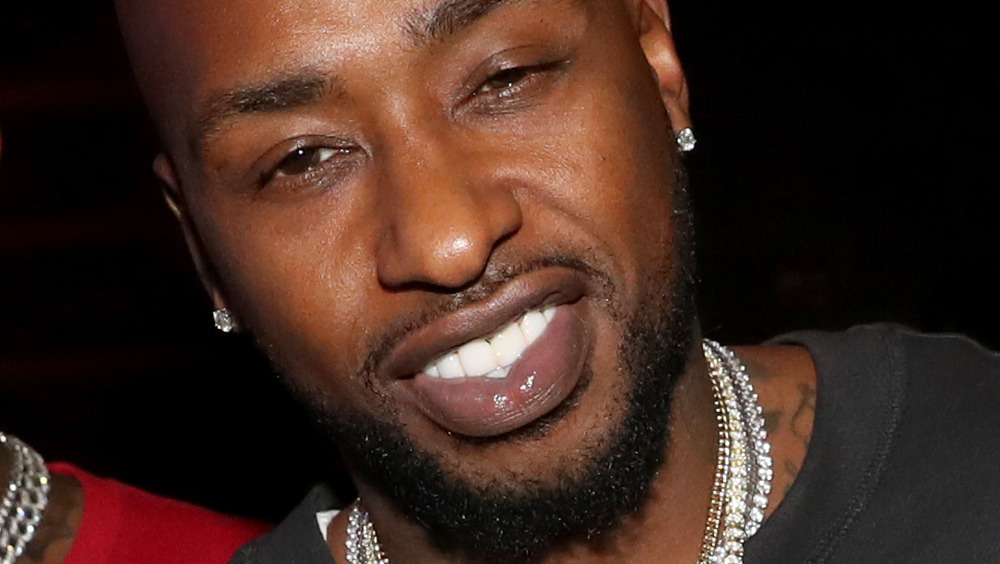 Johnny Nunez/Getty Images
Are you a fan of VH1's Black Ink Crew? If not, allow us to fill you in. The reality TV hit follows the ins and outs of the daily lives of the employees who work at a Harlem tattoo shop. There's plenty of tattoo artistry and interesting side stories about the customers, but again, it's reality TV, so mostly there's just a lot of controversy and infighting between the artists. Like any good reality TV show, there's always enough drama happening off-camera and after hours to keep viewers interested during the off season.
At the moment, fans are eagerly awaiting more info about the ongoing conflict between Ceaser Emanuel, his daughter, Cheyenne Emanuel, and his girlfriend, Suzette Samuel. To make a long story short, in January 2021, Cheyenne publicly claimed her father had been abusive towards her in the past in a series of since-deleted Instagram posts. Samuel seemingly jumped to her boyfriend's defense, and blasted Cheyenne on her Instagram Stories (via Rolling Out). In one since-deleted IG Story, she reportedly mocked Cheyenne's weight and poor grades.
All the behind-the-scenes drama has fans excited for the Season 9 premiere, and deeply curious about Samuel. Here's what you need to know about Ceaser's divisive new girlfriend.
Suzette Samuel is a successful businesswoman
Therapists and level-headed friends will tell you that "people contain multitudes," and there is perhaps no better example of that than Suzette Samuel. Her first impression might not have been the best — publicly feuding with your boyfriend's teenage daughter is never a good look — but there's definitely more to Samuel than social media drama.
Samuel was born and raised in the Bronx, but moved to Georgia as an adult. In Georgia, she built two successful businesses from the ground up. After moving to Atlanta and working as a bartender for a while, Samuel ran into an old acquaintance who convinced her to get her realtor's license. In a March 2020 interview with Voyage ATL, Samuel claimed that she enjoyed working as a realtor so much she eventually started her own company, A&N Reality.
As for her second business, Samuel also runs A&N Solutions, which is designed to help its clients fix their credit. Samuel told the outlet she was inspired to start the company after her credit score suffered from breaking several leases in the Atlanta area.
There you have it. You probably don't want to go to Suzette for advice on dealing with social media drama, but it seems like she might be the one to call if you've got a question about the property game.