Serayah Dishes On Her New Music And Taking On Darker Roles With Envy - Exclusive Interview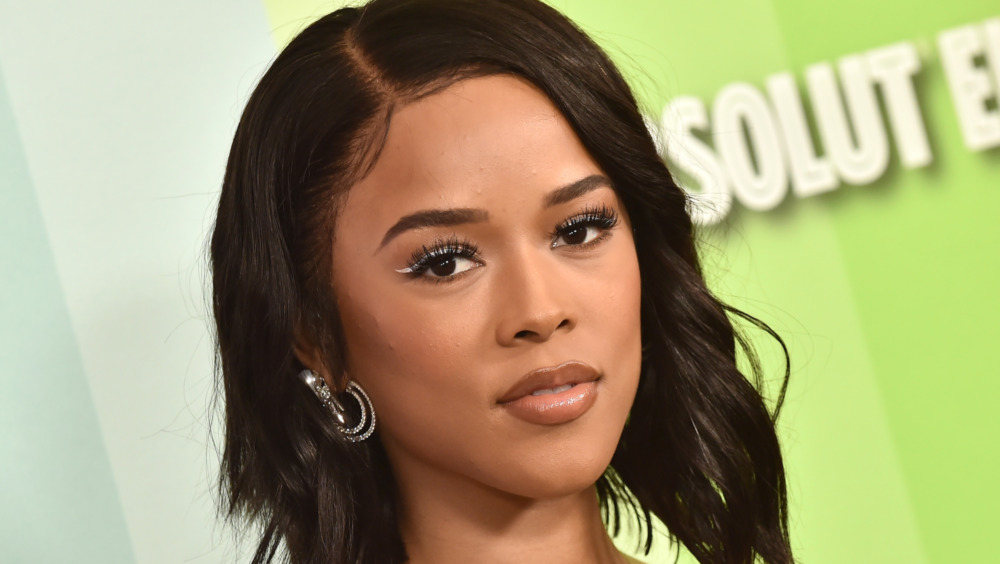 Shutterstock
Serayah proved to the world that she was a triple threat on Fox's Empire where she sang, danced, and acted her way through the hit hip-hop series' six seasons as Tiana Brown. Now she's ready to dig a little deeper. The California-born actor is showing off her acting chops big time in Lifetime's new film Envy: A Seven Deadly Sins Story, a faith-based movie focused on one of the seven deadly sins from the Bible and based on books written by Victoria Christopher Murray.
The movie dives into deeply rooted trauma and family drama between Serayah's character Keisha, who, after the passing of her mother, discovers she has a father and half-sister (Rose Rollins) who are doing quite well for themselves. While the reunited family welcomes her in with seemingly open arms, Keisha isn't quite ready to let go of the resentment she feels towards a life that should have been hers.
It's the kind of dramatic fodder that Lifetime's audiences love to sink their teeth into. Serayah spoke exclusively with Nicki Swift about the passion and excitement she has for revealing a deeper side of herself with the film, as well as her future plans for music, moving on from Empire, creating change with her roles, and more.
How Serayah prepared for her heavy first leading role in Envy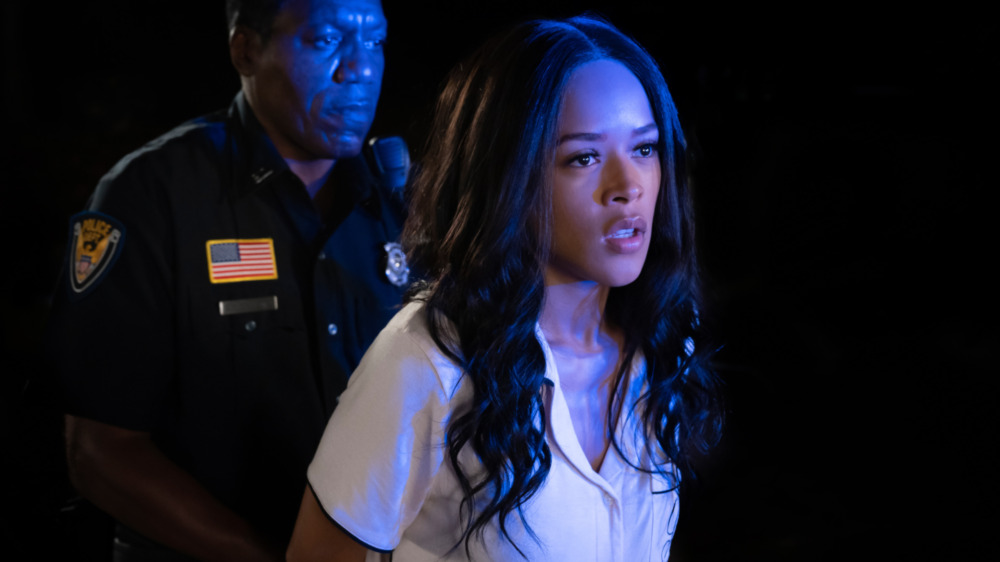 Courtesy of Lifetime
First off, I just wanted to say congratulations on Envy: A Seven Deadly Sins Story. I know this is one of your first big leading roles, so I just wondered what it was like taking on a bit more responsibility as the lead?
Yeah, thank you, such a great question. It was interesting. I was super nervous, it was my first time leading a film. I was just more focused on telling the story as true and authentically as I could, and taking my mind away from "I'm number one on the call sheet." It was really, really cool though, because the cast was so dope. I felt like we all set the tone for the vibe on set and it was teamwork. We were trying to get through each of the scenes as best as we could, but it was super dope. I mean, for me stepping out of Empire and getting into this and leading this film, it was really amazing that I got to just kind of show more of my acting side, if you will, and get more into character.
Your character in Envy, Keisha, definitely keeps the audience guessing throughout the film. You're such a positive person. What was it like playing someone with a bit of a darker side?
There were two main days that they kind of compiled a lot of the heavy emotional scenes, and those days were so exhausting. But you know what? I can say that it just made me... It was almost therapeutic for me because I had so much empathy for Keisha and what she went through. I know that her actions showed to be super conniving and obviously envious, but they came from a real place. I think me getting in that mind frame and in kind of connecting the dots with my own personal things in my own life, it allowed me to just have... Just some empathy for her, honestly, and so playing her was almost therapeutic, some of those scenes, honestly. The jail scene was super heavy for me, and I worked through a lot doing that scene.
Did you listen to any sad music or anything to gear up for that?
Yeah, I was definitely, before we shot [a] ... couple of those scenes, I was kind of off to the side to myself. I had my earphones in, a certain playlist, things that I had targeted for the scene for me to get there in a moment. Which is kind of tough, depending on what the scene calls for, but it works, and I'm glad that I had some authenticity with those scenes, for sure.
Serayah understands her Envy character's flaws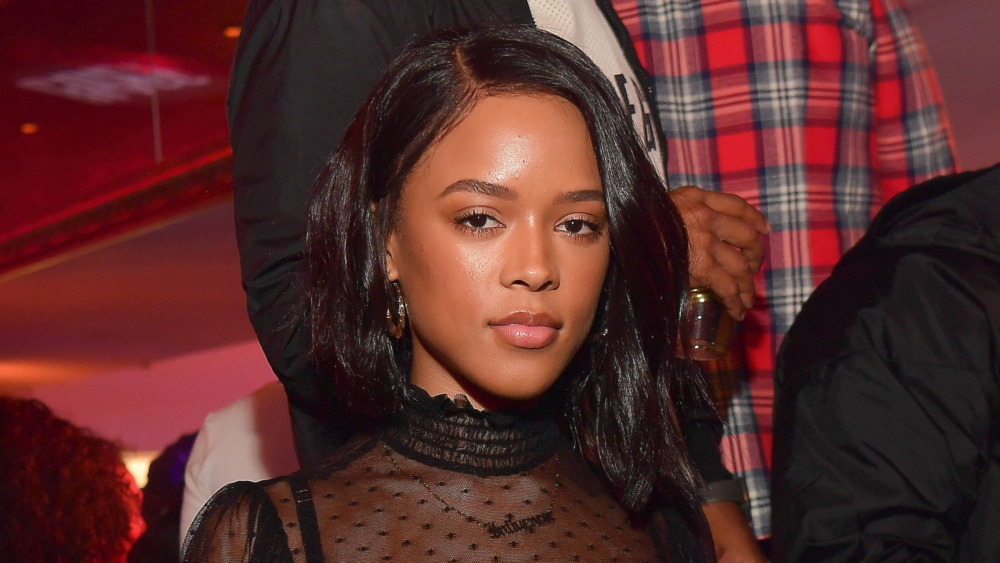 Prince Williams/Getty Images
I know you guys filmed over the pandemic as well. What was it like making a production that big with COVID-19 protocols?
Yeah, it was super interesting. We obviously have to wear masks, but working around people changed dramatically, and the job of acting is interacting. It was kind of hard to not interact as much with the cast as I would like to, but we all wanted to stay safe and six feet apart. All the cast chairs were separated, you have to put on your mask and your shield when you're not working. There would be times where I'd forget I had on my shield and I'm like, "I'm ready, action." They're like, "You still have on your shield." I'm like, "Crap." It's just this whole new world of adjusting, taking it off, taking it off, putting it on, testing three times a week is super crucial. We're just kind of adjusting, but we all wanted to be safe, so just being a team player.
Yeah, and it's a blessing I'm sure for everyone there to be working.
That part, so we were all very grateful to have jobs.
One of the film's big themes is envy. I was wondering, when it comes to you, do you have any tips or tricks that you use to combat envy?
I was thinking about this the other day and I think it's honestly just ... there's a scarcity thing that happens when someone's envious, which means they feel like there's not enough space for them to evolve or to have. There's not enough space in the world and there absolutely is, and so I think it's just reminding myself or whoever else, it's just whatever you want, there's more than enough resources. There's more than enough money, there's more than enough spots to do what you want to do. You never have to [be envious of] what anyone has. If anything, be inspired. See how they did it and ask questions, that's what I do. But never be envious, because you can always lend a helping hand to someone else. I'm sure that there's people that would do that for you.
For Keisha, I think a lot of her envy comes from deep longing for something that she never had, which is a little bit more obviously deeper. If I were to tell Keisha anything it would just be that give your family a chance and that there's actually love out there for you. Especially here with your family, your blood.
There was no envy on the set of Lifetime's Envy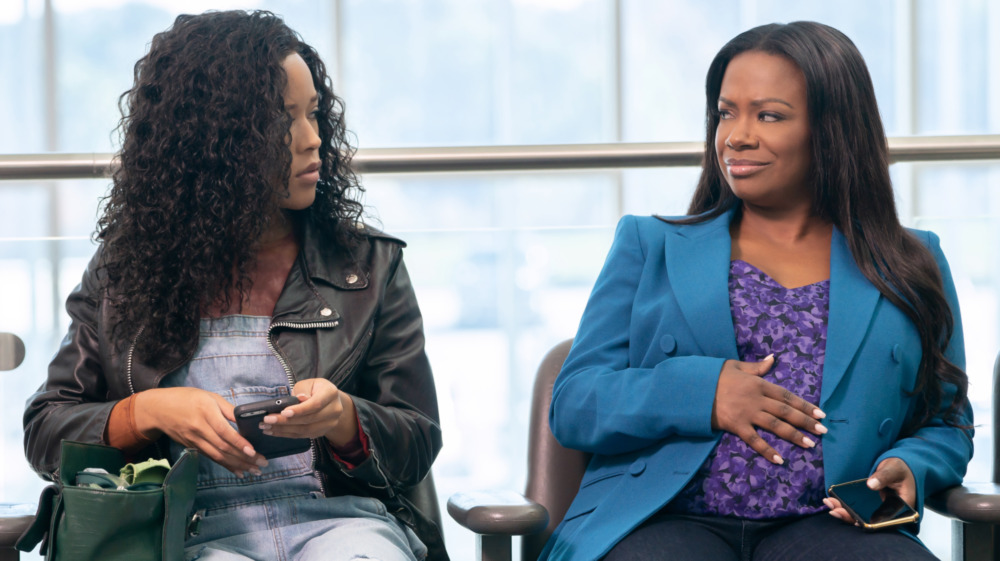 Joe Scarnici/Getty Images
You and the entire cast who played your family had such great chemistry. What was it like working with this super talented cast and crew there?
It was awesome. Damon Lee, who was the director, he was super hands-on. I appreciate that, not only because it was my first time leading a film, but just as being an actor and trying to figure it out, and having time constraints, he was super hands-on. Very descriptive, and gave me all my moments, he gave me as much time as I needed to get into character, to get into the mode. I really appreciate that because sometimes it's a rush-rush thing, and they're trying to get scenes done and I get that, but he was there for the actors. Obviously, all of the actors were super talented. Kandi [Burruss], I love her. D.C. Young Fly was super funny. The scene with him, oh my gosh, when we weren't filming, I was just dying laughing at him. He has great energy, and then obviously [Rose Rollins who plays Gabrielle], and everyone... It was just dope to have people around that genuinely wanted to figure it out together. I keep saying that, I keep stressing that, but seriously, it was that. I couldn't ask for a better cast for a first movie.
Was there anything that surprised you going from TV to filming a movie?
I think the main difference was just the time, I guess. TV's super quick and things are... Obviously, there's new scripts all the time, so your character is changing and changing. Whereas a movie, you're having to remember, "Okay, we shot this and we gave that energy there and that's in the beginning of the script. Now we're shooting this middle part," so we need it to grow. We need the story to grow and by the time we get to the end, we want it to feel a certain type of way.
What I learned was [important in making a movie was] understanding the arc of the story, because we shoot out of order. That was the biggest thing I learned was to keep in mind the arc of the story and understanding that with the film. Because in TV it's always changing and everything's different all the time, but with this it's making sure the story is being told correctly so that when they're cutting everything together it all makes sense.
Serayah still has love for her Empire castmates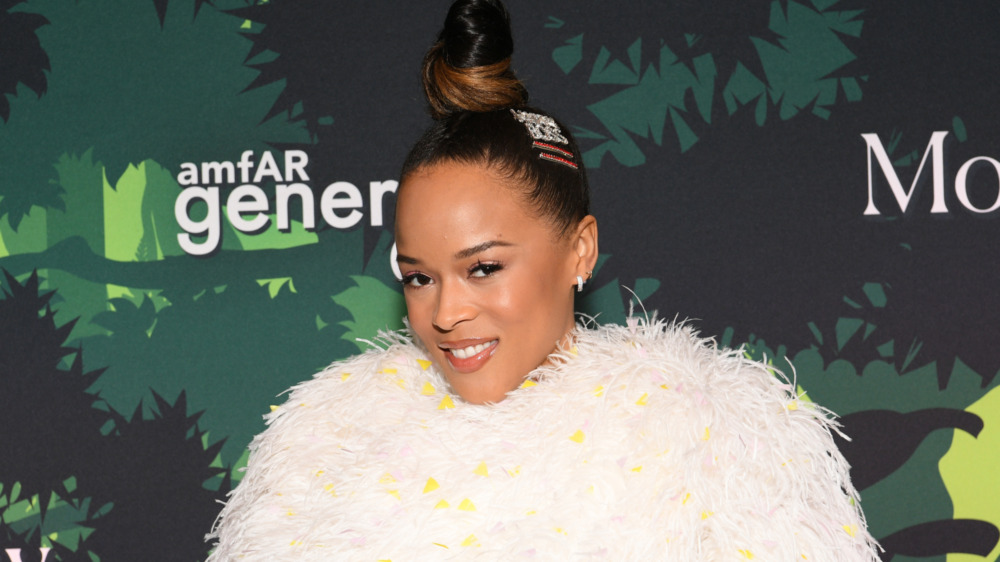 Dia Dipasupil/amfar/Getty Images
Shifting gears a little bit, we said goodbye to Empire last April. How does it feel being almost a year out from the last episode?
It's crazy, because [Empire] ended so abruptly because of COVID. We didn't get to finish our last two episodes and it was just like, "Okay, bye guys." But you know what? It was six great years, six really, really amazing, fantastic, I mean, life changing for me years. It was kind of like college for me. I started at 19, I ended at 24, and now I feel like there's just a big change in my life, and I'm just kind of growing. With that comes different films and roles, and stuff like that, and I've learned so much from Empire. I mean, I put in so much work on that show because I was dancing, and singing, and I was [on set] for 18 hours sometimes. It was definitely my bootcamp and I have so much work ethic, and that's definitely, I give that to that show. It's just a new time for me, I'm just evolving and growing, and I'm ready for the next step in my career, for sure.
Do you still stay in touch with anyone from the cast?
Yeah, totally. Some of my girlfriends from the show, I still talk to them. I talked to Terrence [Howard] a little while ago, him and his family are doing amazing. Taraji [P. Henson] too, I talked to her during quarantine. I think we did a live or something. But yeah, I try to keep in touch with everyone as much as I can just to check in with them and make sure they're good.
She's hopped on the TikTok craze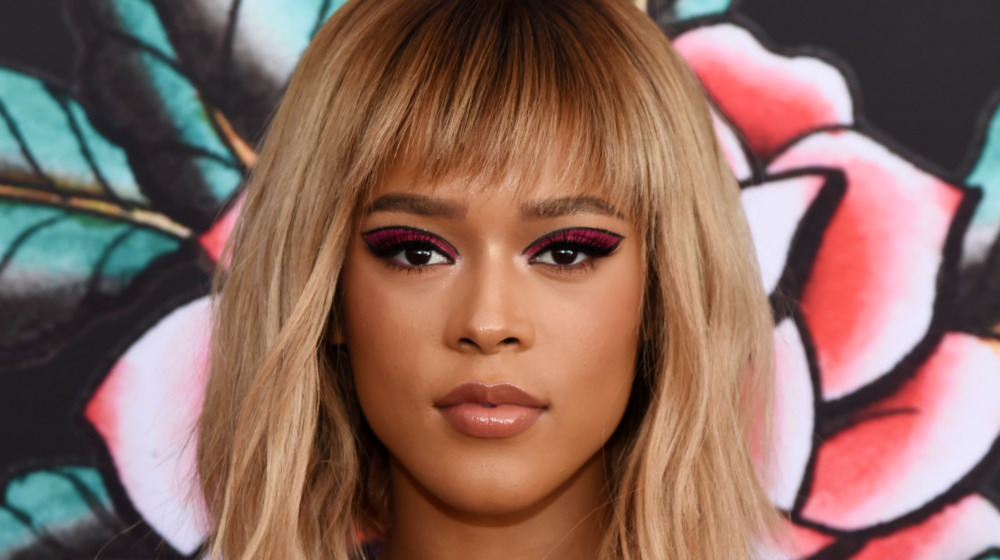 Amanda Edwards/Getty Images
I have to say, I've been loving your TikToks. How's it been hopping into the TikTok craze?
Thank you, I feel like I'm still so rusty, I'm trying to figure it out. It's really fun though, which I love. I've just been playing around with it and seeing what works for me, but it's so fun, the TikTok world is so fun. You can literally do anything on there and it goes, it works.
I know, it seems like they have a TikTok for anything, meditation, or workout, you want to get your nutrition tips, it's crazy.
I'm cooking off of TikTok now, replaying the video, getting the ingredients. Just step by step, I'm like, "Wow, this is great."
You and your boyfriend Jacob had some cute ones too. Was that a good way for you guys to tackle the quarantine boredom?
Yeah, for sure. I was probably annoying him, but I was... Quarantine really allowed me to get into TikTok. Just to sit down, and play with it, and see how to do it. But yeah, definitely, we love doing TikToks together sometimes, for sure.
Serayah has music -- and more -- on the way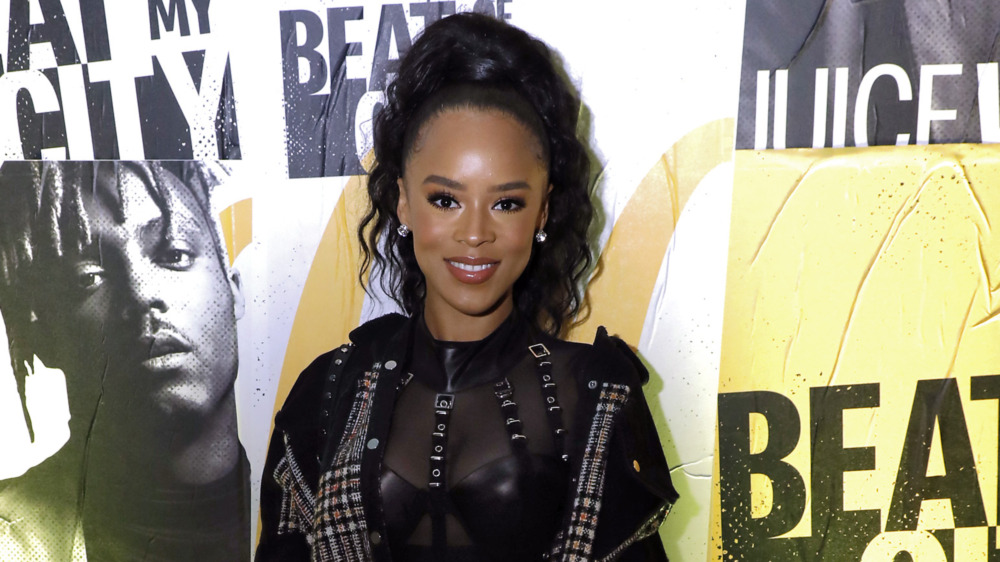 Jeff Schear/Getty Images
We got to see you lead with Envy, Empire has concluded, I was just wondering what are you working on next or looking to do more of in your career?
I just recently did a couple of episodes [of] Black Mafia Family ... that's going to be coming out on Starz soon. I have a role in that, which I'm really excited for because the story is just... It's amazing, and 50 Cent is the one of the main producers on it, so I know it's going to be amazing. I also did a BET film called Favorite Son, which was directed by Robin Givens. We have Rotimi in there, Jonathan McReynolds, that one's going to be really, really good as well. [It's] a faith-based film kind of a little bit too ... but with some real drama in there, which I really love.
Do you know what? Just music, I've been recording a lot. I'm looking forward to releasing some new music this summer. I've been auditioning and just keeping the ball rolling, honestly. The main thing for me is getting into roles where I can tell a story and influence someone, or bring forth some type of change. I think that's what I am focused on is making sure that the roles that I do have a purpose.
That's super exciting to hear about more music coming out this summer too. What does it sound like, can we expect anything that way? Any hints?
Yeah, so a lot of it is a R&B wave, but we definitely have some pop in there too. I love all music from rock to blues to alternative and everything, so my main thing is I just want hits. I'm definitely going to be doubling down. I have some rap features, I'm going to do some pop features as well with some good friends of mine that are singers, and I'm super excited. The sound is eclectic, but it's definitely me, and what I'm excited for is it's telling more of my story.
Yeah, that's exciting because we've seen you sing on Empire, but this is you singing as yourself.
Right, just everything from the look to... Everything's just going to be me, and so I'm excited for people to meet that side.
We're super excited to hear more music and see Envy on Lifetime. Is there anything else you wanted to add?
Just I am super excited for Envy, obviously, it's my first lead film. I worked really, really hard day and night on this film to make sure that all the moments were genuine and authentic.
I'm super excited, I'm going to celebrate with my friends and family this weekend and watch it. Yeah, oh my gosh, I am tripping, I did a small role on a Netflix TV show called True Story that's Kevin Hart and Wesley Snipes ... coming out that I'm also in, so check me out in that.
Envy: A Seven Deadly Sins Story premieres Saturday, April 17th at 8/7c on Lifetime.