Inside Queen Elizabeth's Relationship With Kate Middleton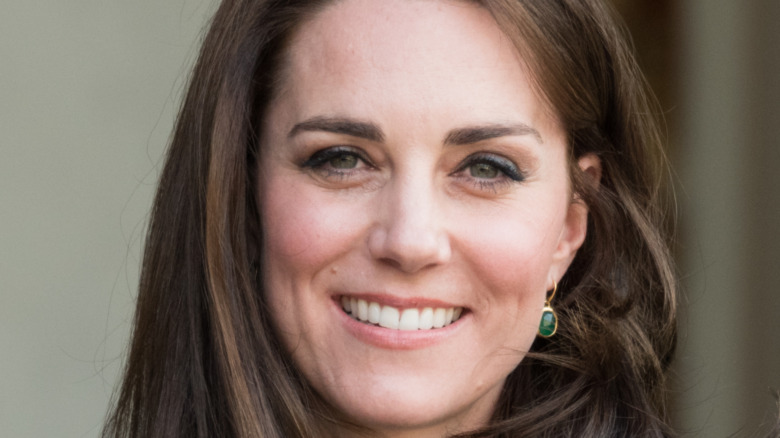 Shutterstock
Ever since her and Prince William's 2011 wedding, Kate Middleton has become a beloved and respected member of the royal family. The Duchess of Cambridge has made quite the impression on the British people, but what about the rest of the royal family — and specifically, Queen Elizabeth II?
As it turns out, Kate may have hit it off with the queen from the very start. In an interview with The Telegraph, Kate revealed that she first met the queen in 2008, when they both attended the wedding for William's cousin, Peter Phillips. "I first met her at Peter and Autumn's wedding and again it was in amongst a lot of other guests and she was very friendly," Kate described of her first interaction with Queen Elizabeth.
While Kate and the queen may have had a friendly first encounter, it's not necessarily easy to become close to Her Majesty. Over the years, however, Kate and Queen Elizabeth have seemingly forged a very solid relationship with one another. Keep reading to learn more about it. 
Kate Middleton reportedly has a 'direct line' to talk to Queen Elizabeth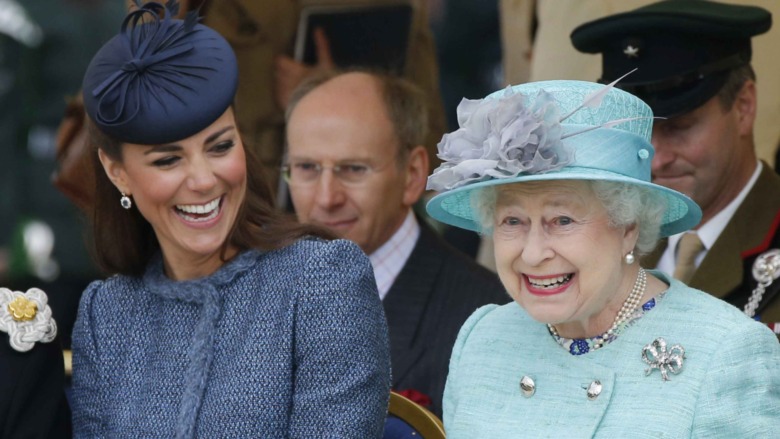 Wpa Pool/Getty Images
Kate Middleton has been a part of the royal family since 2011, and during this time, the Kate has worked hard to establish a close relationship with Queen Elizabeth. Royal expert Duncan Larcombe spoke with OK! about the duo's relationship (via the Observer), and divulged some details about the special privileges that Kate has gained along the way.
Kate and the queen "have a great relationship," Larcombe explained, adding that Kate even reportedly has "a direct line to speak to the queen." Thanks to this direct line, Kate is able to check in with Queen Elizabeth as well as offer updates Her Majesty's great-grandchildren. Larcombe goes onto explain that Kate has struck an ideal balance "between bowing to her as head of the royal family in public but being able to check in with her as the great-grandmother to her children."
As the royal family has been in lockdown because of the coronavirus pandemic, Kate and the queen have apparently kept in-touch virtually. Larcombe explained that the Kate even taught Queen Elizabeth how to use the video calling system Zoom to help her stay connected in isolation.
Kate Middleton and Queen Elizabeth's friendship has grown now that they live in close proximity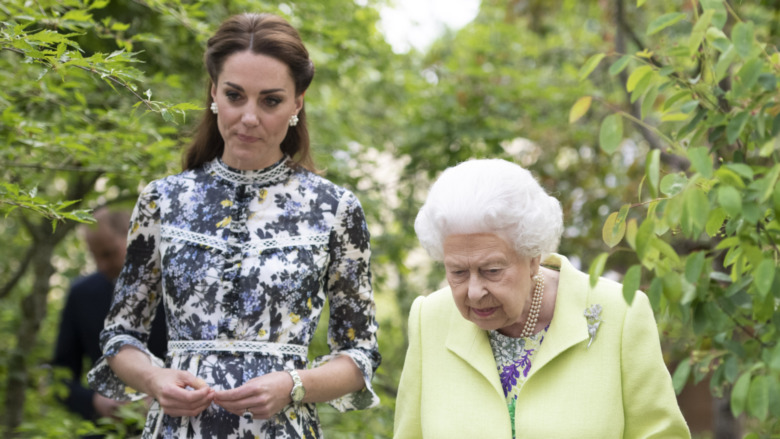 Wpa Pool/Getty Images
While Kate Middleton enjoys special privileges with Queen Elizabeth, the duo have reportedly established a more laid-back relationship, too. A royal source spoke with Us Weekly about how much their relationship has flourished, especially once they started living in closer quarters. "Kate and the queen have always had a special bond, but they developed a deeper friendship after she and [Prince] William moved from Anmer Hall, Norfolk, to Kensington Palace, which is within walking distance of Buckingham Palace," the source explained. 
And, as it turns out, Kate and the queen have struck a healthy relationship balance between work and play. "Sometimes they'll casually catch up over afternoon tea," the source continued, adding that "other times, they'll have more formal meetings, where the queen will give intense one-on-one training about taking on the crown."
More than anything, it seems that Kate and Queen Elizabeth have bonded over their respect and desire to uphold the monarchy. "[The queen has] really taken Kate under her wing," another source explained to Us Weekly, adding that "the two of them will often spend hours discussing royal life and the future of the monarchy."
Kate clearly has nothing but respect for Queen Elizabeth — and, thanks to their close relationship, it seems that the feelings are very mutual.