Prince William And Princess Beatrice's Relationship Explained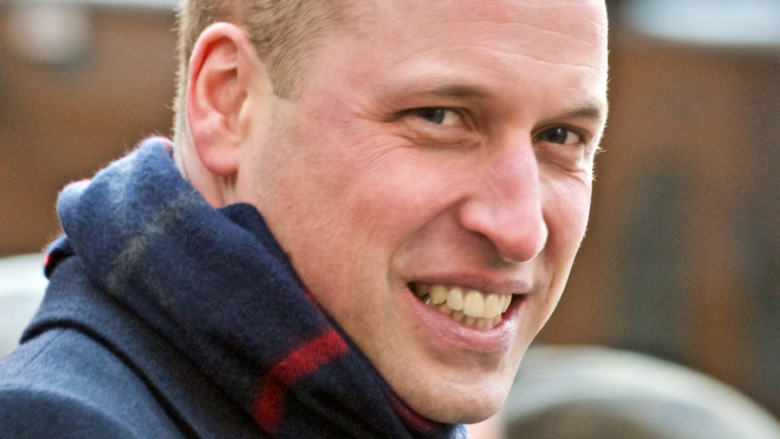 Shutterstock
Prince William and his cousin Princess Beatrice reportedly used to be close despite the six year age gap between them, per Express. In fact, the two sets of siblings — William and Prince Harry and Beatrice and Princess Eugenie — used to spend a lot of time together. Their fathers, Prince Charles and Prince Andrew, are brothers, but their mothers actually fostered the connection between the families. Sarah Ferguson, who was married to Andrew for 10 years, per Town & Country, was very close to William and Harry's mother, Princess Diana.
In a 2007 interview with Harper's Bazaar, Sarah recounted her relationship with Diana. Since their mothers knew each other, the two were childhood friends, and then they reconnected in 1980, per Town & Country. They would get even closer after they both separated from their husbands. However, Diana and Sarah eventually had a falling out in 1996, and in the interview with Harper's Bazaar, Sarah said she hadn't spoken to William or Harry since then (though that has changed in recent years).
So, what does this have to do with William and Beatrice?
Princess Beatrice took offense at Prince William's — and his father's — actions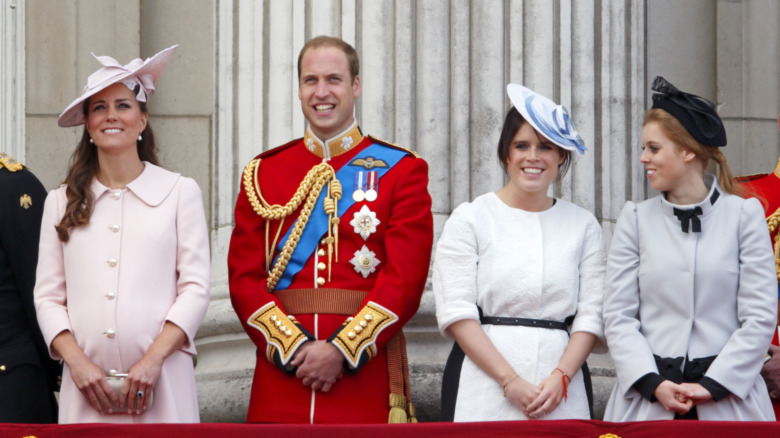 Max Mumby/indigo/Getty Images
It's no secret that these days, Prince Charles isn't particularly fond of Sarah Ferguson, per Express. However, that's seemingly a drastic change from his opinion about her in the '80s, when Charles reportedly Princess Diana (via Town & Country), "I wish you would be like Fergie — all jolly."
His disdain seemed to have trickled down to Charles' own sons, Prince William and Prince Harry, and the two developed a frosty relationship with their aunt. William didn't even invite Sarah to his wedding, a fact that reportedly upset her and her daughters, Princess Beatrice and Princess Eugenie. Journalist Catherine Ostler wrote (via Express) that Diana's death caused the link between the cousins to be severed. She also wrote that people couldn't blame Beatrice and Eugenie for thinking William humiliated their mother by not inviting her to his wedding.
There is also talk of history repeating itself. As Town & Country reported, part of Diana and Sarah's falling out allegedly revolved around jealousy that brewed between the two young women. The same can reportedly be said about William and Beatrice. William will be the Prince of Wales and eventual king, and he has many duties and privileges afforded to that rank. Unfortunately for Beatrice, her uncle, Charles, reportedly wants to "implement a slimmed down monarchy when he takes to the throne," per Express. 
That means Beatrice, who, as of this writing, is 10th in line to the throne, per Harper's Bazaar, has lost many of her royal privileges, including her paid-for security in 2011.
It's not all bad blood between Prince William and Princess Beatrice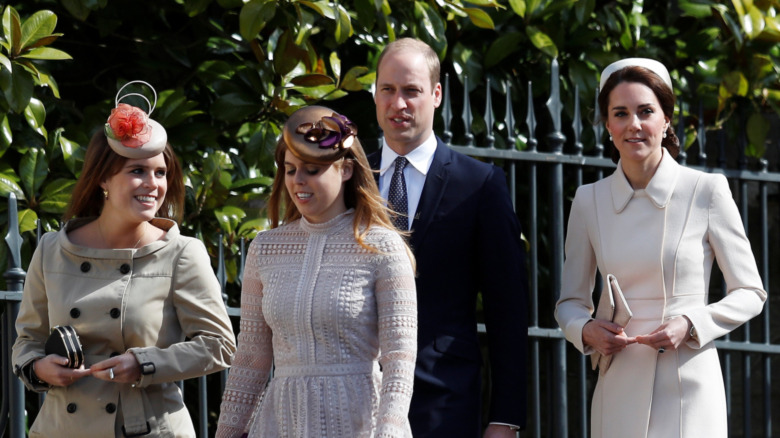 Wpa Pool/Getty Images
While the relationship between Prince William and Princess Beatrice seems to be following the footsteps of their parents, in recent years that relationship seems to be thawing out a bit, seemingly at the behest of Prince Harry. Harry spent time in Switzerland with Sarah Ferguson, Prince Andrew, and Beatrice and Princess Eugenie in 2013, per Town & Country, and he invited Sarah to his wedding to Meghan Markle in 2018. 
William seems to be along for the ride, though there was talk that he was still on the outs with his cousin when he wasn't invited to her wedding in 2020, per Harper's Bazaar. However, Beatrice got married in the middle of a pandemic, so it wasn't all that surprising that William and his family — who had taken to the country to ride out the pandemic — wouldn't have attended the intimate ceremony. They did post a kind photo on social media to mark the occasion, though.
Here's hoping tensions continue to abate as the years continue, and they can all come together to mourn Prince Philip in peace.