Body Language Expert Noticed The Queen Do Something Very Telling At Her Husband's Funeral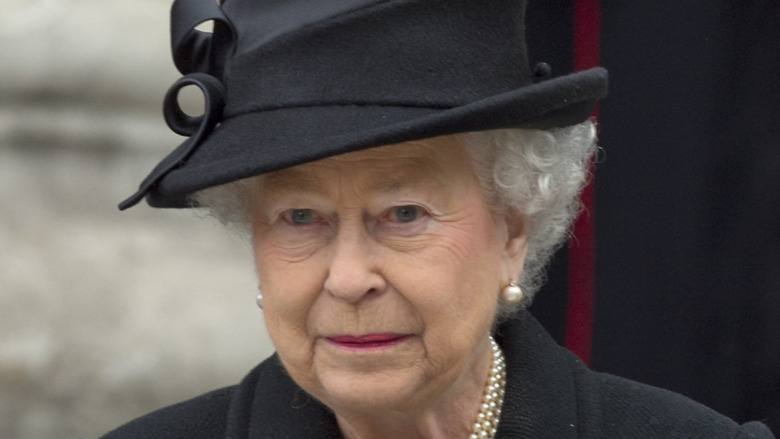 Wpa Pool/Getty Images
On April 9, 2021, Prince Philip died at age 99. That day, the royal family issued an official statement, which said, "It is with deep sorrow that Her Majesty The Queen has announced the death of her beloved husband, His Royal Highness The Prince Philip, Duke of Edinburgh. His Royal Highness passed away peacefully this morning at Windsor Castle." 
Prince Philip's wife of 73 years, Queen Elizabeth II, was expected to enter an eight-day mourning period, which is traditional, according to Entertainment Tonight. However, the dutiful monarch resumed her royal responsibilities four days after Prince Philip died (via New York Daily News). She attended the retirement ceremony for Lord Chamberlain Earl Peel, the royal household's most senior official. The Associated Press reported that the members of the royal family will "undertake engagements appropriate to the circumstances." It's important to note that everyone grieves differently and that Queen Elizabeth II has always upheld her sense of duty and understands that she "has a job to do," as a source told People.
Additionally, she released her first solo statement following her husband's death, which was in response to the volcanic eruptions in St. Vincent. Yes, she has a very important role to fulfill on the public scale, but she is still a woman who lost her husband, whom she met when she was just 8 years old, per the royal family's official website. Even with a protective face mask on, her emotions were palpable at the funeral, according to body language expert Jason Lee.
Queen Elizabeth II had her head down at Prince Philip's funeral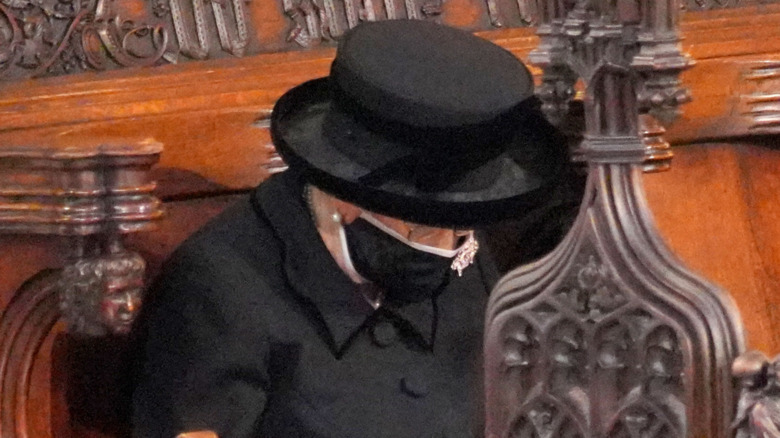 Wpa Pool/Getty Images
Jason Lee, a body language expert, former professional poker player, and relationship science and data analyst with Healthy Framework, spoke to Nicki Swift about Queen Elizabeth II's body language at her husband Prince Philip's funeral, in regard to one subtle, yet rather poignant moment during the services.
Lee shared, "I noticed that during the final playing of [United Kingdom's national anthem] "God Save the Queen," everyone had their heads up, but the Queen had her head down. While we can only speculate why, I'd imagine it was either a moment of personal self-reflection, an internal chance to say goodbye to her late husband, or pain." Of course, the monarch was compliant with coronavirus precautions, wearing a protective face mask the entire time, which also hid a majority of her facial expressions.
Lee noted, "This is not something she always does when that's played — it's not normal for her to have her head down as you can see here," referencing a video of Queen Elizabeth II during a 2012 rendition of the song. He believes that change is "probably something worth noting."
Overall, Queen Elizabeth II's subtle head nod reminds the world that she is a human being with real emotions at the end of the day. Lee remarked, "I think if there's one moment that brings all of this full circle from the grandeur to the reality of a real loss, it's that moment."