Kate Middleton's Entrance At Prince Philip's Funeral Has People Talking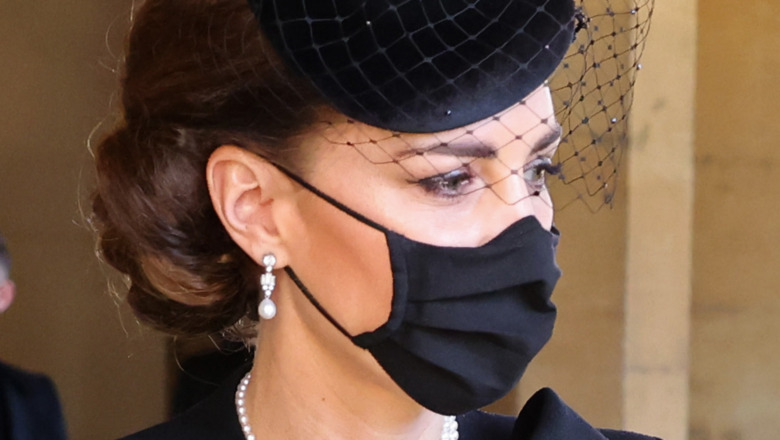 Chris Jackson/Getty Images
Kate Middleton was one of the 30 people to attend Prince Philip's funeral on April 17, and of course, she had people talking. For starters, many were preoccupied with Kate's outfit. The Duchess of Cambridge wore sentimental jewels as an homage to Prince Philip and Queen Elizabeth's decades-long marriage, donning the Queen's Four Row Japanese Pearl Choker, which she also wore at their 70th-anniversary party back in 2017, per People. The choker had also got loaned to Princess Diana in the past. In addition to the choker, Kate's earrings were also a nod to her grandfather-in-law, as they were gifted to the queen in honor of her wedding to Philip in 1947.
She wore a simple black dress with her hair tied up and mask on, something Philip would have probably liked. According to reports, Philip didn't want a big spectacle of the funeral, so even the fact that COVID protocols trimmed the guest list was a good thing. Former palace spokesperson Ailsa Anderson told People, "Ironically, it is probably how he would have liked. No fuss, no bother. Right through his life, he never knew what all the fuss was about."
Everything was seemingly just as Philip wanted, even down to the one thing people questioned about Kate's arrival.
Kate Middleton's solo entrance wasn't odd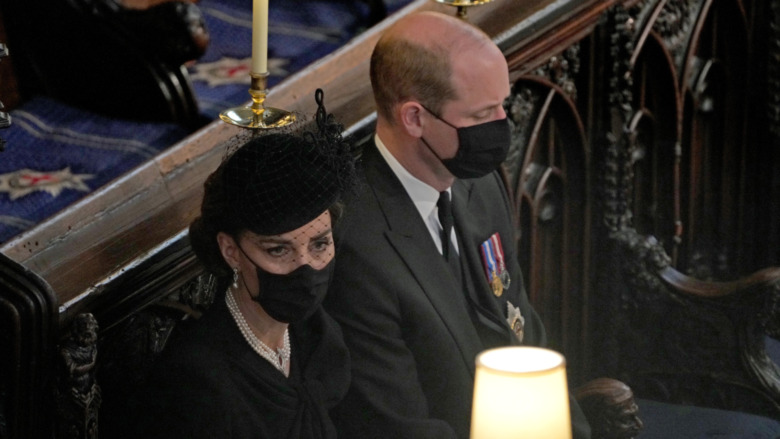 Wpa Pool/Getty Images
Kate Middleton pulled up to St. George's chapel for the funeral alone, exciting a Rolls Royce all by herself. Some people wondered where her husband Prince William was, but it was not that big of a deal that she rolled in solo, per Just Jared. William was slated to walk in the funeral procession his grandfather asked for, walking behind the casket, so he was posting up with other royal family members.
Although there has been some drama surrounding the royal family, given Prince Harry and Meghan Markle's tell-all interview with Oprah Winfrey, there was nothing scandalous about her arrival. That said, it's still understandable why people would have questions about the entrance.
Either way, William and Harry have seemed to put their issues behind them in the name of honoring their grandfather. They walked with their cousin, Peter Phillips. A spokesperson said there was nothing odd about the placement. Per People, it was "a practical change rather than sending a signal." They added, "This is a funeral and we are not going to be drawn into perceptions of drama. The arrangements have been agreed and represent Her Majesty's wishes." After the funeral, Kate joined Harry and William, and the group got spotted talking to each other. So things might be defrosting between them. For Philip's sake, one can only hope so.