How Chadwick Boseman's Widow Is Handling Award Season
Shutterstock
Chadwick Boseman's death in August 2020 left a hole in millions of hearts around the world, especially his widow, Simone Ledward. Through the heartbreak, the late Black Panther star's wife has continued to honor his unforgettable legacy. 
Boseman died at age 43, after privately dealing with stage III colon cancer for four years, his family announced in an emotional statement on Instagram. "A true fighter, Chadwick persevered through it all, and brought you many of the films you have come to love so much. From Marshall to Da 5 Bloods, August Wilson's Ma Rainey's Black Bottom and several more, all were filmed during and between countless surgeries and chemotherapy," the message read. At the time, it was confirmed that Boseman and Ledward had previously tied the knot, as the California State Polytechnic University alum was referred to as his wife. "He died in his home, with his wife and family by his side," the statement said. Though very few details regarding their nuptials have been revealed, Page Six reported that Boseman proposed in October 2019, and they married shortly after.
Since his death, Ledward has kept Boseman's memory alive, and she's been a fierce advocate for colon cancer awareness. When Ledward accepted the Outstanding Actor honor for Boseman at the NAACP Image Awards in March 2021, she held back tears while speaking on behalf of her husband. Though it's been grueling, Chadwick Boseman's widow, Simone Ledward, has handled awards season with nothing but strength and grace. Keep scrolling for more. 
Awards season has been 'torturous' for Chadwick Boseman's family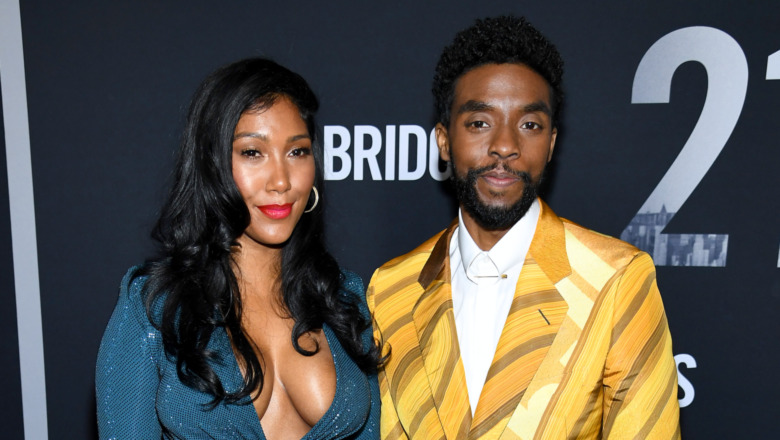 Dimitrios Kambouris/Getty Images
Simone Ledward had viewers grasping for tissues as she spoke at the NAACP Image Awards in March 2021. The Oscar nominee's widow praised Boseman for being an "uncommon artist" and "even more uncommon person," who died in a way that is "not uncommon at all" in the Black community (via Variety). Citing recent statistics which state Black people are 20 percent more likely to be diagnosed with colon cancer, as well as 40 percent more likely to die from it, Ledward urged others to "please get screened."
Though Ledward put on a brave face and held back tears, the 21 Bridges actor's makeup artist, Siân Richards, told the New York Post (via Page Six) that "this awards season has been torturous" for Boseman's spouse, their family, and their team, explaining that because they were so close with Boseman, his death has left them reeling. "Many people think that we were just his team ... we are family," Richards said, noting that on some days, "it's been like drowning." Amid the heartbreak, Richards added that she's "so proud" of how Ledward has been handling her husband's loss, as well as the powerful speeches she's made. However, since Boseman's death has been so devastating, some of his family "cannot bring ourselves to listen," Richards revealed. 
Though many of Boseman's family and friends don't plan on watching the upcoming Academy Awards on April 25, 2021, there's little doubt that his widow, Simone Ledward, is going to honor her late husband again.