The Real Reason We Don't Hear About Tyson Beckford Anymore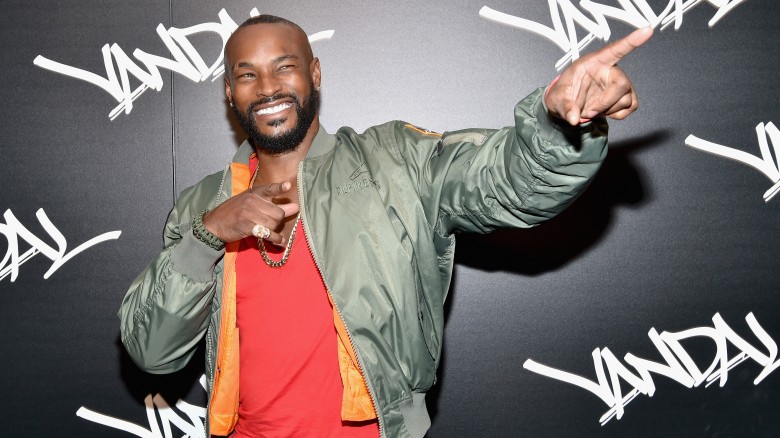 Getty Images
Tyson Beckford was once the male model to have walk your runway or star in your ad campaign. Growing up in both New York and Jamaica, Beckford, 46, was discovered on the streets of the Big Apple, according TV Guide. His career instantly took, off starring in a number of ads for Ralph Lauren and more. He's also flaunted his pretty face and impeccable body for Toni Braxton's "Unbreak My Heart" (1996) and Britney Spears' "Toxic" (2003) music videos.
But in recent years, it appears the photo shoots, TV commercials and opportunities in the spotlight have dwindled. And there are several reasons why this hunk has fallen out of the spotlight. But don't count him out just yet, he's promised to make a comeback in a big way in 2017. Until then, here are a number of reasons why you rarely hear from Beckford anymore.
His TV show didn't last long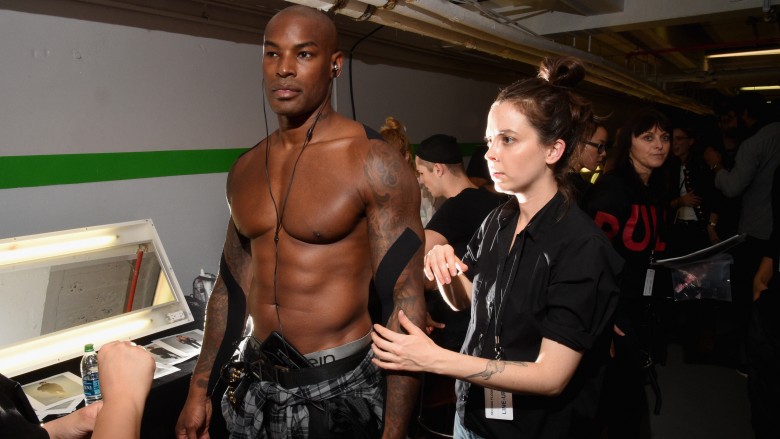 Getty Images
In 2008, Beckford found himself on television regularly — an opportunity to grow his resume and become a household name. He launched an all-male version of America's Next Top Model entitled Make Me a Supermodel. Contestants competed for $100,000 and a modeling contract — no surprise there. In an effort to make the show a success, Beckford called on his fashion friends like Catherine Malandrino, Niki Taylor and others to judge and mentor the budding models.
Unfortunately, it wasn't enough to keep the show alive and after two seasons, Bravo gave it the ax. Beckford's show was no match for a crowded field of reality competition shows.
He's got legal matters to attend to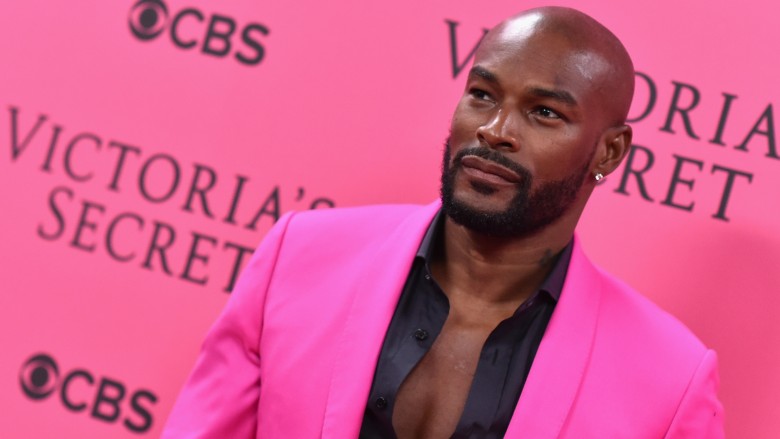 Getty Images
Beckford may be pretty, but he isn't independently wealthy. This pretty boy has to work for his money, and sometimes that means linking up with companies to sell products. Beckford attempted to become the next Jane Fonda or Suzanne Somers of his generation when he joined forces with Cisco to release the Beckford bar.
The contraption, which boasts a rather simple design, promises an incredible chest workout using a full range of motion to not only build muscle but strengthen the core. It's taken some five years of developing and testing and it retails for just $99.95. As amazing as that sounds, it seemingly wasn't enough for Beckford to stay on board. And according to a December 2015 filing, Cisco is taking Beckford to court over his lack of participation. TMZ reports the manufacturing company claims Beckford left them high and dry. Beckford, on the other hand, says he fulfilled his obligation of just selling 2,000 units. Although the company claims it's done well, it's clear they are aiming to do better and require him to push the product more. Though Beckford may not be doing informercials on late-night TV, he's still hawking the Beckford bar on Twitter, as it's the banner image across the top of his account.
He's busy fighting over women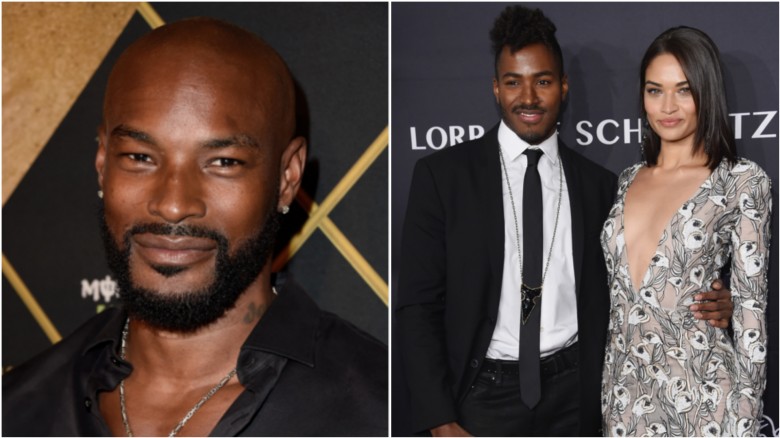 Getty Images
With a face like Beckford's, it's hard to imagine him wanting for much in life. Women probably throw themselves at him all day long, but there was only one woman to truly get under his skin: Shanina Shaik. After splitting up, this woman caused so much turmoil in his life, it led him to brawling in the streets of New York City.
According to TMZ, Beckford was partying at Up & Down nightclub in May 2016 when he spotted his old friend DJ Ruckus, who started dating Shaik shortly after the pair broke up. Insiders at the club say Ruckus gave Beckford the finger causing him to flip out. The men agreed to take their beef to the streets where they brawled over Shaik. As the story goes, the fight was violent with Beckford landing punches on Ruckus and friends of the DJ's jumping in and knocking Beckford on the noggin. Luckily, the amateur fighters were not arrested.
The following month, the drama still wasn't settled between the guys. Ruckus provided a solution, telling Arzo Anwar on CBS Radio's So Chic, (via Page Six), that he wants to box Beckford. "If you want to fight, I'll fight," Ruckus barked. "I'd love to... in a somewhat controlled environment, away from police, cameras." He softened the request for a duel by adding, "Let's get in a ring and fight for charity."
Beckford and Ruckus have yet to settle their drama nearly a year later.
He's taking side jobs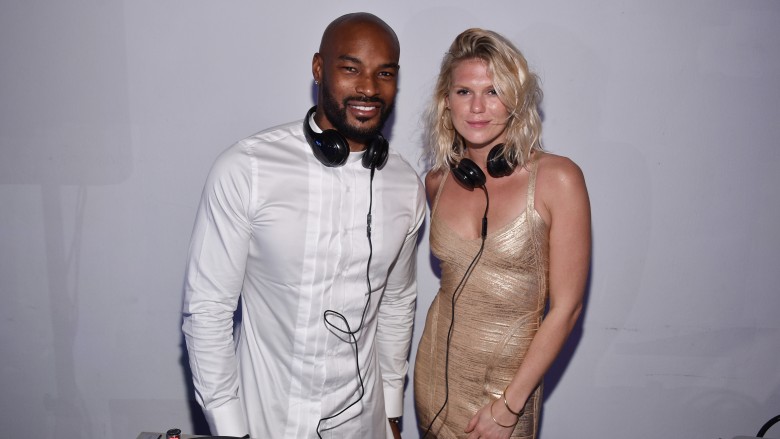 Getty Images
When Beckford isn't walking runways or hawking workout equipment, he can be found at your nearest club in the DJ booth. And given the experience he's had at partying like a rock star around the world, it's no shock he'd be an excellent DJ. The former Ralph Lauren spokesmodel landed a stunning $10,000 paycheck to deejay at Art Basel in Miami in December 2016, reports TMZ. The site says Beckford was given the major paycheck to rock the house at Miami's Soho Beach House for just two hours. To sweeten the deal, he allegedly only agreed to work half that time.
He joins a growing list of stars taking on deejaying at club appearances, including Idris Elba and the most famous one of them all, Paris Hilton.
He got in a social media war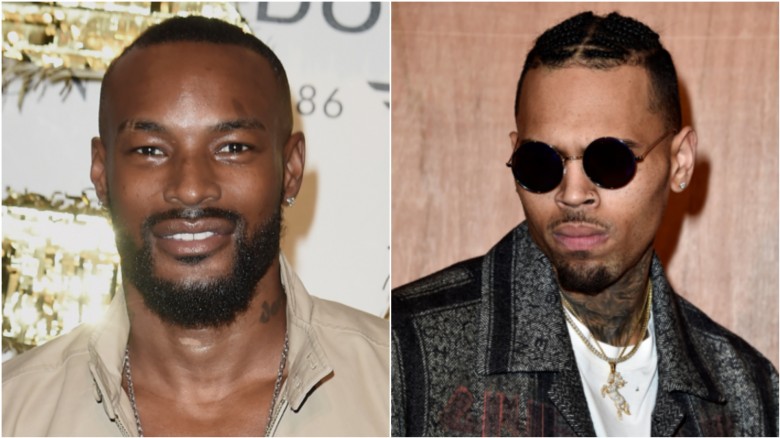 Getty Images
It was only a matter of time before Beckford's charming good looks would get him in a heated drama. This time, it was Chris Brown who was seemingly jealous of the model. In May 2015, Tyson posted an innocent photo with friend Karrueche Tran to Instagram with the caption, "Saturday with @Karrueche #Vegas #Palms #Blasian." That single photo of the pair smiling sent Brown into a fury, leaving the world of social media bracing itself for a full-on fist fight — or worse.
"I'm done all this internet talking blood," Brown tweeted about his jealousy, reported E! News. Brown's tweet continued with vulgar threats, and his anger only grew. "U wanna keep walking them runways. I need ta legs [sic] for that. Keep playing like I ain't with the bullsh-t," Brown threatened.
As details began to unfold, it was uncovered that Tran was visiting the Chippendale show in Vegas, where Beckford was performing, and simply snapped a photo. Knowing there was no drama behind the scenes, Beckford tweeted to Brown, "@OfficialChrisBrown it's about fun in Vegas. Come thru papa." After catching wind that things were platonic between the pair, Brown tweeted an apology. "I'm light skin! I'm always in my feelings," the R&B singer quipped. "No drama! People are really starting to make this sh-t an issue. I can be a real one and say that I was wrong for even pressing an issue... I can be a man about it."
Since then, Beckford has rarely been spotted with any women. Probably because he's terrified of the drama that may arise from jealous ex-boyfriends, jealous husbands or just plain old crazy men.
He was part of a family tragedy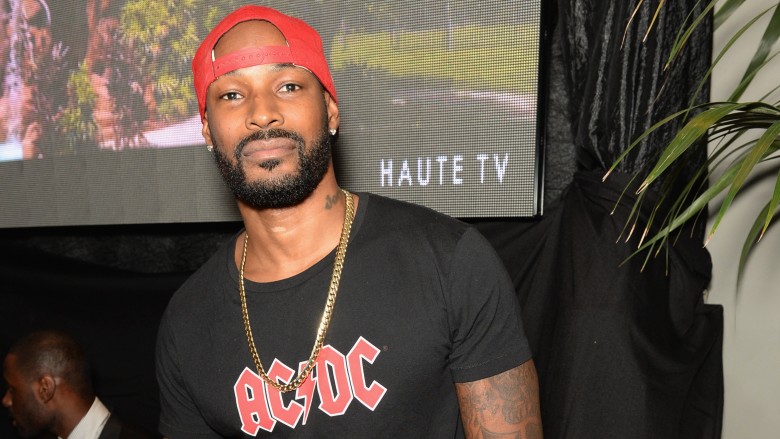 Getty Images
A night of celebration and love ended in tragedy and destruction. In early February 2014, Beckford's nephew, Domonic Whilby, found himself behind bars and charged with vehicular manslaughter after allegedly causing a fatal crash in New York City. According to the New York Daily News, Whilby, then just 22, stole a delivery truck from a parking garage when he couldn't find a way home after a night of partying with his uncle. The pair, along with several others, were celebrating Beckford's then girlfriend Shanina Shaik's birthday.
CBS News reported that Whilby crashed the stolen truck into a bus around 5:30 a.m. causing the bus to smash into scaffolding. The driver was ejected from the bus, and was pronounced dead at the scene. Whilby sustained minor injuries, and four other people were hurt in the incident. He was also charged with grand larceny, criminal possession of stolen property and felony assault.
Although some time has passed since the horrific incident, little progress has been made in the case. Whilby eventually rejected a plea deal and the case has been moved to trial, reports the New York Daily News. If convicted, Whilby will face 25 years to life in jail for his crime.
He's getting political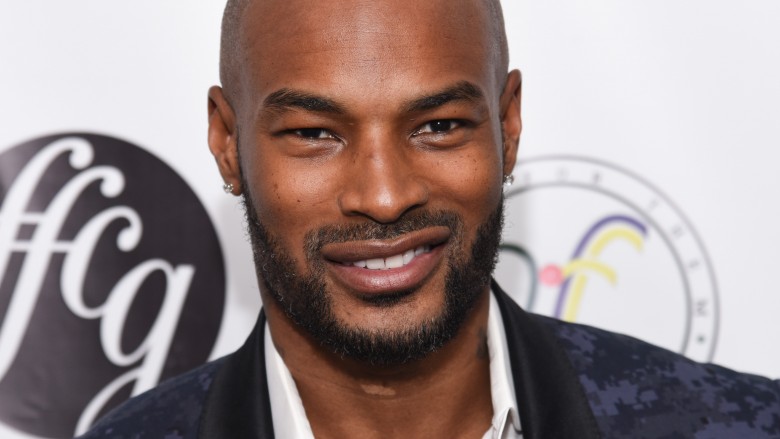 Getty Images
When it comes to guns and the hot topic of police shootings in recent years, Beckford believes it all has to do with video game culture. "We might have to send a lot of these cops back to training because this is a generation of the computer games and video games," Beckford told TMZ in July 2016. "So I think a lot of cops, when they hold their gun, they're so trigger happy and want to use it instead of de-escalating the situation. And I think they need to learn more of that and less gun and, you know, use more tasers and things of that nature."
Later that summer, Beckford commented on Hollywood actors who preach about gun control but use excessive weapons in their films. He talked to TMZ shamming Matt Damon, who starred in the Jason Bourne movie ads holding a pistol. "You can't sit there and denounce the gun when the gun is making you money," Beckford candidly told cameras. "Me personally, I don't play that. I'm 2A [second amendment] all day. It's Hollywood. You can lie and pay and make money."
He's busy looking for love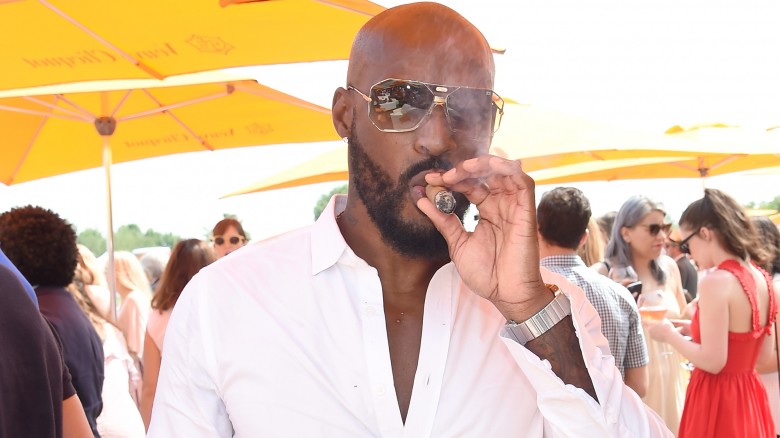 Getty Images
It's no secret that finding love in Hollywood is hard. And to find true love is an even bigger task. Beckford is like any other man hoping to find his perfect lady and settle down, and he's doing it out of the spotlight. "I have been single for seven months, and it is really hard out here," Beckford shared with Page Six in late 2015. "All the girls I want are taken. I am looking for my Beyonce, my Rihanna."
And when he does find a girl he's interested in, he's taking them on unusual dates that definitely lead to some sweating. "I'd go to a Flywheel or spin cycle class," Beckford told Pop Sugar on dating. "That's a nice first fitness date... I definitely want them to be motivating. They've got to have that drive."
He's starring in C-list movies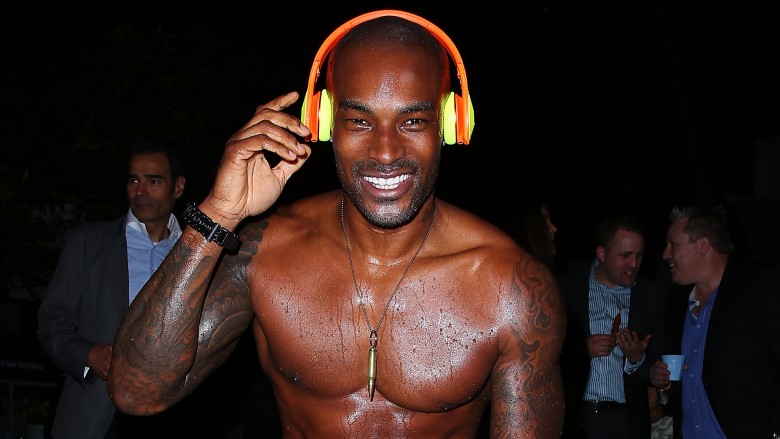 Getty Images
Some supermodels are granted opportunities to star in big block-buster movies with amazing A-list actors. With 20 years in Hollywood, Beckford is still waiting on that chance. Until then, he'll have to settle for C and D-list movies.
In 2015, he had a role in Chocolate City, a film about a college student who takes a gig at a strip club to make extra cash. Beckford co-starred alongside Robert Ri'chard, Vivica A. Fox, DeRay Davis, Michael Jai White and even '90s R&B star Genuine. Although the premise seemed profitable, a la Magic Mike (2012), it bombed at the box office. According to Box Office Mojo, in its opening weekend it raked in a poor $98,829 and since then it's earned a dismal $212,662 in total. Reviews weren't much better either. On Rotten Tomatoes, it scored a low audience score of 37 percent.
He's hiding in the gym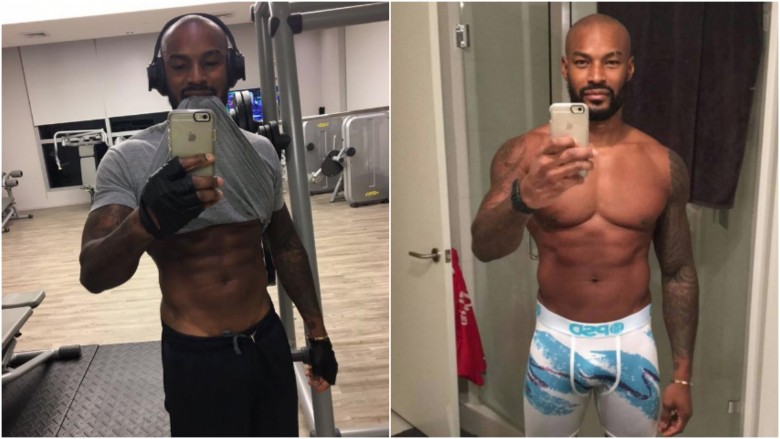 Instagram
A body like Beckford's requires some serious commitment to eating healthy and living an active lifestyle. So, if he's not seen or heard from in a long time, he's likely hiding in the gym working on his body. As he puts it, it's a constant upkeep. "Every day I do something, whether it's 20 minutes or 15 minutes. I do something to keep the blood going," Beckford told Pop Sugar. "I have a Cannondale [bike] here in the house. I'll go for a nice 15 minutes hard, then I go into an ab routine after that, then I go into jump ropes, and then planking." And if he's about to do a performance for the ladies in Las Vegas, he'll increase the intensity of his workout. "First, I'll do some weights because I'm trying to bulk up," he said. "And then I do a nice finishing workout with a Beckford Bar routine."
But as he puts it, it's not all about the gym — something has to happen in the kitchen, too. "One of my favorites is a mixture of apple, kale, orange, grapefruit, and celery," Beckford said of his love for smoothies, noting he doesn't do protein powders because he eats a well-balanced diet. "I eat so much chicken and fish, I'm pretty good on the protein. Once in a while I'll do peanut butter." All of that hard work has paid off because paparazzi cameras never catch Beckford looking flabby or out of shape. But that doesn't mean he doesn't indulge every now and then. When he pigs out, it's on fried fish or chocolate, he says.
He's busy in Vegas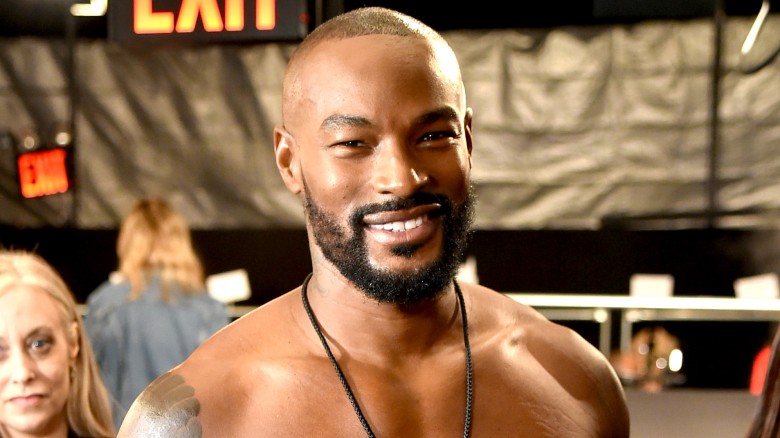 Getty Images
Not everyone can make it in this world on their looks. Luckily for Beckford, his chiseled jawline and smooth skin work in his favor. In 2015, he sought out to use those charming good looks in Las Vegas and scored a major jackpot. According to People, Beckford joined Chippendales as a guest celebrity host for just a few weeks. "I am really excited to join the Chippendales show in Las Vegas," the model said at the time. "These guys provide a flirty and sexy yet playful experience for women, and being a part of that party each night just seems like fun." Little did he know, his appearance would send ripples across Sin City.
Fast forward to 2017 and Beckford is heading back to the Vegas strip to give the ladies more of what they want. TMZ reports Beckford inked a three-month deal with Chippendales because his last run was so successful. Unlike his last appearance, the show will seemingly revolve around him and his exotic dancing. The site adds the show is going above and beyond to make him feel welcomed — including custom choreographed dance numbers and dance moves to better feature him. He's scheduled to hit the dance floor to a room full of rowdy women waving money beginning March 30. Insiders tell TMZ he'll likely stay until the end of summer despite the three-month initial announcement, and he could stay even longer if sales are through the roof.
Beckford's future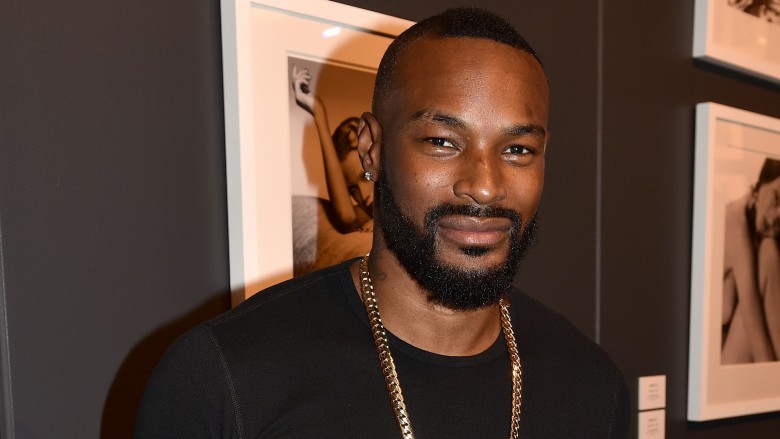 Getty Images
While the last few years have certainly been rough for Beckford — lawsuits, brawling in the streets, Twitter wars and even his nephew being charged with manslaughter — he could get back on top in 2017. His announcement to join Chippendales for at least three months was a good business move. It provides him ample opportunity to gain good press while doing what he does best — pleasing women with his rock-hard abs and mega-watt smile.
Let's hope he can build on this momentum and restore his career to the heights of yesteryear. We all know it's hard for aging beauties in Hollywood, but when you've got talent, there's always a chance for a comeback.