Why People Can't Stop Talking About Luke Bryan's Underwear Commercial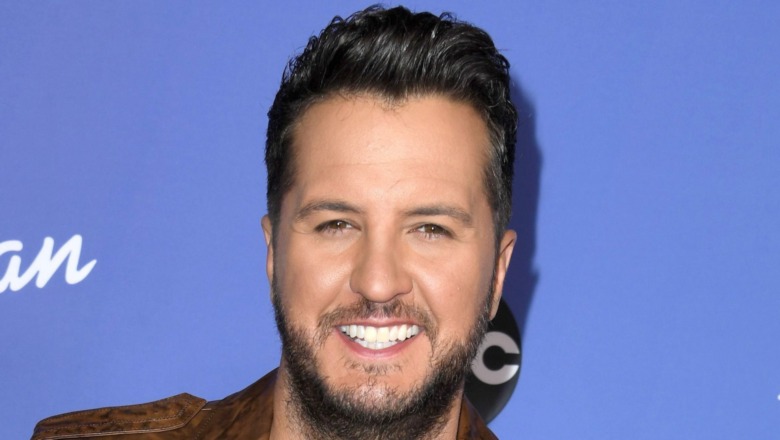 Jon Kopaloff/Getty Images
As the old saying goes, "just picture your audience in their underwear" — or in this case, country music singer Luke Bryan in his underwear. While Bryan is notably missing from the 2021 Academy of Country Music Awards ceremony due to testing positive for COVID-19, he is still managing to raise a few eyebrows with his new Jockey underwear commercials.
As reported by Country Now, The Voice host Blake Shelton minced no words in February 2021 when asked about Luke Bryan's new partnership with Jockey. When a radio host asked Shelton if the thought of Luke Bryan in his underwear disgusted him, Shelton playfully shot back, "Well, it is disgusting, but it's not surprising." He then added: "Luke just seems like one of those guys that walks around his house in his underwear all day with pee stains on them. He just seems like that kind of guy, doesn't he? If he doesn't have to put clothes on, he probably doesn't."
Shelton did, however, appear to tuck his tail a bit when asked about Bryan's wife Caroline's involvement in the commercials. "Caroline in her underwear doesn't sound as disgusting to me," he joked. "That's just me, though."
It should be noted, however, that Shelton's reaction could just be due to some good old fashioned rivalry as Shelton has previously appeared in ads for Gildan, another famous underwear brand.
But what did the masses have to say about Bryan's new underwear commercial? Keep reading after the jump to find out.
Twitter was not amused with bearing witness to Luke Bryan's underwear commercial
Unfortunately, it appears the general consensus is that country singer Luke Bryan should not plan to give up his day job anytime soon.
Twitter immediately lit up like a Christmas tree with many users reacting to being subjected by a Jockey ad featuring the country singer during a commercial break. "That Luke Bryan underwear commercial was not on my #ACMAwards Bingo card tonight," one user tweeted. Another simply wrote: "FFS...Luke Bryan underwear commercial? #ACMAwards."
Bryan, however, is very excited about his new underwear gig. "I never thought I would be selling underwear on the Super Bowl," Bryan confessed during the 2021 Country Radio Seminar per Taste of Country. "Now the goal is to actually have the body good enough," Bryan joked.
And he has a message for all his critics and naysayers too: "Well, I mean, it's like, if anybody wants to make fun of me for being in my Jockeys, then maybe they just need to call my accountant," he told CMT Radio Live's Cody Alan.
Looks like Bryan plans to laugh this one off... all the way to the bank.