The Special Connection Blake Shelton's ACM Performance Has To Miranda Lambert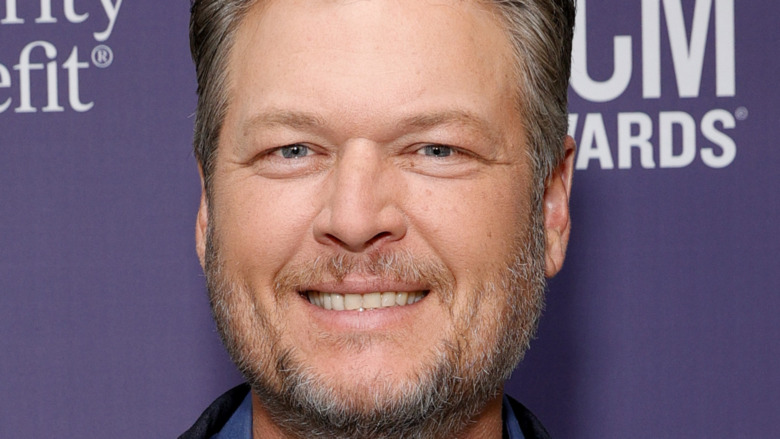 Jason Kempin/acma2021/Getty Images
On April 18, 2021, the Academy of Country Music Awards aired a tribute to a reopening Nashville and the restart of live music performances after more than a year of lockdown and cancellations due to COVID-19. The awards show featured showings from Carrie Underwood, Dan + Shay, Maren Morris, Kenny Chesney, Brad Paisley, Miranda Lambert and Elle King, and many more. One of the numerous performances of the night featured country icon Blake Shelton, who sang a mashup of two songs that are special to him at this point in time — "Austin" and "Minimum Wage."
"Minimum Wage" is Shelton's newest hit, a controversial song that some considered to be "tone-deaf," per Billboard. But Shelton addressed the concern and spoke about how difficult it was for him to find success. "Just like probably 95 percent of artists out there, I struggled for so long to get by," he said. "But those really were some of the best days of my life." The struggle relayed during "Minimum Wage" was perfectly partnered with Shelton's first-ever number one hit, "Austin." The song stayed on the top of the Billboard Hot Country Song chart for five weeks and catapulted him to fame. "Austin" turns 20 years old this year, so it's a great time to bring the song back into the spotlight.
Although the song premiered while Shelton was married to his first wife, it also shares a special connection with his second wife, Miranda Lambert.
Blake Shelton performed the song with Miranda Lambert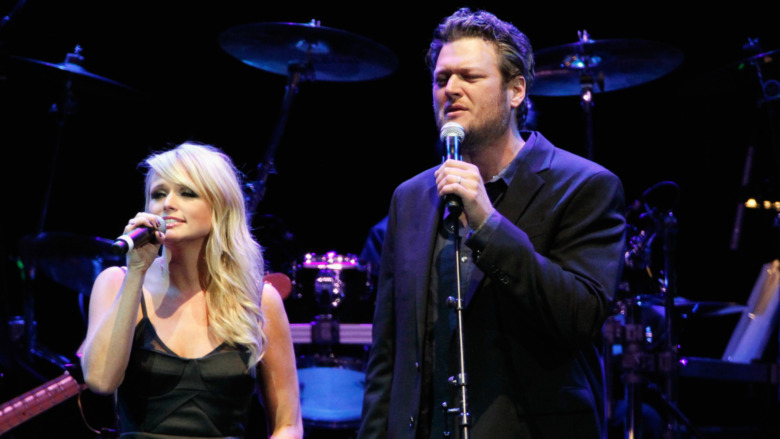 Terry Wyatt/Getty Images
Blake Shelton married Miranda Lambert in 2011, and fans thought the reigning "king and queen of country" were going to stay together forever, per Billboard. That all changed in 2015 when the couple announced they were filing for divorce. But before the relationship fell apart, Shelton and Lambert made tons of music together, including 2013's hit "Over You." In total, the couple wrote 13 songs when they were together.
But the music superstar duo did more than just write songs together or perform the duets they wrote for one another. Sometimes, they'd sit in on each other's songs, helping sing backup or adding in notes to make it a duet. Although there's no knowing exactly how many songs they did this with, there is video evidence of Lambert guesting on Shelton's rendition of "Austin" during one performance. One YouTube user captured a clip of the then-couple singing Shelton's breakout hit during a live performance in Tishomingo, Okla. on Dec. 19, 2014. The two performed in the Platinum Ballroom at The Ladysmith Bed & Breakfast to what looked like an intimate crowd.
As Shelton celebrates 20 years of success for "Austin," we're sure he has plenty of memories associated with the song, much like this one.