The Truth About Kate Winslet's Daughter, Mia Threapleton
Kate Winslet has had an impressive Hollywood run. The Oscar-winning actor has worked on several box-office hits over the years. And now, with the premiere of her HBO crime drama, Mare of Easttown, Winslet has become a big star on the small screen, too.
With the kind of versatility Winslet has as an actor, it would only be natural for her to pass on her skills, expertise, and on-screen intuitions to her daughter, Mia Honey Threapleton, whom she shares with her ex-husband, British film director James Edward Threapleton. But what do we know about Mia? Sure, the 20-year-old has already found her footing as an actor, but there's more to her career than that — more than the fact that she's grown up under the influence of someone who has been on the world's biggest screens.
Mia's IMDb profile states that she has acted in two movies — the 2014 romance drama A Little Chaos and the 2020 thriller Shadows (as seen above). The story of how she got her roles is also exciting and even a bit unusual for the privilege she was born into, which makes it really special. Keep scrolling to learn more about Winslet's offspring and why the metaphorical apple might not fall far from the proverbial tree.
Casting directors didn't know this key fact about Mia Threapleton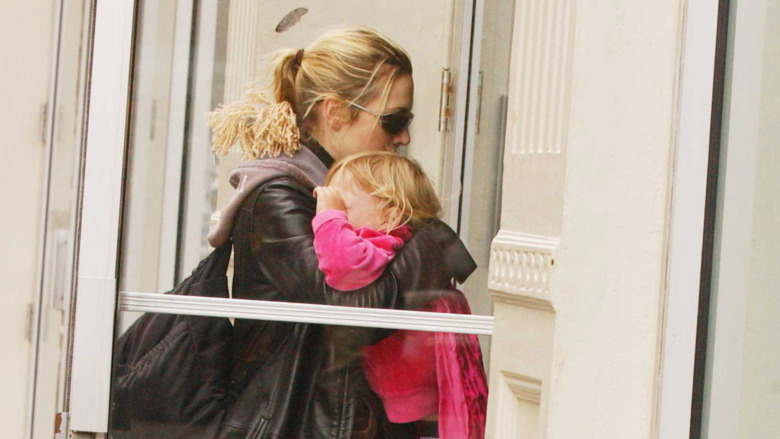 Arnaldo Magnani/Getty Images
When Kate Winslet appeared on ITV's April 19, 2021 episode of Lorraine, she revealed a secret about her daughter Mia Honey Threapleton that not many of her fans would have expected. "What's great for her is she has a different surname so she slipped under the radar and the people who cast her didn't know she was my daughter and that was important for her self-esteem of course." Winslet said, per the Daily Mail.
And she's right. The way that Mia goes about her acting roles shows how much she cares about it. Winslet knew it and saw how serious it was, and she could not refuse when, a few years ago, Mia told her that she would "like to give it a go." "I think I knew it was coming, I always suspected," Winslet recalled on the talk show.
However, Mia did not spend much of her childhood watching her mother act. She grew up with a unique idea about the industry, believing that acting and watching someone act are two different things. "It was always a special treat. It's a very different experience when it is happening to you, and not just something I was getting to observe from time to time," she told Variety in November 2020, adding that she could really understand why her mother always told her how hard the work could be. "She is right! And I loved every second of it."
How Mia Threapleton's learning disability impacted her script-reading
Mia Honey Threapleton has not been shy when it comes to talking about her journey so far. She got lucky with her first-ever audition, and much of the credit goes to the script. "Shadows was the first film I'd received an audition for, and the first script I had ever been given to read. I couldn't believe my luck. I read it and didn't put it down," she told Variety, later revealing that she has dyslexia and reading a script meant so much to her, as she would always "read slowly and steadily to be able to absorb things fully."
For Mia, it was one step at a time. She recalled being "excited" and "nervous" when she finished school. She also remembers feeling ready to start auditioning for things. "I just hoped I would get the chance to do what I had wanted to do for so long!" she told Variety. "I tried to connect her [her character in Shadow] deeper emotions to times where I may have felt the way she did. Frustration, a desire for independence, a need to be loved and taken care of. Fear. All normal things that teenagers tend to go through, I guess."
That's one lesson learnt! Now with a decent start and the support of her mother, it'll be interesting to see what lies ahead for the young actor.