The Tragic Death Of Lidia Bastianich's Mom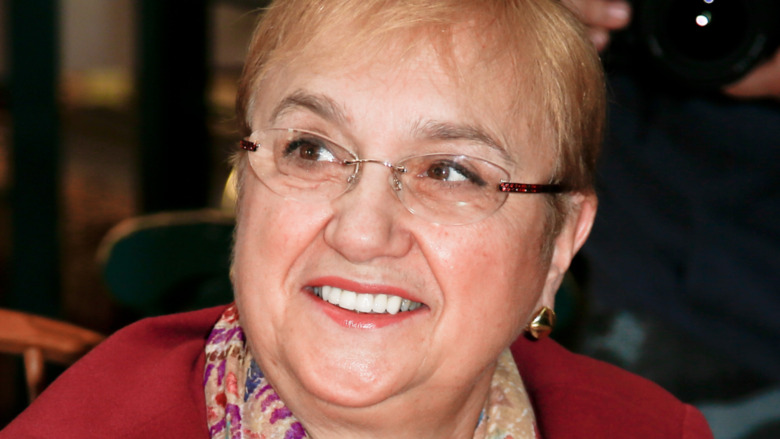 Shutterstock
If you're a fan of Lidia Bastianich, you know how much her mother, Ermina Motika, means to her. Known as "Grandma" on her PBS show, Lidia's Italy, Grandma was a staple on the program and was always there to add in that pinch of love that makes Italian cuisine feel like home to people all around the world. With her on standby to share a cooking tip or an antidote about tradition, she quickly became a fixture in our homes much like Bastianich herself.
With the love Bastianich's viewers have for her mother, it was with a heavy heart when she shared her mother died on February 19, 2021. "My dear mother, Erminia, affectionately known as 'Grandma' passed away quietly at home with me and the immediate family several days ago," the celebrity chef wrote via Twitter. "Our team will be dedicating many of my future posts to her as we get through this difficult time."
In the wake of her death, Bastianich's fans were there to remind her of her mother's legacy. Keep scrolling to see how fans remembered the late grandmother.
Lidia Bastianich's mother lived a long life
There is no doubt Lidia Bastianich's mother, Grandma, lived life to the fullest. In fact, Grandma dedicated her life to public education as an elementary school teacher after migrated from Italy to America in search of a better tomorrow, according to her obituary published on Legacy.com. At 100 years old, Grandma died "peacefully at home" on February 14, 2021.
In the months prior to her death, Bastianich told Time Out that her mother was very much "alert" despite being "well into her years." While talking with the outlet in March 2020 amid the coronavirus lockdown, she said her mom "enjoys a good game of cards and expects a good meal, especially when her daughter the chef, is cooking."
Once Bastianich informed her fans about the unfortunate news, the chef received an outpouring of support on social media. "So sorry for your loss Lidia. I've been watching your show for over 30 years. If she showed up it always made me feel like a little kid again sitting around while the adults talk and I could learn. Can't imagine [what] her entire beautiful life was like in both Italy and [the U.S.] for 100 years!" one person tweeted. "My deepest and sincerest condolences to you and your family. I know 'Grandma' was such a huge part of your life. Thank you for sharing her with your fans," another wrote. It sounds like Grandma definitely left her mark on the world.