The Truth About Jaren Johnston's Wife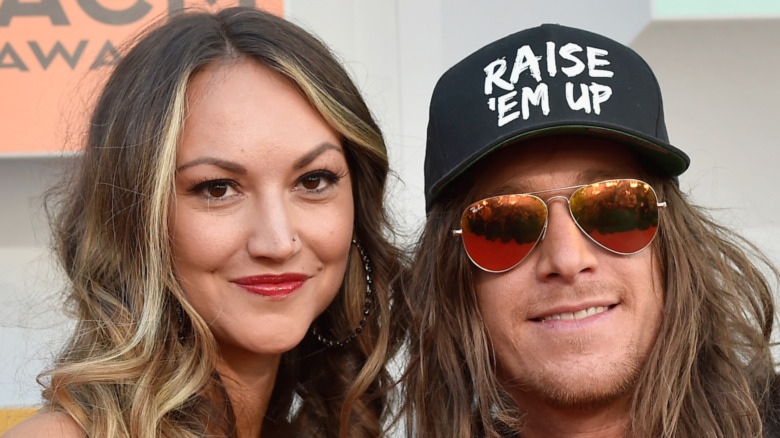 David Becker/Getty Images
The Cadillac Three frontman Jaren Johnston was nominated for an American Country Music award in 2021 but he already has the biggest prize at home: a loving wife and kids. Johnston's latest album Tabasco & Sweet Tea was reportedly meant to lift listeners up during the tumultuous year of 2020 with the COVID-19 pandemic. "That record was us trying to make ourselves feel better," Johnston told American Songwriter. "In a career, especially as a country artist, you focus on the things that are working, the things that make us sound like nobody else. We knew we couldn't really go play the record, but I thought people needed this record now. Something quirky, funky, upbeat, and happy."
Yet Johnston has had a cheerleader in wife Evyn Mustoe for over 15 years. Evyn was even the inspiration behind Cadillac Three's hit "White Lightning" according to The Boot. "I'm a very lucky fella; not many people get to be with a woman like mine," Johnston revealed to Entertainment Tonight. "I fell fast and hard. I remember thinking it was kind of like being struck by lightning. The hair on the back of my neck stood up, and I got the shakes the first time I saw her." 
So who is Evyn? Keep scrolling to find out!
Evyn Johnston is also in the music industry
R. Diamond/Getty Images
Jaren Johnston knew Evyn Johnston (née Mustoe) was his future wife from the moment he saw her. Evyn even starred in Johnston's music video for his ode to her, "White Lightning." Per People, the couple tied the knot in 2013 after more than a decade of dating. They welcomed son Jude Daniel Johnston in April 2017 according to Taste of Country. "We've been through so much together, but nothing has ever been as exciting as expecting our first baby," Johnston told fans during a 2017 concert announcing he was going to be a dad. 
Aside from being Mrs. Johnston, Evyn works as the "Director for Creative" of The American Society of Composers, Authors and Publishers (ASCAP) as cited on her LinkedIn page. The Nashville native has a marketing and communications degree from Middle Tennessee University, and lists herself "in the music biz" in her Twitter bio.
The Johnston family love is strong: per People, Jaren frequently dotes on wife Evyn. "You are my 'the house that built me,' my 'grace,' my song that I wanna listen to over and over again because it makes me a better person every time I hear it. I love you," Jaren penned to his longtime love on Instagram. No wonder their romance inspires ballads!