Worst Dressed Stars At The 2017 SAG Awards
Getty Images
The 2017 Screen Actors Guild Awards were filled with great speeches, unexpected wins, and a whole lot of laughs, but as with every award show, there were also a lot of bad looks. Which stars earned the dubious honor of "worst dressed" this time around? From Kate Hudson to two stars from The Big Bang Theory, find out which Hollywood celebs woke up Monday morning with a serious fashion hangover.
Kaley Cuoco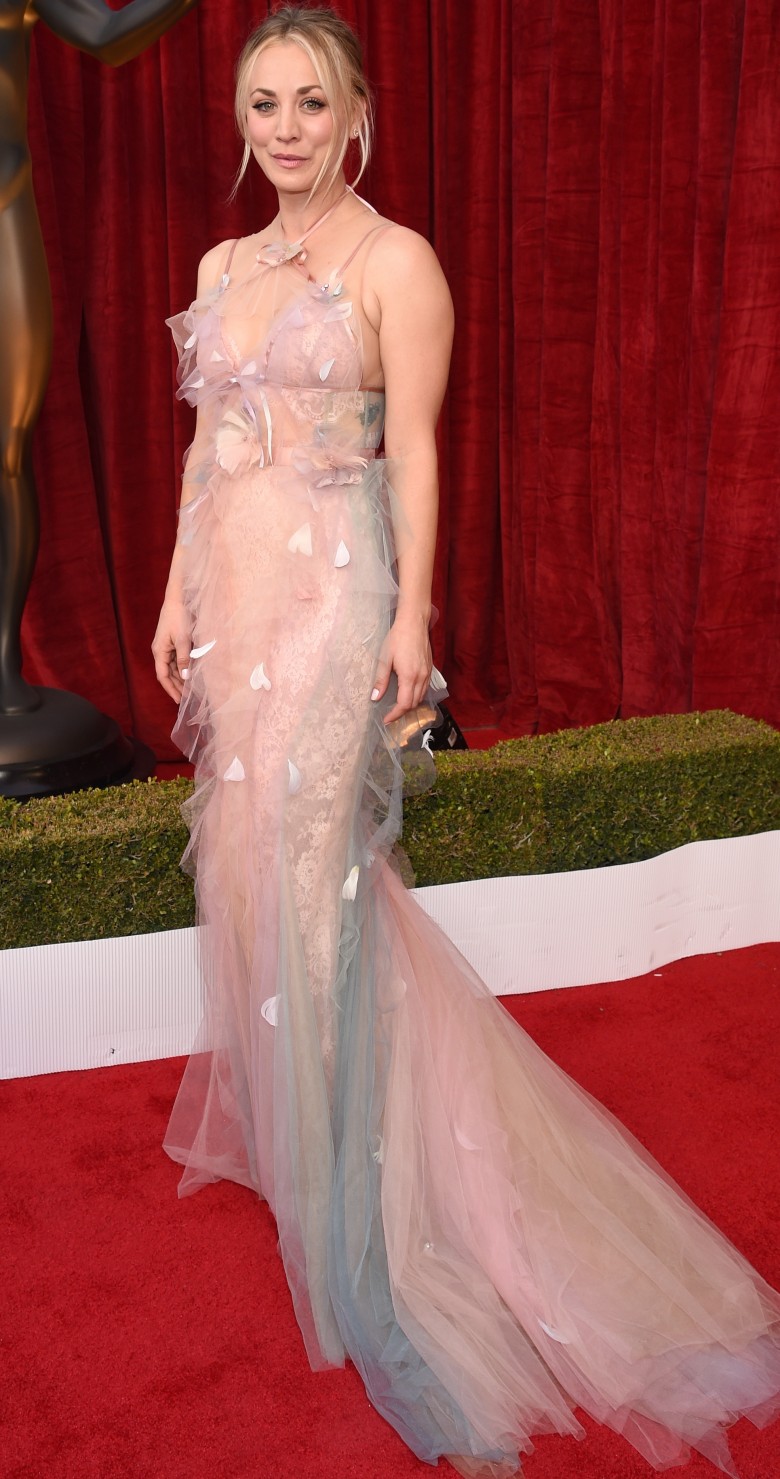 Getty Images
The Big Bang Theory star Kaley Cuoco hit the red carpet with a big thud, thanks to a messy sheer dress by Marchesa that was missing the necessary style and glam for an event such as the SAG Awards. With so many frills around the midriff and a back that looked like it was being held together by cheap ribbon, Cuoco looked less like she was on her way to a red carpet event and more like she was ready to attend a 4-year old's tea party. And speaking of The Big Bang Theory...
Mayim Bialik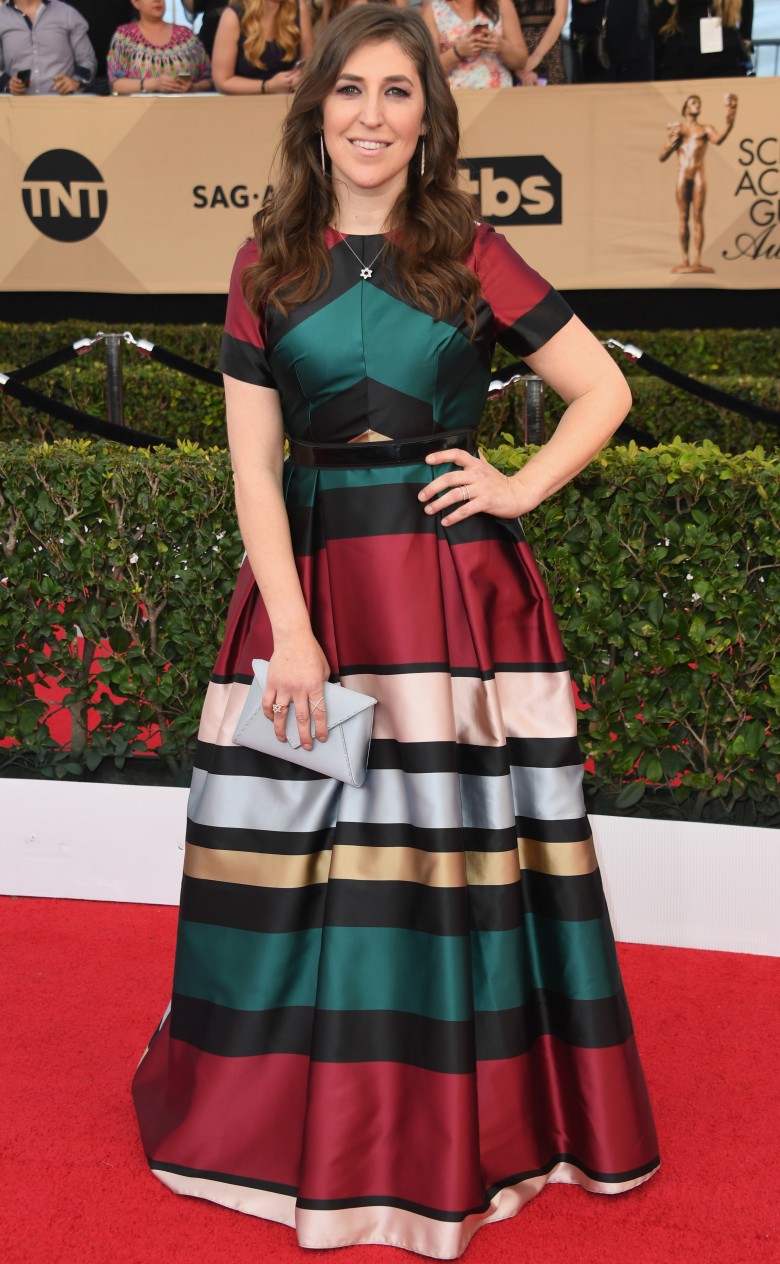 Getty Images
The award for worst dressed cast could have very easily gone to the ladies of The Big Bang Theory. Take Mayim Bialik, for example. Although her hair and makeup looked beautiful, and the dress she wore fit her body well, the actual pattern of the gown looked as if it was put together using a duvet cover from Target. When it comes to fashion, the goal should never be to make us think about going to sleep.
Salma Hayek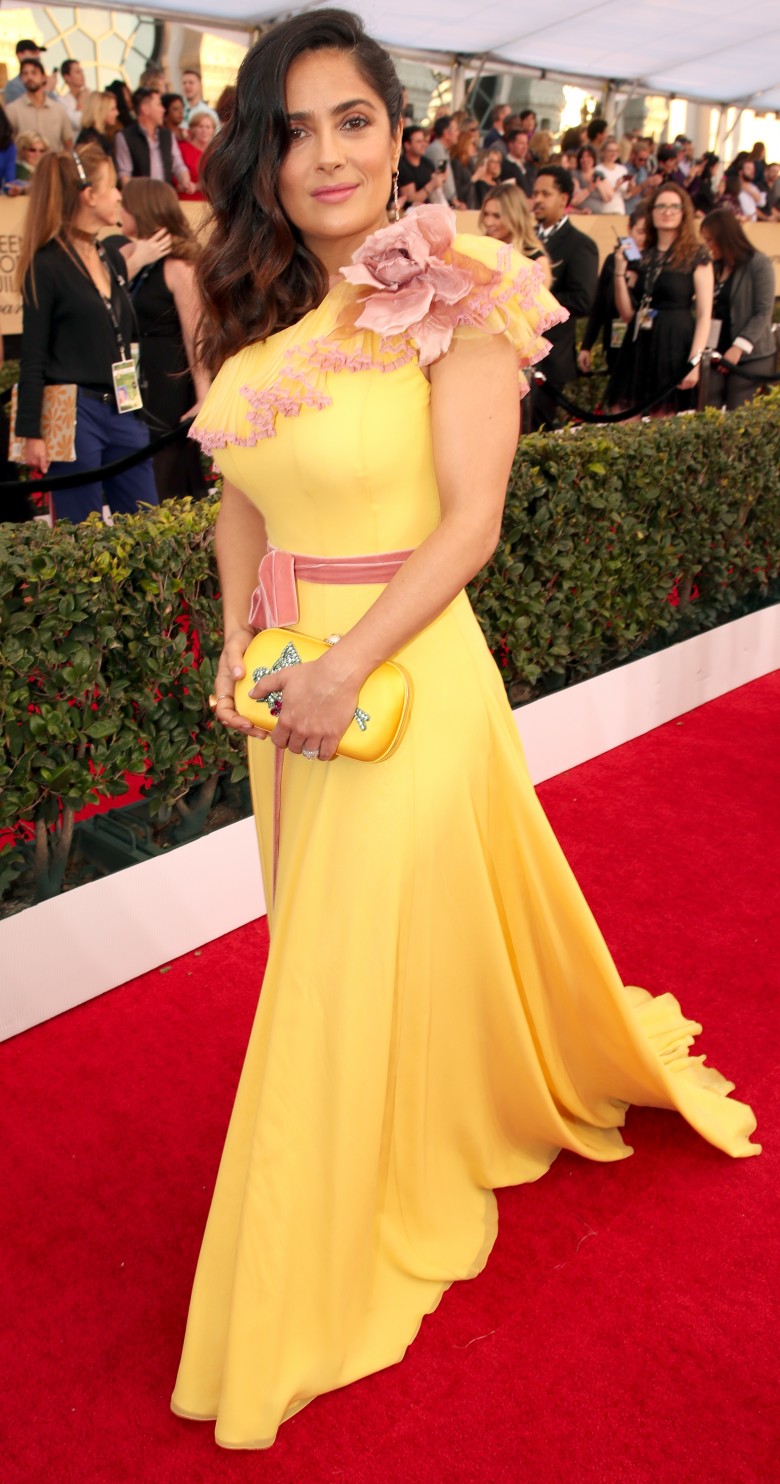 Getty Images
She may be one of the most beautiful women in the world, but not even Salma Hayek could make the Gucci gown she wore to the SAGs look like anything but a fashion miss. What really killed the dress were the pink-ish belt and flowery frills along the top. Unless you're designing a birthday cake, mixing yellow with pink is almost guaranteed to land you on any worst dressed list.
Kate Hudson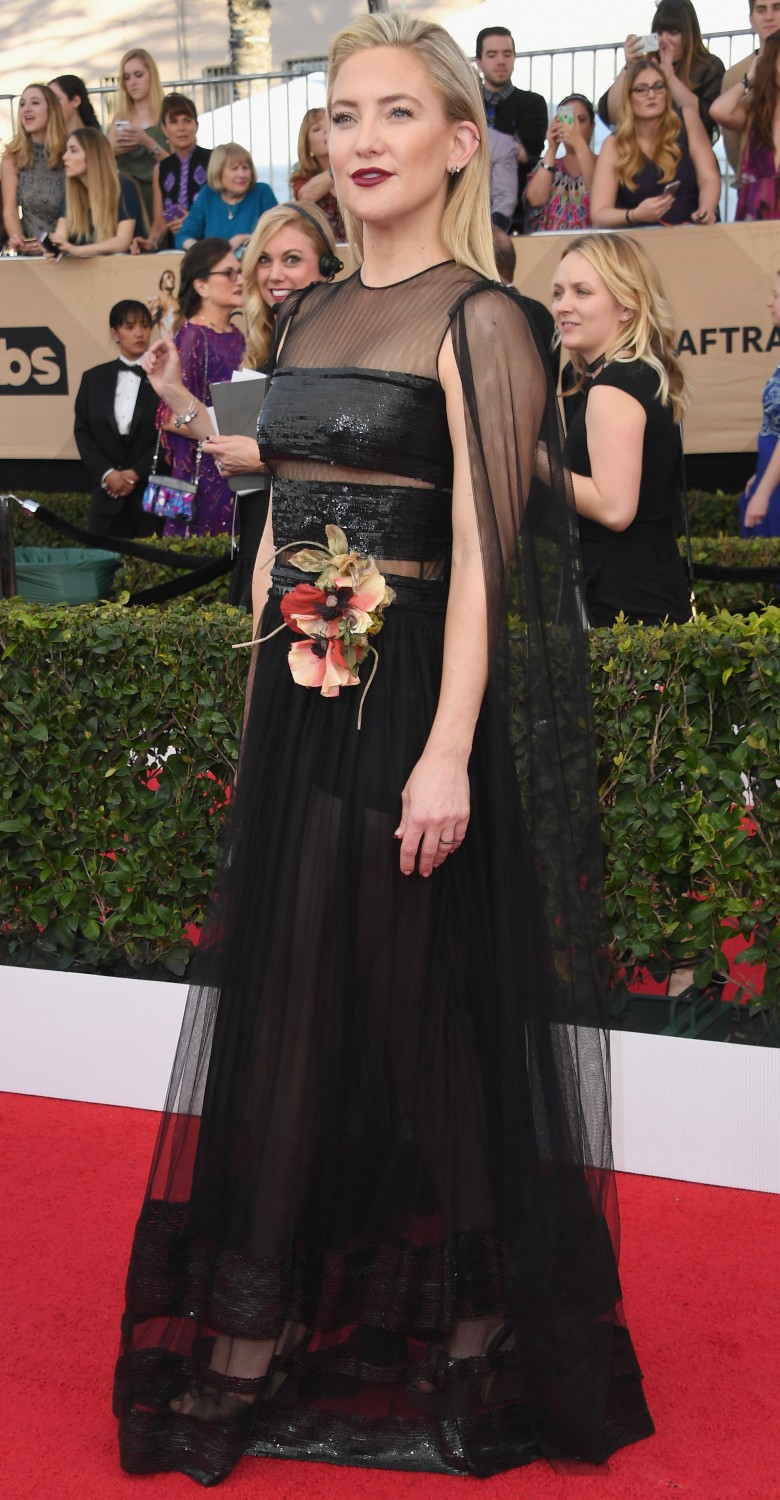 Getty Images
There was certainly a lot to admire about Kate Hudson's Gothic stunner. For instance, her hair and makeup were totally on point. Less on point: the fake flower at her waist, which distracted from the dress' bold black look, and the Christian Dior label on the belt, which just looked tacky.
Thandie Newton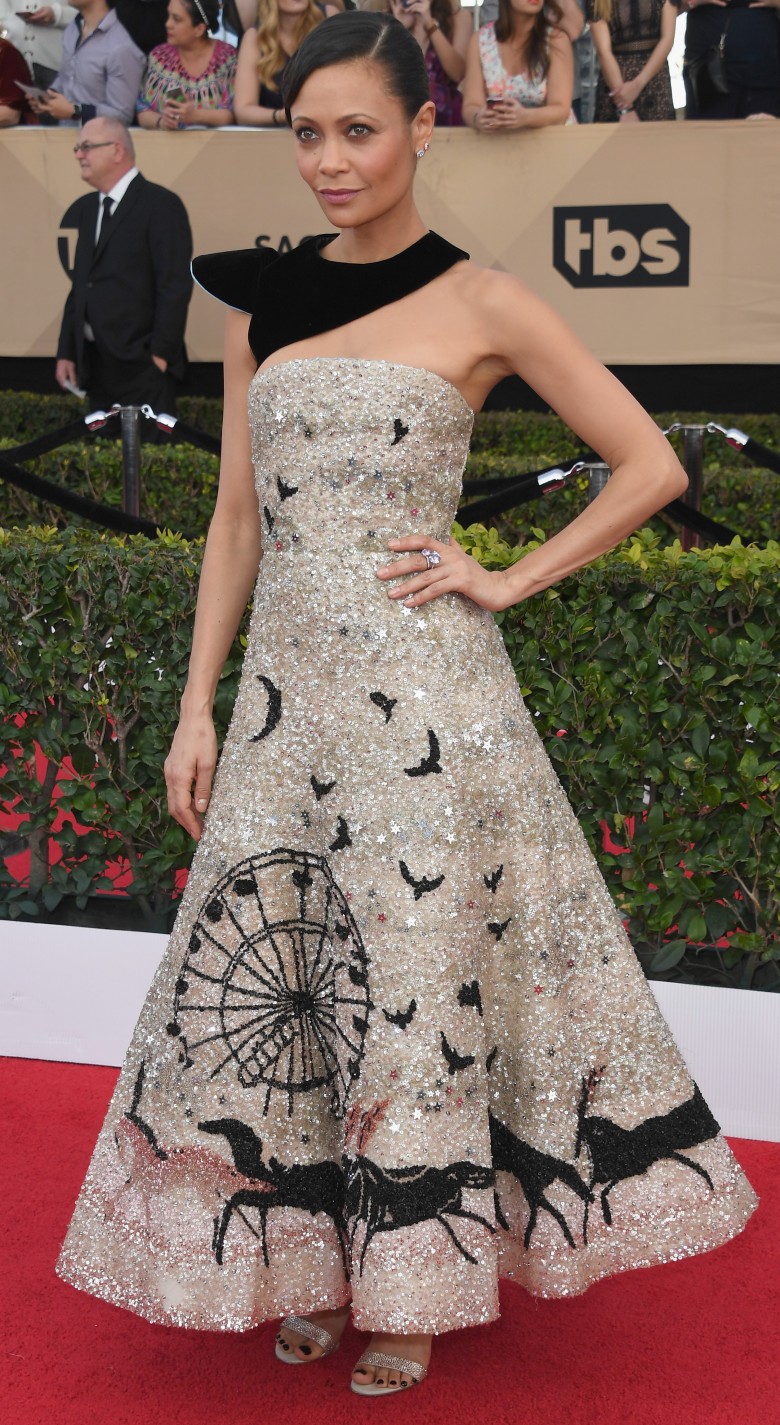 Getty Images
We love Westworld as much as the next person, but the last place we should be thinking about the hit HBO series is on a red carpet dress. Thandie Newton learned this lesson the hard way by wearing this ill-patterned dress by Schiaparelli, which featured everything from a Ferris wheel to galloping horses. Without the patterns, this dress would have been a show-stopper. With them, however, it just looks like a mess.
Taryn Manning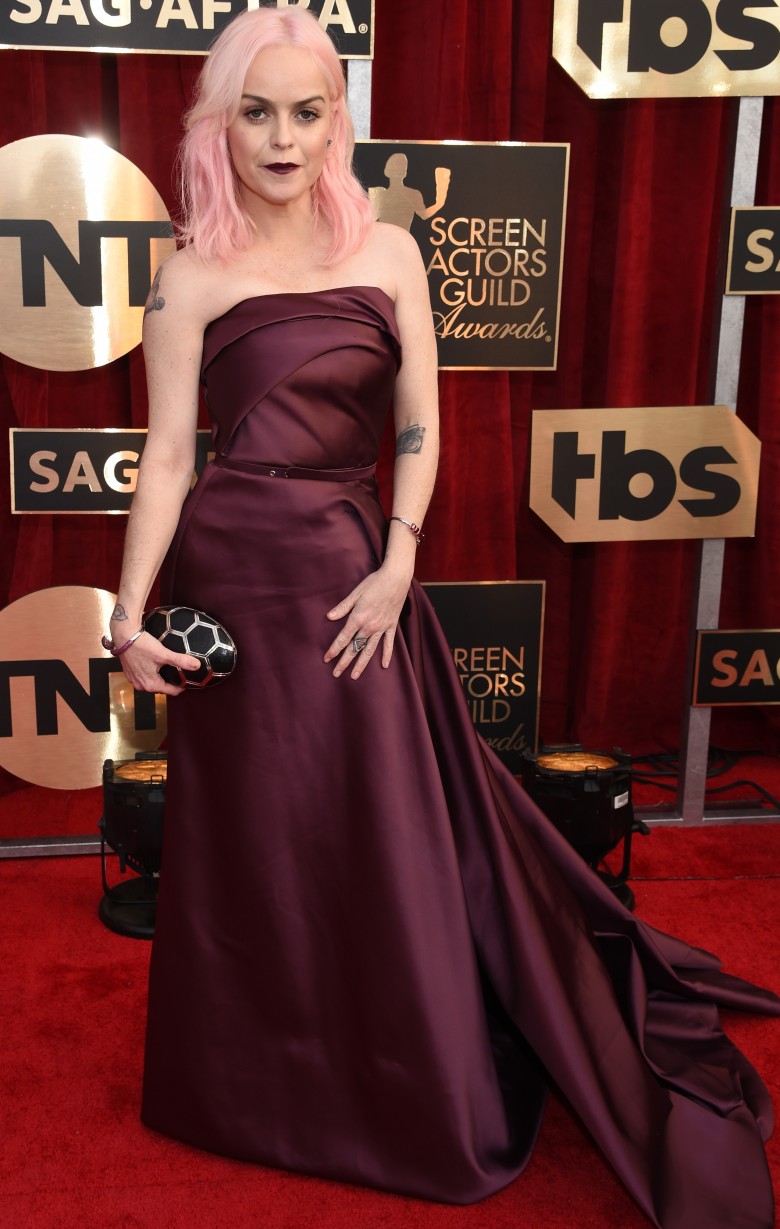 Getty Images
With the right hair and makeup, Taryn Manning's Rami Al Ali dress could have been a real winner. Unfortunately, its dark burgundy color clashed completely with Manning's light skin and pink locks. The Orange Is the New Black star would have fared better by sticking to one of the colors in her show's title. She tried to make everything in her SAG ensemble work by contrasting her hair and skin tone with a dark eye and matching burgundy lip, but in the end, the ensemble played out like the fashion equivalent of a Democrat and Republican in Congress—they'll just never work well together.
Amy Landecker and Jenifer Lewis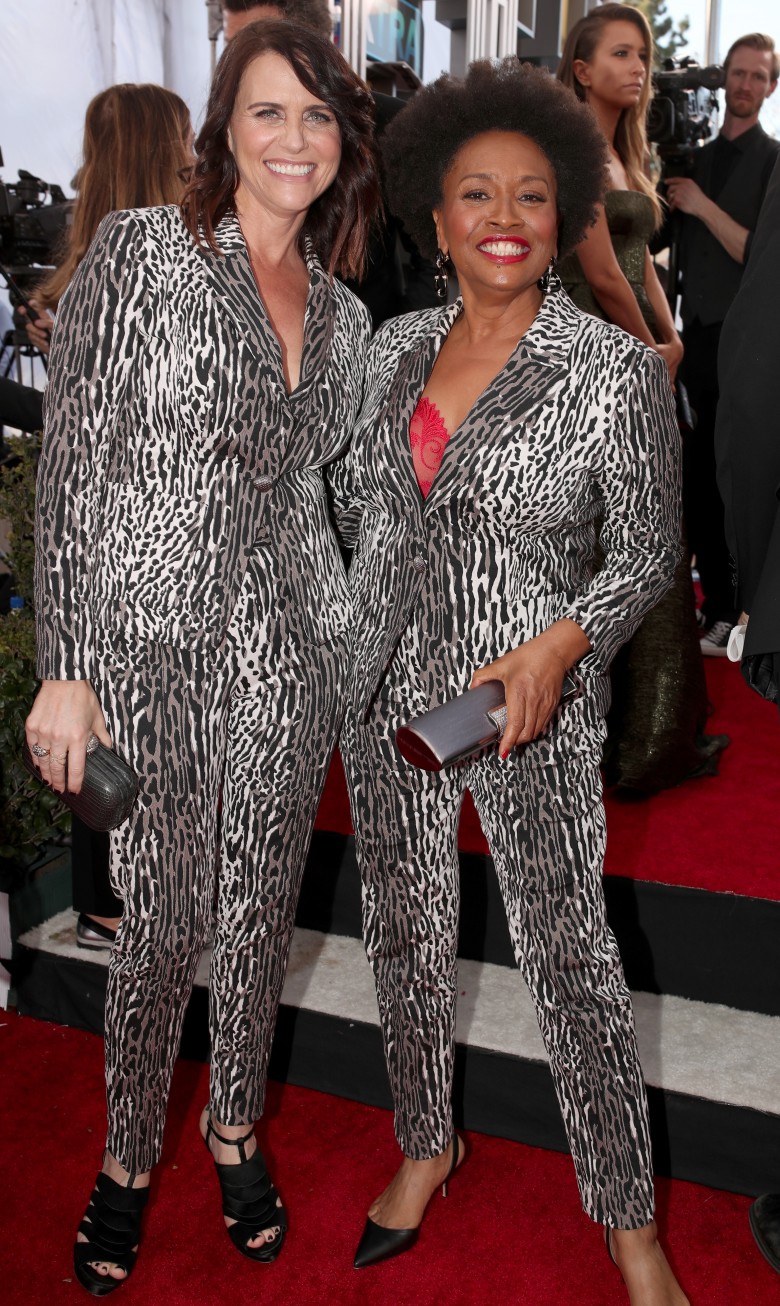 Getty Images
Who wore it worse? It's every woman's fear to show up to a party or red carpet event wearing the same outfit as someone else, which is why we can't quite figure out what possessed Amy Landecker and Jenifer Lewis to wear the same St. John pantsuit to the SAG Awards. It would be one thing if the suit was really cool, but with that unfortunate-looking animal print, this look hasn't been "in" in about 30 years.
Jessica Pimentel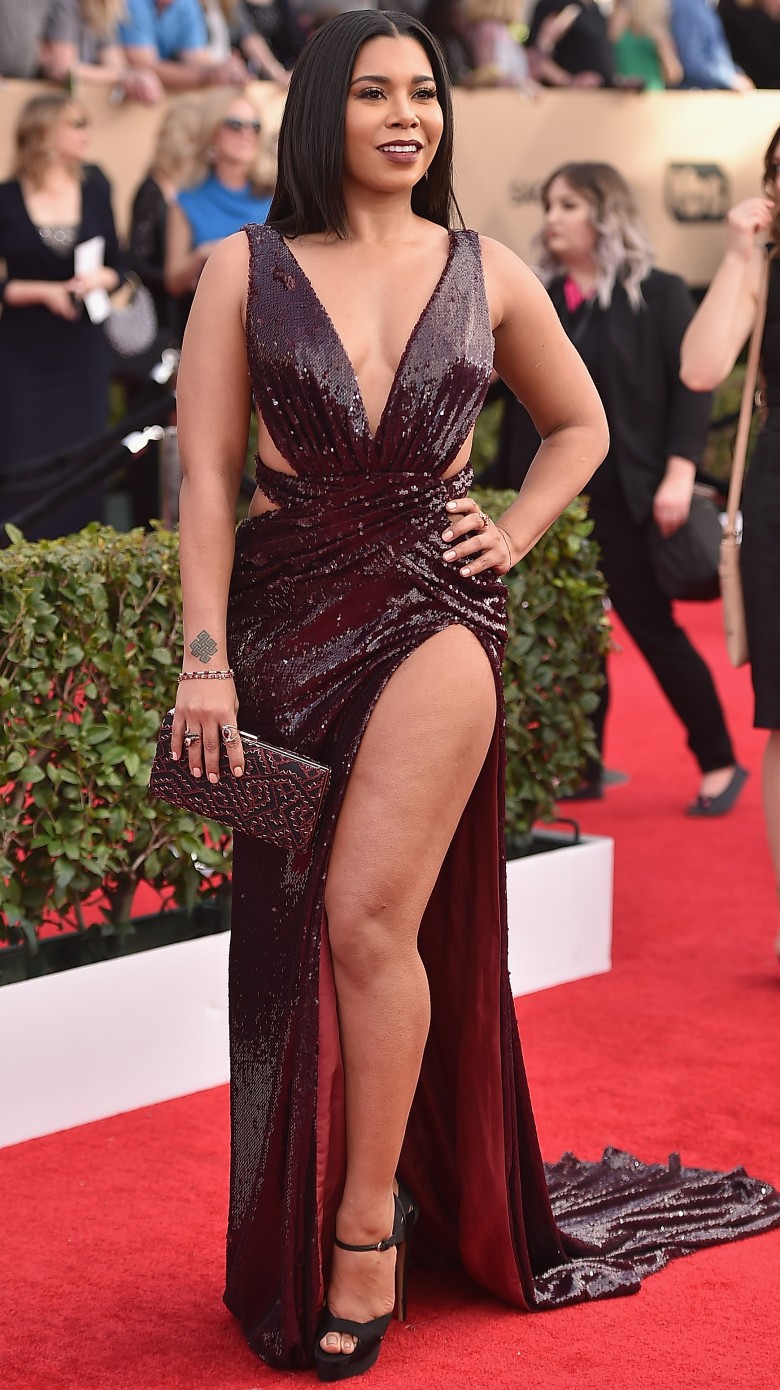 Getty Images
Flashing a bit of leg on the red carpet has been all the rage ever since Angelina Jolie's right leg went viral after the 2012 Oscars. Still, there's such a thing as showing a little too much. Case in point: Orange Is the New Black's Jessica Pimentel, whose Malan Breton cut-out dress was missing so much fabric, we're wondering how it even qualified as a gown.