The Detail From DMX's Memorial Service That Has Fans Emotional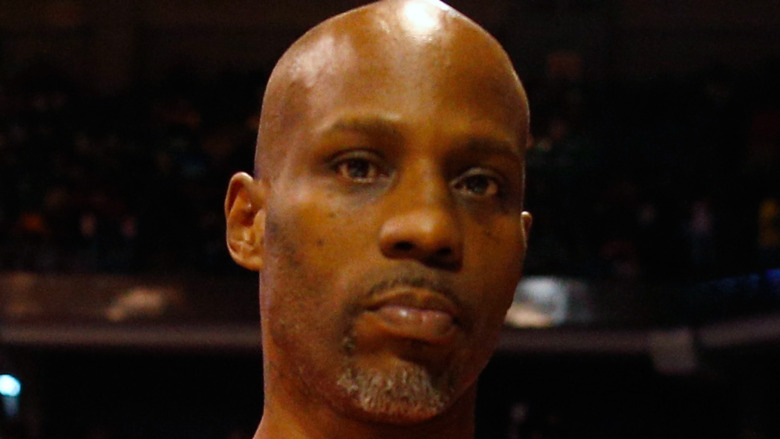 Michael Hickey/Getty Images
Late rap icon DMX continues to be widely celebrated by friends, family, and most importantly his fans. The rapper, born Earl Simmons, died April 9, 2021 after suffering a heart attack following a drug overdose. He died just a week after being admitted into White Plains Hospital in New York, where he was put on life support. He was 50 years old at the time of his death.
Fans everywhere are mourning the tragic loss of the rapper by boosting his music streams, buying his autobiography, and revisiting his films. Ultimately, fans came together to remember the New York native one last time at his memorial service on April 25, 2021.
Thousands of New Yorkers watched the procession go by on the busy streets of Atlantic Avenue near the Barclays Center, where his private memorial ceremony was held. The celebrity appearances such as Kanye West and Swizz Beatz wasn't the only part that captured the attention of many. Read on to find out our favorite detail of DMX's memorial service.
DMX took his farewell ride in true Ruff Ryders style
DMX's memorial and homegoing services truly show much he was loved and appreciated by many. He was given a grand farewell by his loved ones, who made sure to give it to him in Ruff Ryders style. The "What's My Name" rapper's casket was carried on a huge monster truck from his hometown of Yonkers to Barclays Center in Brooklyn, per the Independent.
The black monster truck carrying DMX's cherry red casket had the words "Long Live DMX" painted on the side. Behind the truck was thousands of bikers escorting it. The bikers seen were paying homage to the Ruff Ryders motorcycle club, with whom DMX rose to fame. According to the Ruff Ryders' website, it is one of the "largest sports bike organizations in the world," with a number of chapters across the United States.
Given DMX's known affinity for motorcycles, many of his fans believed the send-off was fitting. His fans sounded off on Twitter, with one user nearby the memorial writing, "Looking out the window of my apartment and see no other than DMX going out in style. That's his coffin coming down Flatbush on the back of a damn monster truck. Ruff Ryder even til the end." Despite the tragic end of DMX's life, we love to see him get the flowers that he's always deserved.