Yuh-Jung Youn Shoots Her Shot With Brad Pitt During Her Oscar Speech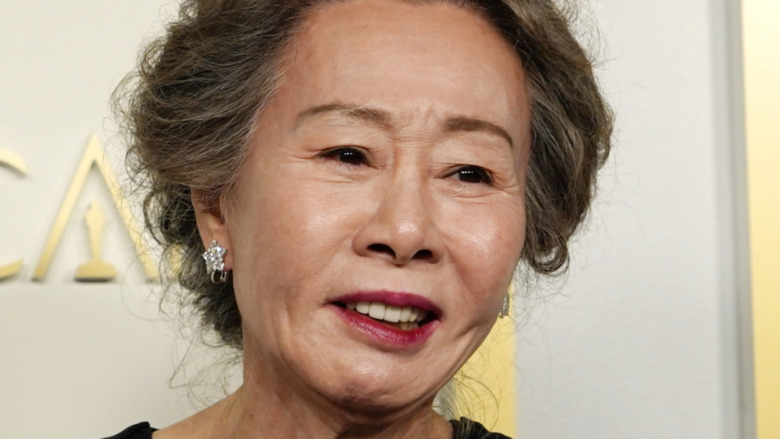 Pool/Getty Images
Yuh-Jung Youn made history when she won the Academy Award for Best Supporting Actress on April 25 for her performance in "Minari." She is the first Korean woman to be nominated for an Oscar, making her the first Korean woman to win an Oscar. Not only that, but she's the second Asian actor to snag a nom in the Supporting Actress category, and the first Korean actor to win the Oscar since the late Haing S. Ngor won Best Supporting Actor for "The Killing Fields" in 1985, per IMDb.
Youn is a beloved film and television actor in South Korea. In "Minari," she played a feisty, card-playing grandma with a potty mouth, who moved from Korea to Arkansas to join her daughter and stepson in pursuit of the American dream, per People. In an interview on the Oscars pre-show on E!, the 73-year-old said her first Oscar experience was exciting but also "strange." She said, per People, "Everyone all over the world knows about the Oscars. It's a very famous awards ceremony. As a Korean, as an Asian woman — I think in Korea I'm the first nominee for the Oscars so it's a very historic moment for us. It's very exciting and very strange to me, actually."
Brad Pitt read the nominees for Best Supporting Actress Award. Youn beat Maria Bakalova, Glenn Close, Olivia Coleman, and Amanda Seyfried for the award. She also took her best shot at catching the eye of Brad Pitt.
Yuh-Jung Youn fangirled over Brad Pitt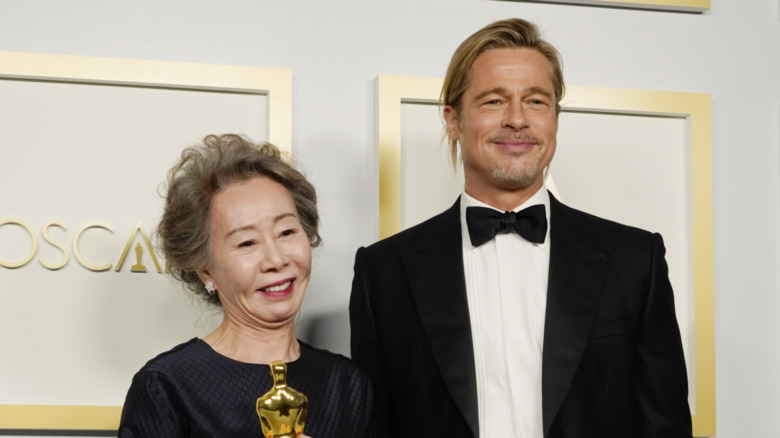 Pool/Getty Images
Yuh-Jung Youn proved that age and nationality mean nothing when it comes to Brad Pitt and appreciating his, well, the only way to put it, beauty. Age also knows no reason when it comes to fangirling.
Youn said, "Nice to meet you Mr. Brad Pitt, very honored to meet you." Though, to be honest, it sounded more like "Wow, Brad Pitt," and we wouldn't blame her one bit if that's what she actually said. Youn went on to say, "Let me pull myself, together, OK? Thank you to the academy members who vote for me," per the New York Post. She concluded her speech by giving sincere praise to her fellow Best Supporting Actress nominee Glenn Close, an eight-time nominee who has yet to win an Oscar. Youn is new to American audiences, but back home, she is known as the "Meryl Streep of South Korea," reports the New York Post.
Let's hope Pitt did some googling and treated Youn to a big hug and plans to collaborate on a project when she got backstage.