Fans Are Absolutely Loving Renee Zellweger At The 2021 Oscars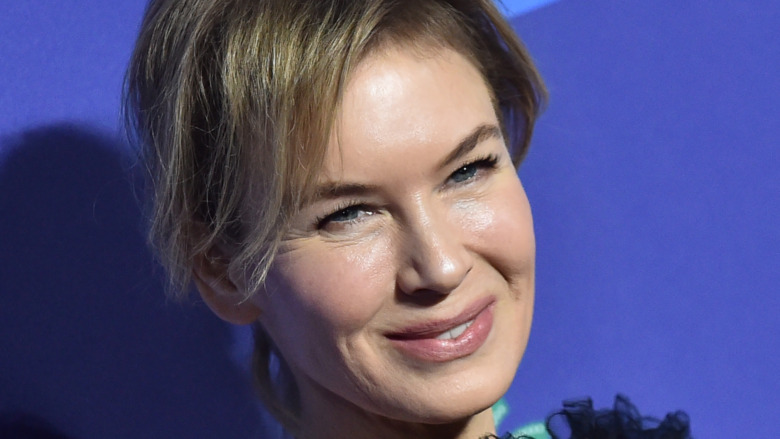 Shutterstock
Renee Zellweger is something of a legend, impressing fans with her iconic movie roles and magnetic personality. Of course, there are also Zellweger's lovable eccentricities — including her ever-changing accent, interesting acceptance speeches, and non-conforming personality. "We had her [Zellweger] round to dinner and she was very like Helen, in that she was a Hollywood actress but full of quirks," screenwriter Richard Curtis said about the star's likeness to her "Bridget Jones" character, according to Metro UK. "[She was] fluttered, slightly panicked, very unusual. We felt that the soul of her was incredibly accurate."
In short, Zellweger is unapologetically herself, and her authentic way of being is a delight to many, a sentiment evidenced by viewer reactions to her award show cameos. With that said, let's take a look at why fans loved her appearance at the 93rd Oscars on April 25.
Renee Zellweger charmed fans in more ways than one
Renee Zellweger got fans talking for a few reasons, and one of them included her sleek pink ensemble designed by Giorgio Armani Privé. "Renée Zellweger looking simply gorgeous and elegant at The Oscars!!!" one fan tweeted. "She spoke in such a lovely manner about all the actresses nominees! Super classy as always! And her Armani dress is perfection!" 
Others appreciated Zellweger's thoughtful demeanor when presenting the Best Actress award, as one person penned, "Kudos to Renee Zellweger for a beautiful presentation to the Best Actress nominees." Someone else noted, "Thank you @TheAcademy for bringing Renée Zellweger at her birthday (what a sweet soul and giving her thoughts about nominees performances) FANTASTIC!!!" Yep, the star celebrated her 52nd birthday at the event.
It's safe to say fans love Zellweger, so fingers crossed she makes an appearance at the 94th Oscars!