Here's What Queen Elizabeth Really Does With Her Old Outfits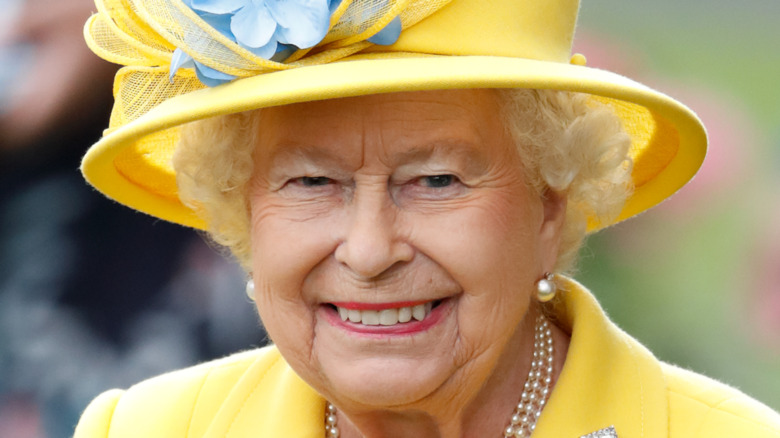 Max Mumby/indigo/Getty Images
Queen Elizabeth has a wardrobe most of us would dream of: think neon blazers, big hats, and accessories that would put your basic earrings to shame. It seems like she's dressed to the nines for every occasion, even if it's just to romp around with her corgis on palace grounds.
Dressing the queen is a full-time job and she has a team of people that help her look her best. According to the Express, senior dresser Angela Kelly came on board in 1993 and has been dressing the royal ever since. She revealed the queen has a big say in her wardrobe, despite her royal duties. "The Queen loves clothes and is a real expert on fabrics," she said. "It's not been a question of me teaching the Queen, it's been the other way around."
Kelly sketches four designs for one piece of fabric and creates a technical drawing after the queen gives her stamp of approval. Everything is cut to fit a mannequin shaped like the queen and a prototype is made to allow for any revisions before the final fabric is cut, per the outlet. Fitting sessions are half a day, but four or five outfits are fitted to make the best use of the queen's time.
Have you ever wondered what happens to the outfits she no longer wears? Keep reading for more details.
Queen Elizabeth is generous with her old outfits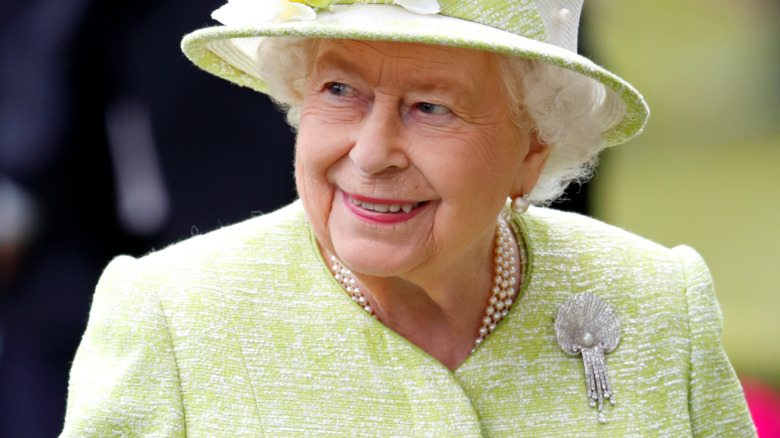 Max Mumby/indigo/Getty Images
Author Brian Hoey (via Express) revealed in his 2011 book "Not In Front of the Corgis" what really happens to Queen Elizabeth's old clothes. He noted that while the media zeroes in on her clothes, "she will wear a favourite outfit for years" and "when she finally tires of it, she will hand it to one of her dressers, who can either wear it or sell it."
However, all of the labels need to be removed and anything else identifying that the item came from royalty. Hoey added that royal clothing has ended up in sales to the public, but they had no idea where it came from. "One frock found its way to a jumble sale near Sandringham, but in spite of its obvious quality, it failed to sell," he wrote.
Unlike Kate Middleton, the queen does not repeat outfits more than a few times. Elizabeth Holmes detailed the queen's wardrobe rules in her book "HRH: So Many Thoughts on Royal Style," where she explained that every outfit she wears is recorded, and repeats are spaced out on purpose, so the same group of people do not see her wearing the same thing twice, according to Insider. "After the second or third public outing, it will either be reworked into a new design or relegated to private holidays or meetings," she wrote.
It's clear the queen has a passion for fashion!