Inside Buzz Aldrin's Tribute To Fellow Apollo 11 Astronaut Michael Collins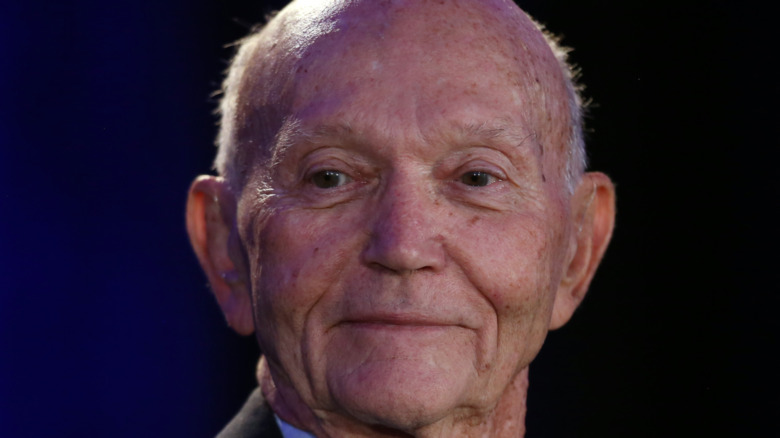 Omar Vega/Getty Images
Groundbreaking astronaut Michael Collins — part of the historic Apollo 11 mission that put the first men on the moon — died on April 28, 2021 at age 90, per NBC News. Collins, who retired from NASA in 1970, may not be as well-known as his mission partners, Neil Armstrong (the first to set foot on the moon, per NASA) and Buzz Aldrin (the second by mere minutes) for an obvious reason: he never actually got to walk on the lunar surface. Collins' function on the mission was equally as vital to its success, however. As described by NBC News, Collins' role was to man the command module that hovered approximately 60 miles above the moon's surface.
Collins' family tweeted the news to the world, stating, "We regret to share that our beloved father and grandfather passed away today, after a valiant battle with cancer." Their statement continued that Collins was able to spend his last days with his family resting, adding, "We will miss him terribly. Yet we also know how lucky Mike felt to have lived the life he did."
Collins was once dubbed "the loneliest man in history" due to the time he spent alone orbiting the moon. However, Collins was not truly alone, of course. Here is what mission compatriot Aldrin had to say in his tribute to Collins.
Buzz Aldrin says Michael Collins "will always have the fire"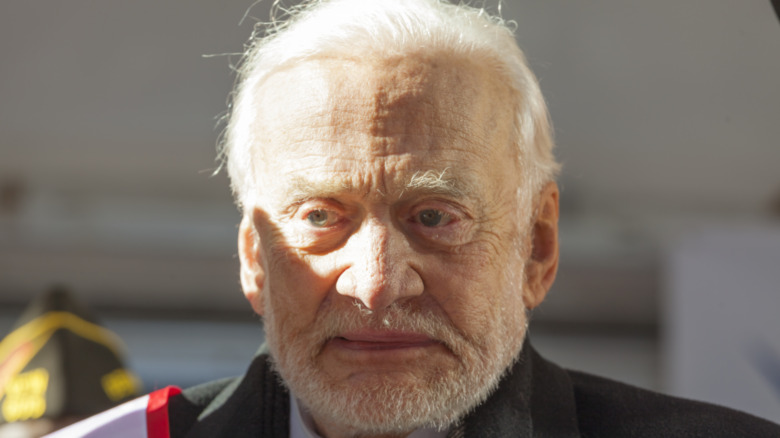 Shutterstock
While the late Apollo 11 astronaut Michael Collins was relegated to staying inside the command module, mission partners Neil Armstrong and Buzz Aldrin took that "giant leap for mankind" as they became the first humans to set foot on the moon (via NASA). Aldrin made sure that his deceased friend's accomplishments and contribution to humanity were not forgotten in his tribute tweet to Collins. "Dear Mike, Wherever you have been or will be, you will always have the Fire to Carry us deftly to new heights and to the future," Aldrin wrote. "We will miss you. May you Rest In Peace. #Apollo11."
With his family's Twitter statement emphasizing Collins' quiet nature in a life filled with "grace and humility," Collins himself famously described his period of complete solitude. In his 1974 memoir, "Carrying the Fire: An Astronaut's Journey," the astronaut mused on the 21 hours he spent alone orbiting the moon, losing communication with mission control each time his module entered the dark side of the moon, per NBC News. "I am alone now, truly alone, and absolutely isolated from any known life," Collins wrote contemplatively in his best-seller. As Aldrin's touching tweet reflected, Collins was likely in his fellow astronauts' thoughts the whole time.