Anne Heche Reveals New Details About Her Relationship With Ellen DeGeneres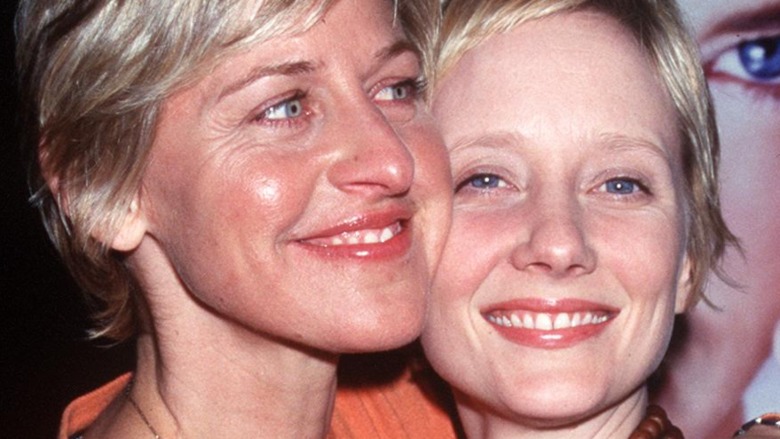 Robin Platzer/twin Images/Getty Images
Ellen DeGeneres and Anne Heche are on the list of Hollywood's most iconic celebrity couples from the '90s as their high-profile relationship broke boundaries and paved the pay for other LGBTQ couples.
The pair, who dated from 1997 to 2000, met at a Vanity Fair Oscars party (per InStyle) — and it was basically love at first sight for the actor, who said she was immediately drawn to DeGeneres from across the room. "Our souls connect[ed], and there's a time when souls come together and they're just meant to be ... My soul was meant to be with hers and that's all that matters," Heche once told Oprah Winfrey.
The twosome, who announced their decision to part ways in 2000 after three and a half years together, was beloved by many, especially because it was hard not to love their coordinated outfits and matching cropped blonde haircuts. As it turns out, there's a backstory to their red carpet looks ... one that doesn't paint DeGeneres in the greatest light. Keep scrolling to read what Heche had to say about her ex.
Apparently, Ellen DeGeneres didn't want Anne Heche to 'dress sexy'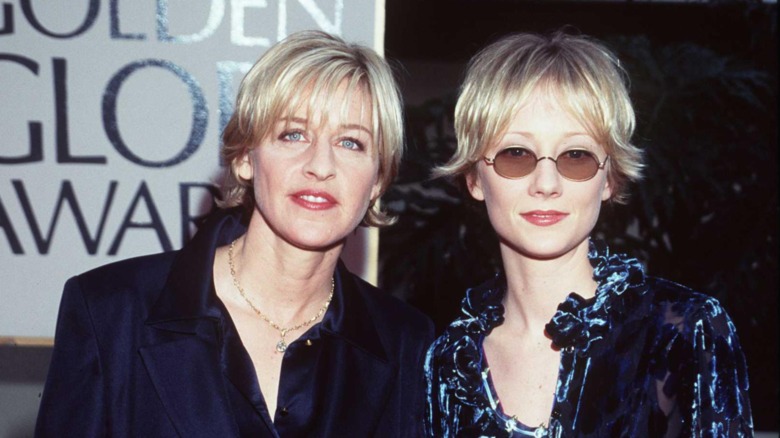 Ron Wolfson/Getty Images
Anne Heche made a revelation about her relationship with Ellen Generes while walking down memory lane via TikTok on April 28, 2021. The actor detailed some of her red carpet fashion moments from over the years, including the outfit she wore with her ex-girlfriend at the 1998 Golden Globes. It turns out, the look — a blue velvet gown paired with a long-sleeve sheer duster — wasn't her favorite. "Why do I look like a hippie? It's because Ellen didn't want me to dress sexy," Heche shared in the video, giving it a thumbs-down.
She didn't elaborate on her comments, but it's not exactly a good look for DeGeneres who's been at the center of her own controversies in recent years. This also isn't the first time Heche has opened up about how the romance negatively affected her. In 2020, the star claimed her relationship with the talk show host impacted her movie career. "I was in a relationship with Ellen DeGeneres for three and a half, and the stigma attached to that relationship was so bad that I was fired from my multimillion-dollar picture deal, and I did not work in a studio picture for 10 years," Heche said on "Dancing With the Stars" (via Today).
Despite all that, Heche called her time with DeGeneres a "beautiful part of my life and one that I wear with honor."