What You Need To Know About Shou Zi Chew, TikTok's New CEO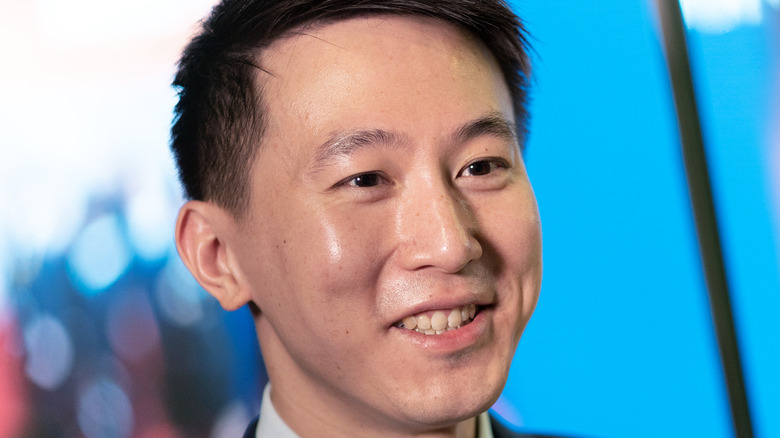 Bloomberg/Getty Images
There's a new sheriff in town — TikTok town that is. Allow us to introduce you to the popular video sharing app's newest CEO, Shou Zi Chew.
As reported by the Wall Street Journal, Chew, who also serves as the CFO to TikTok's developer and parent company ByteDance, is taking over the reigns from the company's interim leader, Vanessa Pappas. As you might recall, Pappas stepped into the position when TikTok's former CEO, Kevin Mayer, handed in his resignation after only three short months, a decision that many believe was largely due to his heated confrontations with former U.S. president, Donald Trump, regarding the sale of the social media platform to an American company. 
"In recent weeks, as the political environment has sharply changed, I have done significant reflection on what the corporate structural changes will require, and what it means for the global role I signed up for," the former CEO penned in a statement to his colleagues. "Against this backdrop, and as we expect to reach a resolution very soon, it is with a heavy heart that I wanted to let you all know that I have decided to leave the company," he famously announced.
Alas, it appears that the video sharing platform is sending a clear message by appointing the Singapore businessman to the leadership role. So, what is there to know about the new CEO? Keep reading after the jump to find out!
Shou Zi Chew boasts an impressive resume
Bloomberg/Getty Images
As reported by Axios, the decision to appoint Harvard business school graduate and Singapore businessman Shou Zi Chew was made in an effort to sustain growth. "Shou brings deep knowledge of the company and industry, having led a team that was among our earliest investors, and having worked in the technology sector for a decade," Bytedance founder and CEO Yiming Zhang announced in a statement. "He will add depth to the team, focusing on areas including corporate governance and long-term business initiatives." 
But what exactly are the accomplished Harvard grad's credentials? As reported by Wall Street Journal, Chew's extensive résumé includes his leadership positions with Goldman Sachs and Xiaomi Technology. It was also reported by Variety that the incoming CEO has benefited from personal mentorship by Chinese billionaire entrepreneur Lei Jun. Pretty impressive, right?
Still, the new CEO is not without his skeptics. "With or without Chew ... it's going to be an uphill battle [for TikTok] to expand into foreign markets outside China," academic Alex Capri said about the work Chew has cut out for him, via South China Morning Post. "The data privacy issue is not going to go away." Best of luck to Chew in his new endeavor!