The Real Meaning Behind 'Ski' By Young Thug & Gunna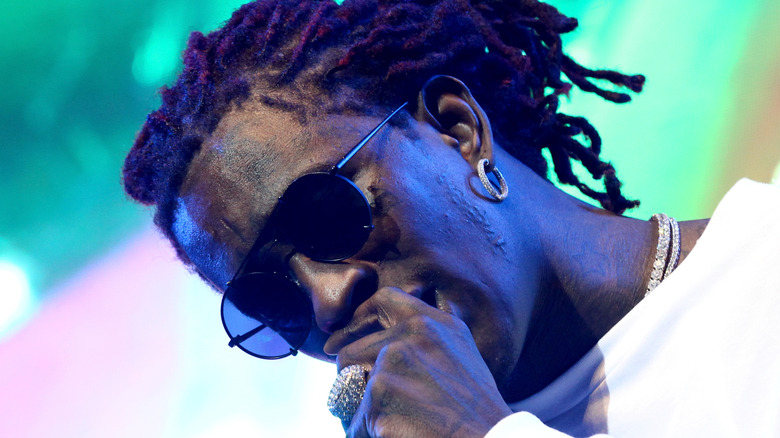 Bennett Raglin/Getty Images
By now, you'll probably have heard Young Thug and Gunna's latest collaboration "Ski." That's likely because the song has been trending on TikTok for weeks, thanks to the popular #SkiChallenge.
Launched by Young Thug himself in late March, the viral dance has been performed by celebrities such as Drake, Chris Brown, Future, Diddy, and many others. In essence, the #SkiChallenge consists of TikTok users pretending they're skiing, mimicking the sport by throwing their arms side-to-side over the popular song.
The track debuted on April 16 as part of Thug and Gunna's compilation album with YSL Records, "Slime Language 2." Not long after it dropped, "Ski" peaked at No. 18 on the Hot 100 Billboard chart, and its recently released music video now counts over 9.8 million views on YouTube.
But what is Young Thug and Gunna's new song all about? Despite its title and viral dance, it's not about skiing at all.
'Ski' is an 'everybody' song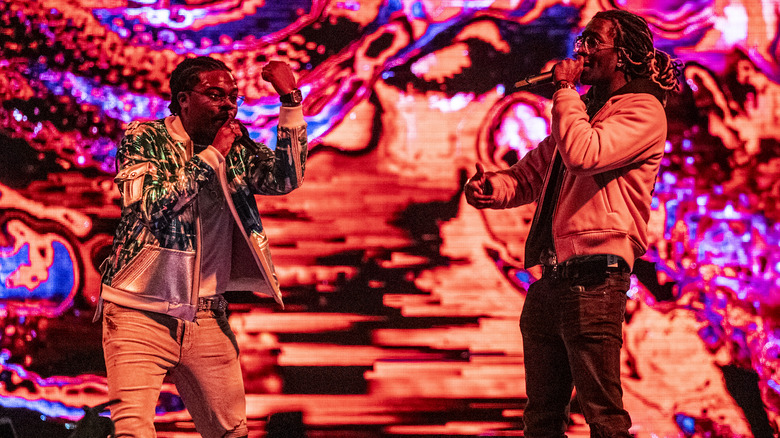 Timothy Norris/Getty Images
As with many rap songs nowadays, "Ski" sees Young Thug and Gunna boasting about their riches, romantic interests, and the amount of marijuana in their possession. For example, Gunna brags about how much weed he packs in a Backwood: "All this Biscotti I got in my 'Wood, need somebody grow me a tree (Tree)." According to Genius, "Biscotti" is an indica-dominant strain of marijuana. Elsewhere in the song, Thug claims his baguette-shaped diamonds attract plenty of women: "I got baguеttes in the back of my ring and I wasn't even tryna hit."
Meanwhile, Gunna discussed what he thinks about the track in a recent Billboard interview. "I feel like ['Ski'] is like an everybody song so I feel like it's going to reach everybody," he said. "You know how many people in the world? I feel like it's going to keep getting bigger over the years."
The compilation album — which debuted at No. 1 on the Billboard 200 Albums Chart – also counts collaborations with Drake, Lil Uzi Vert, and Kid Cudi. In the same Billboard interview, Gunna revealed Drake's collaboration was scheduled to appear on the Canadian rapper's album "Certified Lover Boy," which has since been delayed due to his knee injury. "But then his album didn't come out and I was still vibing with it, and I'm like 'S**t, bro, I wanna put it on Slime Language 2," Gunna said. "Let's put slime on it.' And he was like extra with it and we did, and that's how that came together."