Strange Things About Beyoncé And Jay-Z's Marriage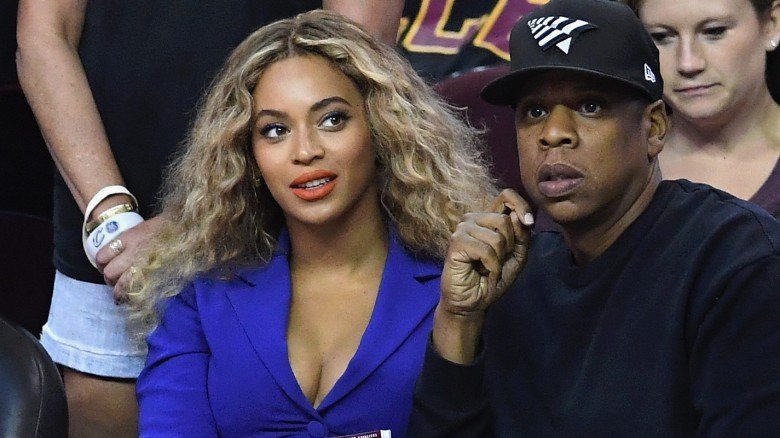 Getty Images
Beyoncé and Shawn "Jay-Z" Carter are the very definition of a power couple. The married music legends are each incredibly talented and influential on their own, so together, they're virtually unstoppable. But much of the public's perception about this notoriously private pair is shaped by what little Bey and Jay do share about themselves: her captionless Instagram snaps of the family enjoying a picture-perfect vacation, pointed song lyrics with perplexing references to one another, that rare interview where they might actually suffer a question or two about their romance. Over the years, thanks to so many mixed signals, tantalizing mysteries about Beyoncé and Jay-Z's relationship have taken shape. Here are some of the strangest of those stories. 
No one knows when they met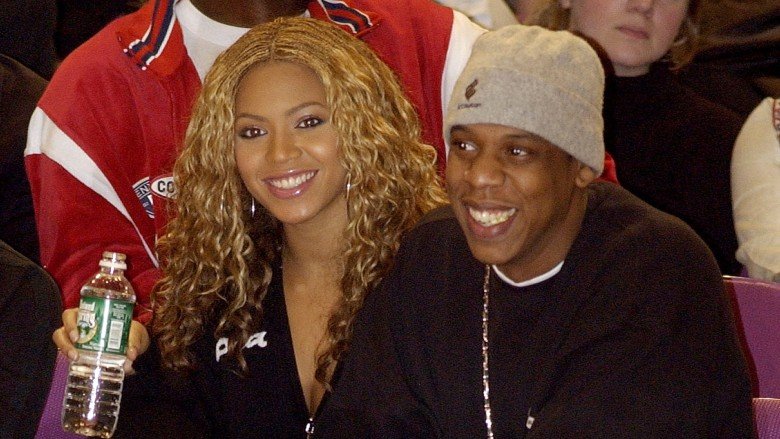 Getty Images
At this point, it seems pretty on-brand for Beyoncé and Jay-Z to keep the steamiest details of their romantic highs and lows under wraps (well, except for in their lyrics). That shrug-off approach to personal attention has been consistent from the start. These two kept their relationship a secret so long even they don't seem to agree on when they actually got together. Putting together a timeline of their romantic history is something only they can truly do, but they have shelled out some contradictory numbers over the years.
For example, Beyoncé told Seventeen in 2008 (via PopSugar) that she was 18 when they met, and that they started dating when she was 19 (circa 2000), but Jay-Z indicated they'd known each other since she first started recording—specifically, when Wyclef Jean worked with her in Destiny's Child for "No, No, No Part 2" around 1997. This could be a bit of revisionist history, since Beyoncé's ex-boyfriend, Lyndall Locke, claimed she was with him until she began touring with her girl group in her twenties. Maybe they've innocently mixed signals over the specifics of their first encounters, but their crossed wires continue to fuel conspiracies.
They claimed to be just friends for years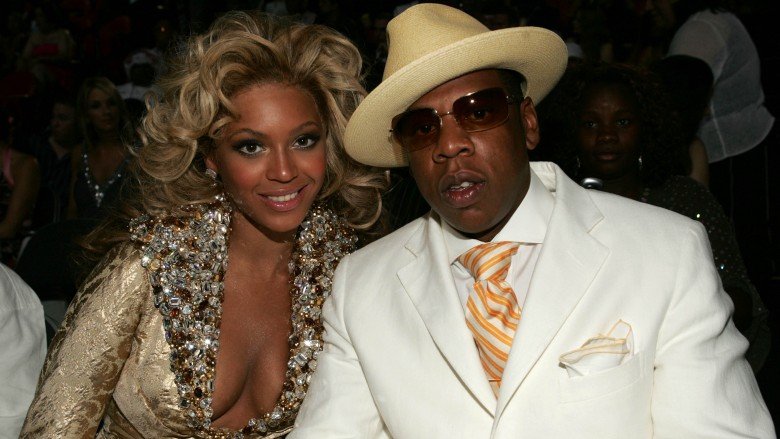 Getty Images
In a 2013 Vanity Fair interview with Jay-Z, he admitted that he and Beyoncé were at the early "wine and dine" phase of courtship when they appeared together in the magazine's 2001 music issue. However, despite multiple collaborations, including "Bonnie and Clyde" in 2002 and "Crazy in Love" in 2003, and numerous sightings of the duo out and about, the musicians insisted their pairing was platonic. They'd brush off inquiries about their then-rumored romance with sayings like "we're friends for now," and their songs walked the line as well. Her Dangerously in Love single "Signs," for example, includes the lyric that she "was in love with a Sagittarius," which could have been a reference to either Jay-Z or ex-boyfriend Locke, who allegedly share the same zodiac sign.
However, Jay-Z all but confirmed their romance in his Black Album single "Public Service Announcement," which contains the line, "got the hottest chick in the game wearin' my chain." The couple finally made its public debut by showing up arm in arm at the 2004 MTV Video Music Awards.
They still don't like to talk about their relationship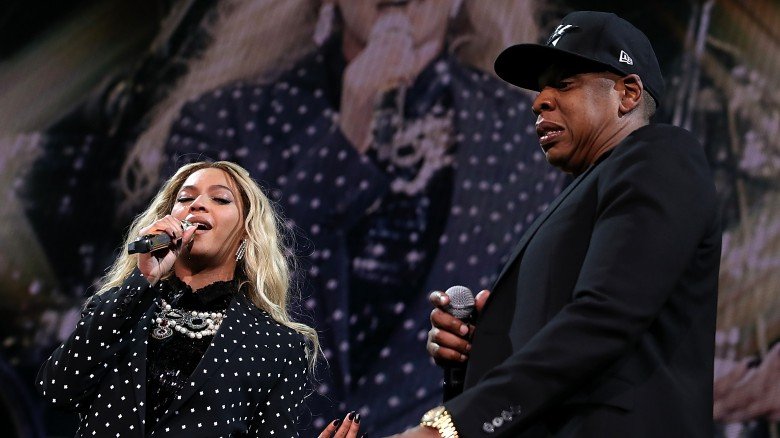 Getty Images
According to Beyoncé's 2005 interview with Essence, she and Jay-Z have made it a point to keep their relationship off the table for interviews because she prefers to let the music do all the talking. "I never talked about relationships... I only talk about them in my songwriting; otherwise things get too messy. It has worked out because now nobody expects me to talk about them. But it's hard too. You fall in love and you want to tell everybody. But that's a place I just don't go," she said. She reiterated that stance to the magazine in 2008, following their intimate wedding. "What Jay and I have is real. It's not about interviews or getting the right photo op. It's real," she said.
They're obsessed with the number four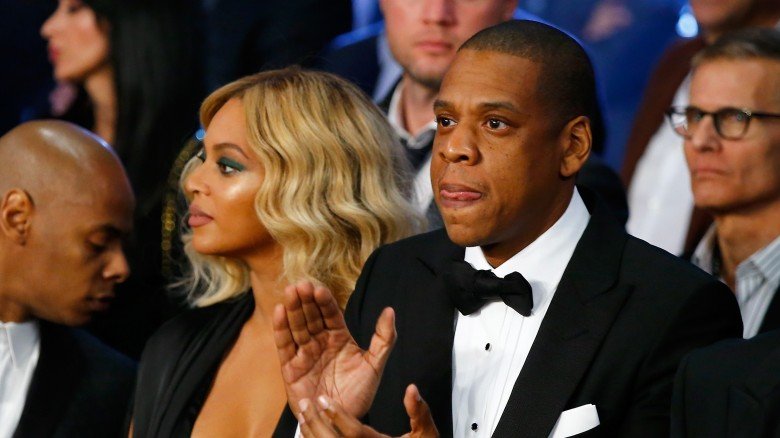 Getty Images
It's probably just a coincidence that both Beyoncé and Jay-Z were born on the fourth of the month—she in September 1981; he in December, 1969—but they've since adopted that shared digit as something sacred. They were married on April 4th (that's 4/4) and each got tattoos of the Roman numeral four (IV) on their fourth fingers to commemorate their union. They gave their daughter the middle name Ivy, which is pronounced like the Roman numeral four when spelled out as letters.
There are other, less obvious, examples of their devotion to the digit, like Jay-Z's decision to accept a vegan challenge. "There's something spiritual to me about it being my 44th birthday and the serendipity behind the number of days in this challenge; 22 (2+2=4)," he wrote on his website when announcing his dietary decision in 2013.
People think they're part of the Illuminati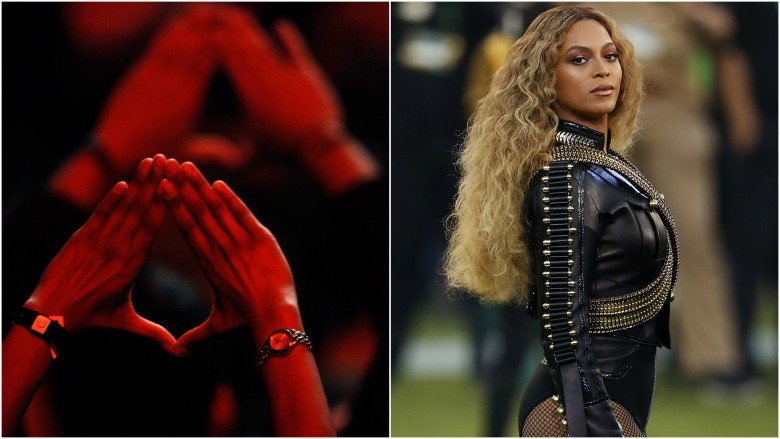 Getty Images
One of the downsides of this pair playing its cards close to the chest means that sometimes the rumor mill spins out of control. One widely-disseminated theory claims Beyoncé and Jay-Z are part of the Illuminati secret society, since they often throw up the triangle hand symbol, which also stands for Roc-A-Fella Records, Jay-Z's former record label. Some theorists even suggest daughter Blue Ivy's name is an acronym for "Born Living Under Evil, Illuminati's Very Youngest." Beyoncé actually attempted to shut down that chatter in the lyrics to her 2016 single "Formation," spitting, "Ya'll haters corny with that Illuminati mess."
They kept people guessing about that elevator incident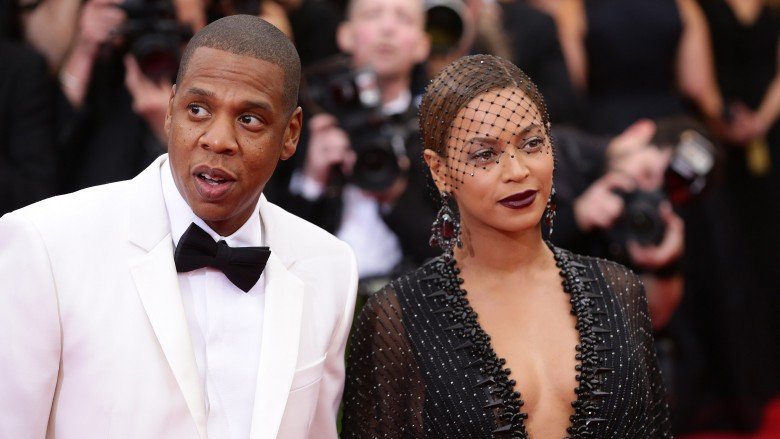 Getty Images
By 2014, Beyoncé and Jay-Z had fully laid claim to the pop culture throne, with an heir apparent to boot. Though still not verbose about their relationship in public, the couple presented a solid front. However, after making the rounds at that year's prestigious Met Gala in New York, a leaked elevator video showed Beyoncé's sister, Solange Knowles, physically assaulting Jay-Z in a hotel elevator as Beyoncé looked on.
Rumors swirled about the cause of the incident, but the family simply released a shared public statement dismissing the issue as private. Beyoncé and Jay-Z commenced with their On the Run tour as planned the following summer. However, some subtle lyric shifts during Beyoncé's performances on tour kept tongues wagging. She later released a "Flawless" remix with a lyric that may have attempted to put the incident on ice: "Of course sometimes s**t goes down when there's a billion dollars on an elevator." Hmm...
They tried to patent Blue Ivy's name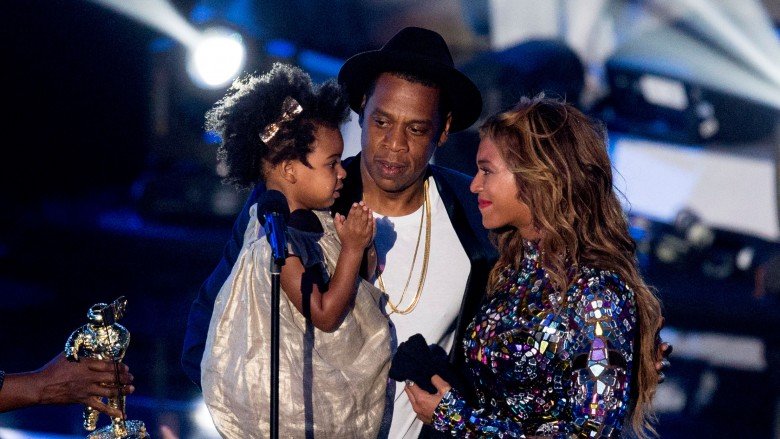 Getty Images
There's no doubt Beyoncé and Jay-Z have got the entrepreneurial spirit coursing through their veins. Consider their seemingly endless dedication to promoting his Tidal streaming service or her release of Ivy Park sportswear, but when they tried to actually trademark their daughter's name with the hopes of marketing it as a baby products line, the public (and the courts) drew a line in the sand.
Beyoncé and Jay-Z reportedly applied for trademark protection for "Blue Ivy" after their daughter was born in January 2012, but the U.S. Patent and Trademark Office declined their plea. According to CNN, If they had won the rights to the name, the trademark reportedly would have put a local wedding planner, who'd been using the name for years, in a lurch. Even without the trademark protection, the proud parents are still free to use the name as they see fit for merchandising opportunities.
Their gift-giving game is outrageous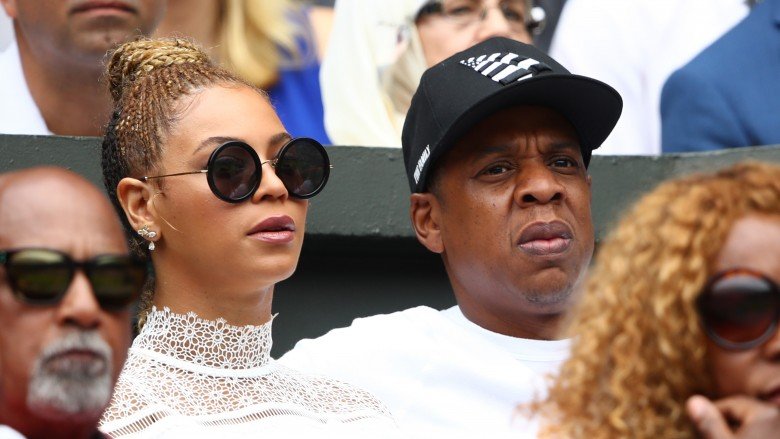 Getty Images
They often hint at personal trouble in their lyrics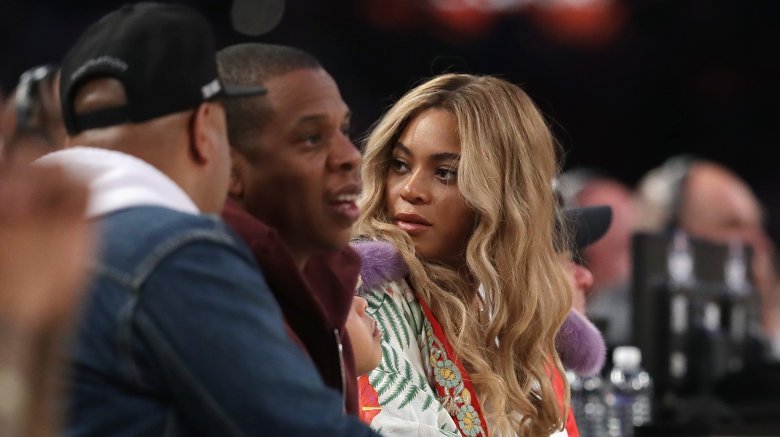 Getty Images
When Beyoncé dropped her visual album Lemonade on HBO in 2016, it triggered a firestorm of gossip about the status of her marriage with Jay-Z. Her legion of fans, the "Bey Hive," went on the hunt to discover who the "other woman" known as "Becky with the good hair" was in her "Sorry" track. Many wondered if the Carters were still together, given the revenge anthem tones of the album, but Jay-Z showed up in the second act for the reconciliation phase. The album was big news, but it wasn't the first time the pair shared tough times through music.
Jay-Z's 2006 Kingdom Come track "Lost One" includes the buzzed about lines, "I don't think it's meant to be, B / But she loves her work more than she does me / And honestly, at 23 / I would probably love my work more than I did she. So we ain't we." Carter later revealed in his 2010 biopic, Decoded, that he meant for the song to be a reflection on "how difficult it is to respect a lover as an autonomous human being, with separate needs and goals and timelines than yours...one of the hardest things about a real relationship of equals." He added, "It's worth it."
And if appearing in the Lemonade reconciliation number wasn't enough, Jay-Z also offered his own apology tour by way of the lyrics to the titular track on his album 4:44, in which he made no bones about his bad behavior. His heart was definitely on his sleeve when he wrote the lines, "Look, I apologize, often womanize/ Took for my child to be born/ See through a woman's eyes/ Took for these natural twins to believe in miracles/ Took me too long for this song."
It seems what the tabloids don't confirm or deny in interviews can definitely be ascertained from this power couple's music.
Do they fuel rumors to make money?
Getty Images
Given the timing of some of their biggest gossip feeding frenzies—the Solange vs Jay-Z brawl certainly elevated the interest level in the husband-and-wife tour, and those Lemonade lyrics certainly didn't hurt her subsequent tour sales—there are those who speculate that Beyoncé and Jay-Z time their apparent troubles around money-grabbing opportunities.
In Fat Joe and Remy Ma's "All the Way Up (Remix),"Jay-Z raps, "You know you made it when the fact / Your marriage made it is worth millions / Lemonade is a popular drink and it still is / Survival of the littest." It's hard to deny that the cultural impact of this couple's supposed troubles does include a certain financial windfall, so who's to know if they don't purposefully tip the scales of intrigue every now and again?
Beyoncé's dad didn't know she was pregnant again until he saw it on Instagram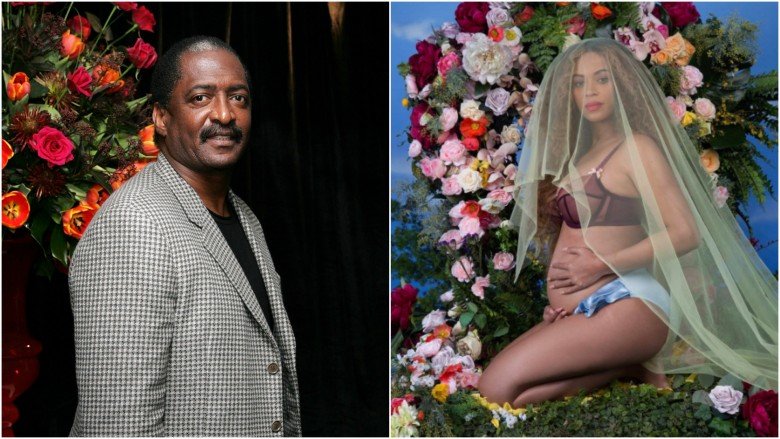 Getty Images
Her marriage with Jay-Z wasn't the only relationship Beyoncé may have addressed in her Lemonade album. She also supposedly documented the ups and downs she's had with her father, Mathew Knowles, who's made headlines in the past for allegedly cheating on Beyoncé's mom and fathering a love child.
Beyoncé's album special on HBO includes a spoken recitation of a Warsan Shire poem: "You remind me of my father, a magician / Able to exist in two places at once / In the tradition of men in my blood, you come home at 3 a.m. and lie to me." Although father and daughter appeared together after the album's drop to quell any suspicion of a fallout, Mathew is clearly not in the loop when it comes to his daughter's life because he revealed that he didn't find out about her second pregnancy until she announced it to the world, via Instagram.
He told The Insider, "I was shocked. I got a first text, and I was like, "Why is this person saying congratulations?' Then I get a second text from one of my students at Texas Southern, and I was like, 'What are you talking about?' He was like, 'Go to the web.' I didn't know myself." Mathew added that he thought the surprise reveal was a strategic business decision on the Carters' part and that he and Beyoncé later engaged in a "wonderful daughter-dad conversation" on the subject. Even so, a little heads up might've been nice, no?
One of the twins' names was planned; the other was spontaneous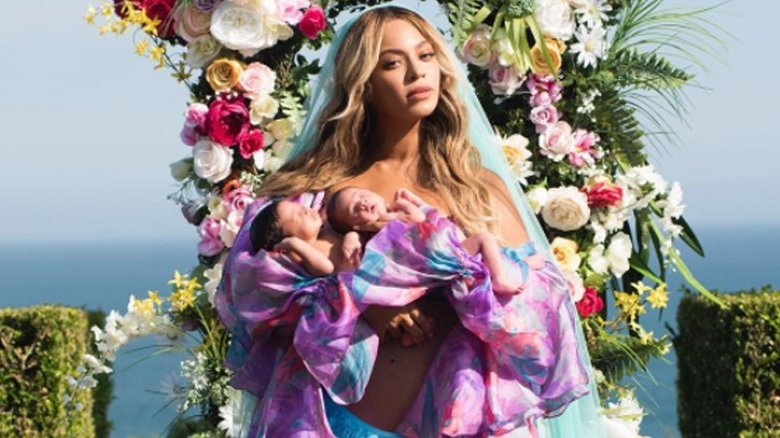 Instagram
While the name of their first child, Blue Ivy, seemed like a tribute to their favorite color and a play on the Roman numerical version of their favorite number (four), respectively, the titles given to their twins, Rumi and Sir, were also symbolic for the pair.
Jay-Z told Rap Radar (via People) that they chose the names for two very different reasons. Rumi was a tribute to their favorite poet, a Persian philosopher named Jalāl ad-Dīn Muhammad Rūmī, but Sir didn't earn his regal title until he arrived. Jay-Z said, "Sir was like, man, come out the gate. He carries himself like that. He just came out, like, Sir."
The twins' first official portrait, released by Beyoncé on Instagram when they reached a month old, certainly lived up to the epic nature of the names.