How Angelina Jolie Says She Deals With Personal Pain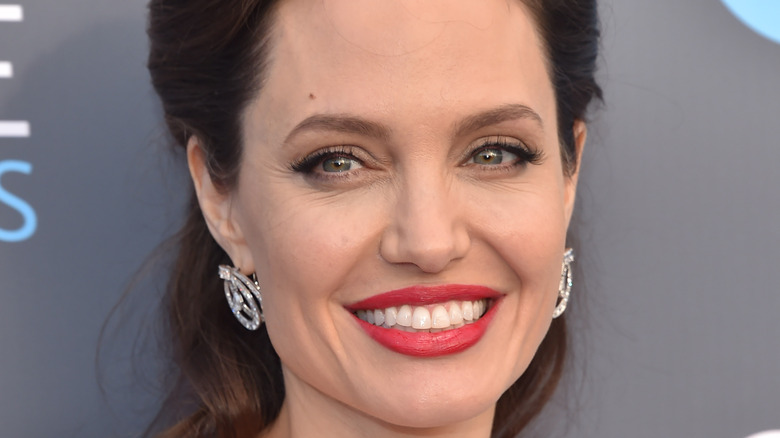 Shutterstock
The following article references allegations of domestic abuse.
Angelina Jolie's career as a director slowed down for a while following her 2016 divorce from Brad Pitt, but she's continued to work in front of the camera. Speaking to Entertainment Weekly in May 2021 about her HBO Max feature "Those Who Wish Me Dead," Jolie prioritized acting gigs over directing jobs after "a change in my family situation that's not made it possible for me to direct for a few years." She told the outlet that she wanted to "be home more," and acting in movies made that possible.
Although her legal battles with Pitt wage on as new abuse allegations were brought forth by Jolie in court documents obtained by The Blast in March 2021, the mother of six appears tighter than ever with her children. After seeing oldest son Maddox Jolie-Pitt off to Yonsei University in South Korea in 2019 — a moment that made Jolie emit, as she admitted to ET, an "embarrass-your-children ugly cry" — she told Extra in May 2021 that her children have sweetly nailed Mother's Day celebrations. "I don't plan anything... and they all tend to work together to surprise me with something," Jolie shared.
In addition to joining the Marvel Cinematic Universe in "Eternals," Jolie's 2021 slate includes the Taylor Sheridan-helmed "Those Who Wish Me Dead." Read the ways in which Jolie told ET she related to her character's traumas and the important lesson she imparts to her children.
If you or someone you know is dealing with domestic abuse, you can call the National Domestic Violence Hotline at 1−800−799−7233. You can also find more information, resources, and support at their website.
Angelina Jolie tells her children to 'live a life of use'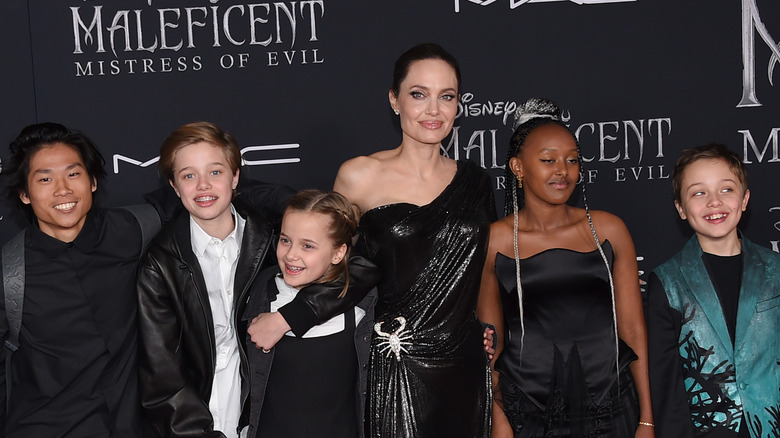 Shutterstock
While "Those Who Wish Me Dead," Angelina Jolie's drama out on HBO Max May 14, 2021, is about a raging wildfire, Jolie told ET that it's "a really emotional film" that focuses on people enduring and overcoming personal struggles. In that regard, her character — a firefighter recovering from a past trauma — was particularly healing for Jolie to tackle. The actor confessed to ET, "I've had my share of things that made me feel... just overwhelming or broken." For that reason, Jolie says she finds herself in acting "drawn to people who have been through something... and overcome it." 
The 2007 death of her mother, Jolie told ET, was a make-or-break moment in which her art form allowed her to work through her grief. Even if one isn't an actor, Jolie urged, "Try something you've never tried and kind of try to rediscover that strength within."
Jolie's own mother encouraged UNHCR's Special Envoy to find her strength via helping others — a creed she passed onto her kids, she told ET. Per The Indian Express, Jolie's speech upon receiving the Jean Hersholt Humanitarian Award thanked her mom for emphasizing "that nothing would mean anything if I didn't live a life of use to others." As Jolie told ET, "That's what I try to tell my kids... at the end of the day, what's your contribution? What's your contribution to others, you know?"