The Eye-Opening Thing Kourtney Kardashian And Travis Barker's Body Language Exposes - Exclusive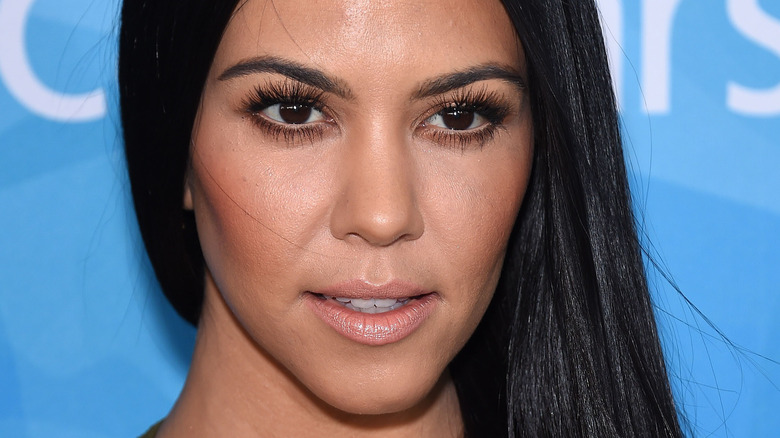 Shutterstock
The only good news to come out of 2020 (seriously) is that Kourtney Kardashian seems to have finally found love. Fans of "Keeping Up with the Kardashians" will remember that Kourtney has had kind of a rough go of it when it comes to love. Her on-again-off-again relationship with the father of her three children, Scott Disick, has been a point of contention and fascination for many fans.
To make a very long story short, Kourtney and Scott broke up over Scott's infidelity and substance abuse issues, yet they have remained remarkably close. Kourtney and Scott hang out all the time, and Scott has been known to proclaim how much he would like to get back together with Kourtney. Nonetheless, Scott seemed to move on a lot faster, dating a slew of age-inappropriate Instagram models, while Kourtney's romances were never quite as high profile.
That all changed in 2021, however, when Kourtney became very publicly linked to Travis Barker. (And when we say public, we mean public.) Barker posted a series of photos for the reality stars birthday on April 18, and the intimate pics got people talking. To get the inside scoop, Nicki Swift spoke to body language and relationship expert Nicole Moore, and what she had to say was pretty eye-opening.
Travis Barker and Kourtney Kardashian share something special
According to body language expert Nicole Moore, the first thing that stands out about recent photos of Travis Barker and Kourtney Kardashian is just how in love they are. "Perhaps the most obvious aspect of Kourtney Kardashian and Travis Barker's relationship is their insanely high level of sexual chemistry," Moore explained. "These two aren't faking it for the cameras, the heat between them is real."
When it comes to the birthday photos, Moore can tell that the two share an extremely close bond. One of the photos shows Barker's arms wrapped around a smiling Kourtney, and Moore sees only good things. "In this picture, there's absolutely no tension in either Kourtney or Travis' body language. They are full in the moment and fully present with one another," she said. "Their body language here shows that the couple is extremely comfortable with one another and very close. There's no walls up between these two. They share everything so they're able to be soft and vulnerable with one another." We love to hear that, considering how tense Kourt's relationship with Scott Disick could be.
As for more recent tabloid photos of the pair getting cozy on the beach, Moore says everything looks good there, too. "As the two sit down after taking a dip in the Ocean, Kourtney looks over at Travis while he talks, and she leans her body and head on his shoulder. Here again we see that Travis is the more rigid, solid masculine presence while Kourtney softens and leans on him."