What You Need To Know About Chef Boot Camp's Cliff Crooks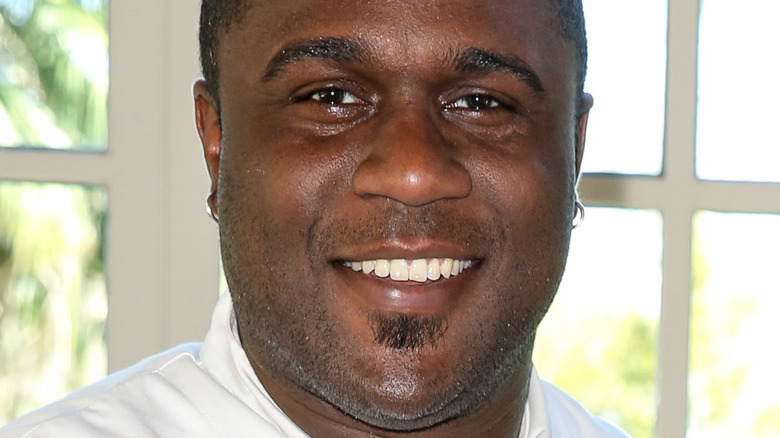 Chelsea Lauren/Getty Images
Food Network fans will be seeing a lot more of Chef Cliff Crooks now that he's starring in "Chef Boot Camp." The new show will help chefs in struggling restaurants while challenging them to improve their food. It stars Crooks as the host who will observe them and judge whether or not they deserve to be in the kitchen, per Food Network.
Crooks brings a lot of experience to his new gig, which began as a child. He told Moves, "I grew up cooking with my nana—she's a fantastic cook—and that was the beginning of my child-like curiosity about food in general." He then gradually worked his way up, cooking in some of New York City's top restaurants including Salute!, Blue Water Grill, and Gramercy Tavern, according to Discovery. These days though when he's not on TV, Crooks is working as the culinary director of BLT Restaurants, which is the restaurant group behind the popular steakhouses BLT Steak and BLT Prime.
While Crooks has an impressive past, he's looking to the future with a new vision for "fast food." He explained, "I see the line continuing to blur between fine dining and more casual service. ... You can have fast-food that is made with quality ingredients," he added, per Moves. "In my mind, there shouldn't be a difference or sacrifice based on convenience." Crooks makes the perfect host of a show aimed at helping other chefs get creative and rise to the challenge. Yet in the past, he was the one competing.
Chef Crooks was once kicked off a show
While this time Chef Cliff Crooks is hosting "Chef Boot Camp," the culinary expert has competed and judged on cooking shows before. According to his IMDB, Crooks first appeared on Bravo in 2006 when he appeared as a contestant on "Top Chef." He then returned to TV in 2011 for a guest judge role in "Hell's Kitchen," followed by one on "Chopped Junior" in 2017, and another on "Worst Cooks in America" in 2019. Most recently, Crooks appeared as a contestant on Guy Fieri's "Tournament of Champions."
Crooks is clearly a familiar face in the culinary world but there was a time when a TV appearance didn't end well. In fact, Crooks is the only chef who has ever been disqualified from "Top Chef." Today reports that after a night of drinking during the competition, Crooks dragged fellow contestant Marcel Vigneron out of bed, before pinning him to the floor and yelling at others to shave his head. While his hair remained following the incident, producers decided to step in and disqualified Crooks. Head judge Tom Colicchio explained, "harming or threatening to harm other contestants was potential grounds for disqualification... it was clear that Cliff needed to go."
While it may have been difficult at the time, Crooks clearly went on to have a successful chef career. But he did learn from his experience, telling Moves, "You always have room to grow." He added, "I think hurdles are opportunities in life to make yourself better."