The Tragic Death Of Tawny Kitaen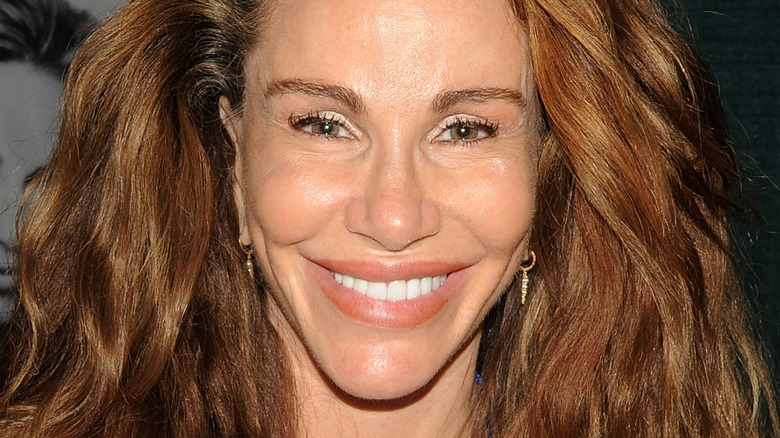 Bobby Bank/Getty Images
On Friday, May 7, actor and music video icon Tawny Kitaen died at age 59, according to a press release from the Orange County Coroner's office on May 8. The announcement stated that Kitaen died in her Newport Beach, California home, but did not list a cause of death. The only details available were a brief "injury description," which was listed as "residential death." Kitaen's reps have not made a statement yet, but model and actor Carrie Stevens confirmed the news on Twitter. She wrote in a tweet, "It's true. I don't [blame] people for not wanting to believe it.... but it is fact. Let her family give the official statement. They deserve that respect. RIP to a legend."
Kitaen was famous for the 1984 movie "Bachelor Party," in which she starred alongside Tom Hanks, and her iconic roles in music videos for the band Whitesnake, for which she became an '80s sex symbol. Per Variety, she was married to the band's lead singer, David Coverdale, from 1989 to 1991. Then she had a turbulent marriage to baseball player Chuck Finley from 1997 until 2002. They had two children together. The coroner's office listed her death under her married name, "Tawny Kitaen Finley."
Along with that fame also came some rough patches for the '80s icon.
Tawny Kitaen experienced addiction and trouble with the law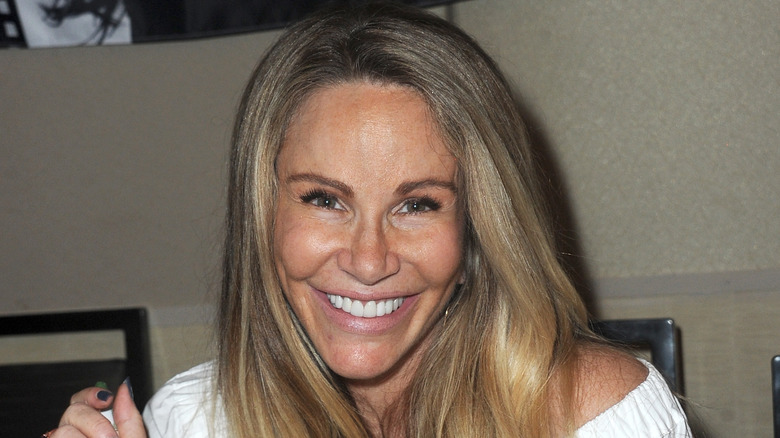 Albert L. Ortega/Getty Images
In the 2000s, the late actor Tawny Kitaen had a rough few years. According to the Associated Press (via Cleveland 19 News), in April 2002, Kitaen was charged with spousal abuse and battery of her then-husband, baseball player Chuck Finley. Per the AP, they argued while driving home and Kitaen allegedly kicked him with her high-heeled shoes. Two weeks after the incident, Finley filed for divorce and took out a restraining order against Kitaen, per the AP (via Cleveland 19 News). In July 2002, she agreed to a plea bargain to avoid her former spouse, entered a spousal battery counseling program, and donated to a battered women's shelter, according to the AP (via Cleveland 19 News).
A few years later, in 2006, Kitaen was charged with possessing 15 grams of cocaine and, in order to resolve the felony charges, she entered a rehab program, per Today. In 2008, she talked about her addiction publicly on the reality series "Celebrity Rehab with Dr. Drew," per Rolling Stone.
But a year after that appearance, Kitaen was arrested again, this time for driving under the influence of drugs or alcohol, according to the New York Daily News. For the charge, she spent two days in jail and performed 64 hours of community service, per the Daily Mail. Despite her struggles, fans have always stuck by Kitaen.
Twitter mourned Tawny Kitaen's 'beautiful soul'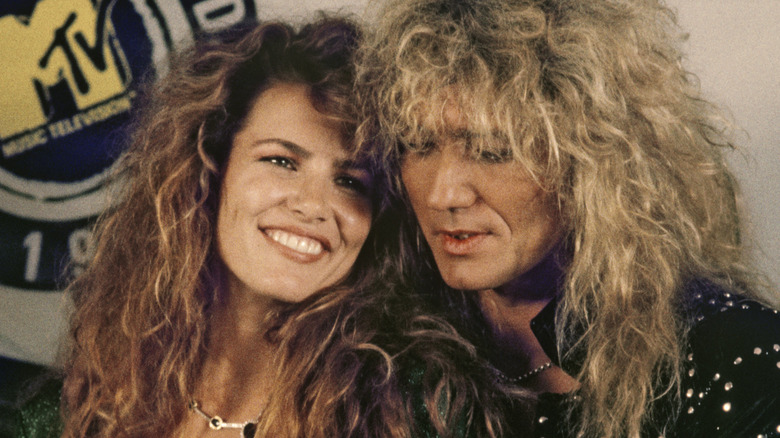 George Rose/Getty Images
After Tawny Kitaen's death became public knowledge on May 8, many fans took to Twitter to remember and honor the '80s icon and music video vixen under the trending hashtag #RIPTawnyKitaen. One user tweeted, "Absolutely heartbreaking to wake up to this news. Thank you Tawny for inspiring millions of rocker girls like me to be bold and unapologetically ourselves. You were such a queen and will never be forgotten!" Another Twitter user simply wrote, "#RIPTawnyKitaen Such a beautiful soul. You will be missed!"
Many people on social media reflected on what the actor meant to them while growing up in the 1980s and being a major part of the era's pop culture. For instance, this person tweeted, "Growing up we wanted to be like you! You were so beautiful inside and out. Such a bright light that lit up the world! You [are] going to be missed! Condolences to her daughters and family!" Kitaen may be gone now, but fans will certainly miss her.