Celebs You'd Never Guess Have Mind-Blowing Rapping Skills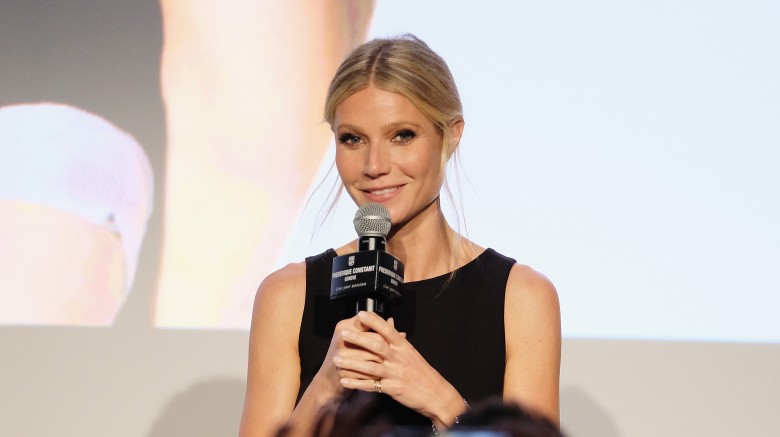 Getty Images
It doesn't matter whether it's on the big screen, on television, or in the music industry, you have to have talent to make it big as a celebrity. Oftentimes, celebs are multi-talented, and have the ability to switch seamlessly between their many different skills. Rapping is definitely one of the most difficult skills to master, with rhyming, cadence, and rhythm all central to the careers of the biggest rap stars. But would you believe there are quite a few celebrities from other realms of super-stardom that have insane rhyme-spitting skills? If you don't believe us, just check out this list, which comes complete with video evidence.
Millie Bobby Brown
You know Millie Bobby Brown best as the enigmatic and intense character Eleven from the Netflix original series, Stranger Things. But this young and talented actress also has some pretty intense rapping skills, as she proved in 2016 when she treated fans at the Salt Lake City Comic Con to a verse of Nicki Minaj's "Monster." She followed up that impressive performance with a demonstration of her singing skills by launching into a rendition of "Wings" by Birdy. You go, Millie!
Natalie Portman
Natalie Portman remains one of the biggest female stars in Hollywood today, after proving her acting chops in the Star Wars prequels, as well as in movies like V for Vendetta, Garden State, and Black Swan. But the talented and super-smart Harvard grad also has some amazing rapping skills, as seen in a 2006 Saturday Night Live sketch. In the sketch, Portman delivers a hilarious and brutal gangsta-style rap about her "real" life in response to interview questions from comedian Chris Parnell.
Daniel Radcliffe
No matter how many other projects Daniel Radcliffe does in his acting career, from acclaimed stage productions like Equus to the bizarre comedy Swiss Army Man, he will always be Harry Potter to us. Perhaps that's why it's so strange to watch the inherently good and innocent Harry Potter spit rhymes. Radcliffe wowed American late-night audiences with a 2014 appearance on the Tonight Show Starring Jimmy Fallon, delivering an epic word-for-word performance of Blackalicious' "Alphabet Aerobics."
Radcliffe noted during his interview with Fallon that he was perhaps the first kid in his class to memorize the lyrics to Eminem's "Real Slim Shady," which he later proved during a 2015 karaoke performance of the song at a pub in California. Will the real Harry Potter please stand up?
Chris Pratt
Chris Pratt has made quite the career for himself, first as the goofy Andy Dwyer on Parks and Recreation, followed by a successful movie career in films like Guardians of the Galaxy, The Lego Movie, and Jurassic World. Pratt proved he could sing with some of his impassioned ballads from Parks and Rec, such as the eulogy for Lil' Sebastian. But despite his many talents, nothing could prepare us for his rapping skills.
Pratt appeared on the radio show of DJ Whoo Kid to promote Jurassic World in 2014, and explained how his love of hip-hop dated back to when he was living in a van in Hawaii. When Pratt claimed to know every lyric on Dr. Dre's album 2001, the radio host challenged him to prove it. Chris then launched into a pitch and rhythm-perfect rendition of Eminem's verse from the collaboration track, "Forgot About Dre."
Anna Kendrick
She was only 12 when she received her first Tony Award nomination and since then, Anna Kendrick has rose to world fame with her roles in the Twilight film saga, Up In The Air, and Pitch Perfect. While there's no doubt Kendrick has acting and singing skills in spades, some fans watching Pitch Perfect may have been a little surprised by Kendrick's spot-on rap and singing performance of Blackstreet's "No Diggity" in the movie.
But in the years since then, Kendrick has proven multiple times that she's no slouch when it comes to rapping. Kendrick rapped a verse in an SNL sketch song "Dongs All Over the World" in 2014, and in 2016 she delivered a few impromptu lines from Jay-Z's "Big Pimpin" in an interview with Marie Claire magazine.
Cara Delevingne
Cara Delevingne came to worldwide attention as a young English model. In 2016, she appeared in the movie Suicide Squad as the evil Enchantress, but Delevingne recently proved she has some wicked rapping skills, too. Delevinge appeared along with Dave Franco in a three-way rap battle on The Late Late Show with James Corden, and Cara delivered some brutal rapped put-downs flawlessly, including this awesome burn: "You're both shorter than me, and I think that you'll find, I've hooked up with hotter girls than both of you combined."
Sarah Paulson
You might know Sarah Paulson from her roles on The People vs. O.J. Simpson or the anthology series American Horror Story, but Paulson's talents go much deeper than her acting skills. Jimmy Fallon learned Paulson had a penchant for '90s hip-hop, and when she appeared on his late-night show, he challenged Sarah to perform the Salt-N-Pepa classic, "Shoop." Although Fallon put her on the spot, Paulson delivered, performing every word of the second verse perfectly.
Emma Stone
From Superbad to Easy A and La La Land, Emma Stone has proven her acting chops time and again with her frequently award-winning roles. But after discovering her Lip Sync Battle with Jimmy Fallon from The Tonight Show, we're pretty sure Stone has a possible back-up career as a rapper. While she's technically lip-synching in the video and not rapping, if you watch Emma's mouth during her performance of DJ Khaled's "All I Do Is Win," it's clear that Stone knows every last word by heart. She even keeps up with Ludacris' fast-paced rapping during his verse!
Ed Sheeran
Singer-songwriter Ed Sheeran is best known for his impressive discography of chart-topping albums. He's been nominated for an impressive ten Grammy Awards, and won two in 2016 for the song, "Thinking Out Loud." With this much musical talent, we must admit that seeing Sheeran spit out sick rhymes was probably the last thing we expected to find on YouTube.
But there's no denying that Sheeran is pretty talented with rapping skills in addition to singing, as evidenced by his 2012 appearance on KIIS-FM. In the segment, Sheeran was supposed to be interviewed by radio host JoJo, but instead an impromptu freestyle session broke out, with Sheeran rapping over the beat from Dr. Dre and Snoop Dog's song, "The Next Episode."
Gwyneth Paltrow
For three decades, Gwyneth Paltrow has been one of the hottest tickets in Hollywood, with most of her acting projects earning both critical and audience acclaim. In the last ten years, Paltrow has begun to show off her pipes, singing in movie roles like Infamous and in her recurring role on the television series Glee.
In addition to her acting and singing skills, Paltrow has also proven she's no slouch when it comes to rapping. In a promo interview on the Graham Norton Show in 2011, Paltrow gave an uncensored and word-perfect rendition of NWA's "Straight Outta Compton." This wouldn't be the last time Paltrow tried her hand at rapping; in 2012 Paltrow teamed up with Cameron Diaz to write a rap making fun of their close friend Chelsea Handler and her show Chelsea Lately.