What The Cast Of Three Men And A Baby Looks Like Today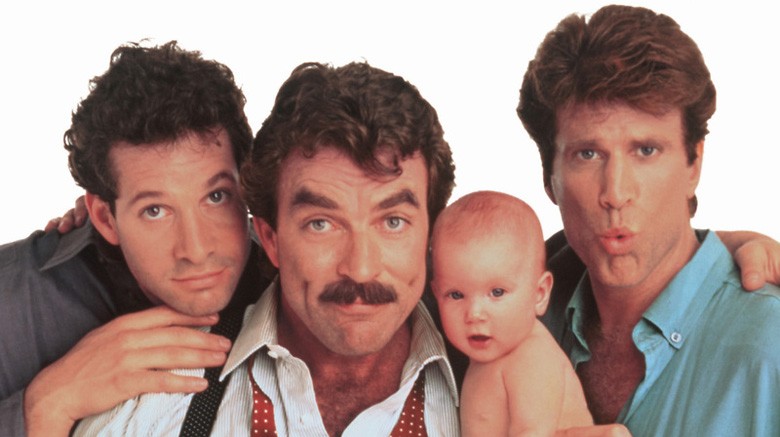 Three Men and a Baby was the highest grossing film of 1987, even though on paper it seems like one of the most ridiculous movie ideas ever pitched. It's about three professional men in their late 30s sharing a ridiculously awesome Manhattan apartment and raising a baby that gets left on their doorstep. Oh yeah, and they also get mixed up in a heroin deal, because that goes perfect with wacky family fun, right? And if that doesn't sound weirder than you remember, try this fun fact: Spock directed it. Yep, Leonard Nimoy, the actor who played Mr. Spock on Star Trek, directed Three Men and a Baby. Let's check in on the cast of this quintessentially '80s classic to see where these actors and actresses are today.
Tom Selleck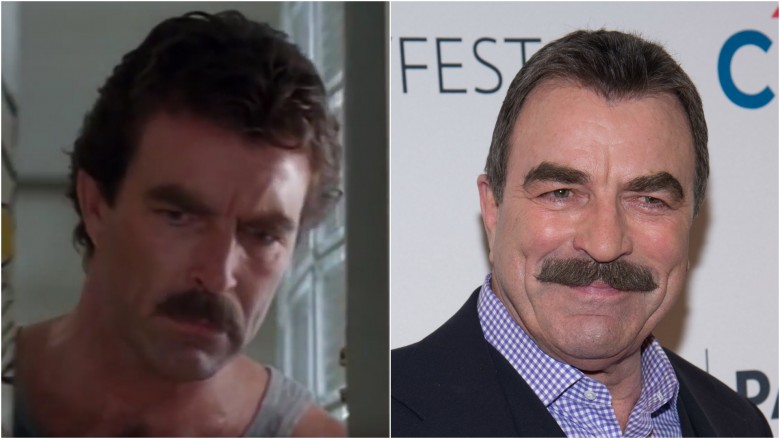 Getty Images
Tom Selleck played Peter Mitchell, the architect who, by his own admission, "builds 50-story skyscrapers and assembles cities of the future," but for some reason can only make one-third of the rent each month. He also got peed on for real by one of the twins who played baby Mary while they posed for the movie poster. Geriann Blair, the twins' mother, told Today (via the Daily Mail) about the Annie Leibovitz cover shoot in which Selleck became a human diaper. "He looked over at me and said, "Is this safe?" [In reference to holding a diaperless baby] and I said, "Oh, I don't know." And then, there she goes, sure enough! So that was a real shock," Blair said.
Fortunately, Selleck recovered and went on to a lucrative and presumably baby-pee free career. He was at the tail end of his Magnum, P.I. run when Three Men and a Baby came out, and he told People he deliberately slowed his career down by quitting the popular show to spend more time with his family on their ranch in Ventura County, Calif. In that same 2012 interview, Selleck said he was only working every other week on Blue Bloods (2010-) and doing one Jesse Stone TV movie per year to keep his workload light, and by the looks of his IMDb page, that seems to still be his plan as of this writing. Sounds like a pretty sweet gig if you and your chiseled granite face and fantastically timeless mustache can get it.
Ted Danson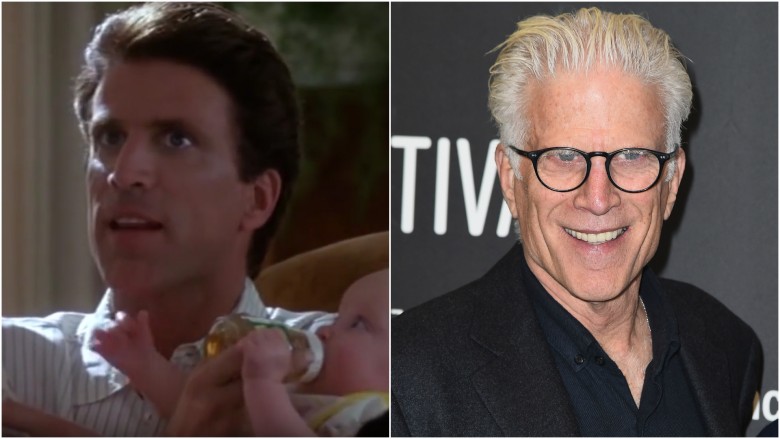 Getty Images
Ted Danson had arguably the most success of anyone in the cast, which is remarkable because he played Jack Holden, the deadbeat actor who didn't even know he had a kid and almost got his innocent roommates arrested for dealing heroin. But it all worked out because, in the '80s, that's just what happened in the case of wacky mix-ups.
Already a household name from Cheers (1982-93), Danson went on to a crazy string of hits with Becker (1998-2004), a recurring role on Curb Your Enthusiasm (2000-), and about 14 incarnations of CSI. And he did it all after going gray seemingly overnight, so he's looked like he's 70 for decades. In an interview with Esquire, Danson admitted that he started dying his hair during Cheers and all through Becker, eventually sporting a hairpiece to cover up a thin spot on his crown. He also talked a little about his work with Oceana, "the world's largest organization dedicated solely to ocean advocacy," for which he serves on the board of directors. Danson's not showing any signs of slowing down, either. At the time of this writing, he's on another hit show, The Good Place (2016-) which got picked up for a second season, and we have to say his hair looks as terrific as ever, even if it's not real.
Steve Guttenberg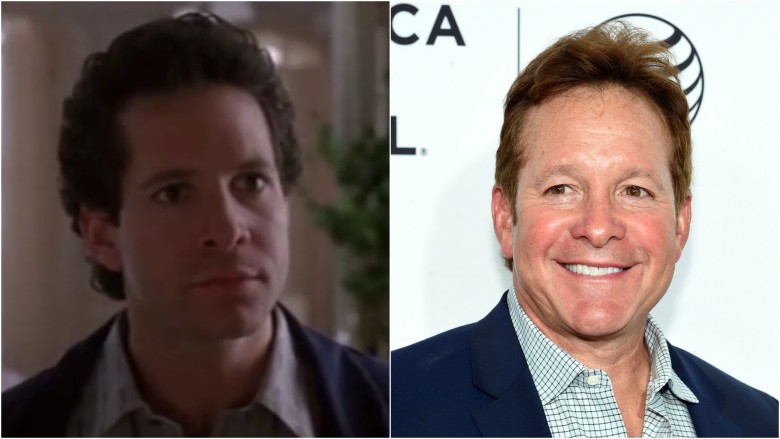 Getty Images
Like Danson, Steve Guttenberg was already well known to audiences from his work in the Police Academy (1984-94) movies. In fact, he had four of them under his belt by the time he starred in Three Men and a Baby as Michael Kellam, the cartoonist whose crazy drawings were featured all over the walls and even elevator doors. Did we mention this was the '80s? You had to kind of feel bad for Guttenburg in this role. Standing almost a full foot below both Danson and Selleck, and with no real subplot to speak of, his character seemed like it was the result of a last minute studio note because someone thought Two Men and a Baby might seem too gay.
With that in mind, it's no real surprise that Guttenberg didn't hit a hot streak afterward. In fact, he has almost no recognizable credits post-Three Men and a Little Lady, the 1990 sequel, except for a year-long stint in Veronica Mars ending in 2006 and Sharknado 4: The 4th Awakens (2016), which we almost feel bad mentioning. So, take a wild guess who stated publicly that he'd be up for another Three Men installment? In 2009, Guttenberg told WENN (via Digital Spy) that "Disney's developing Three Men and a Bride. That's going to be a smash. A smash hit. They're bringing everybody back for that." He also said, "Nobody knows about it. I'm the first to talk about it." Four years later on The Talk (via Entertainment Weekly), Selleck said he'd do it if there was a decent script, and now another three years after that, still nothing. Sorry Guttes, but it doesn't look like this is happening. (Does he go by Guttes? We feel like he should.)
Nancy Travis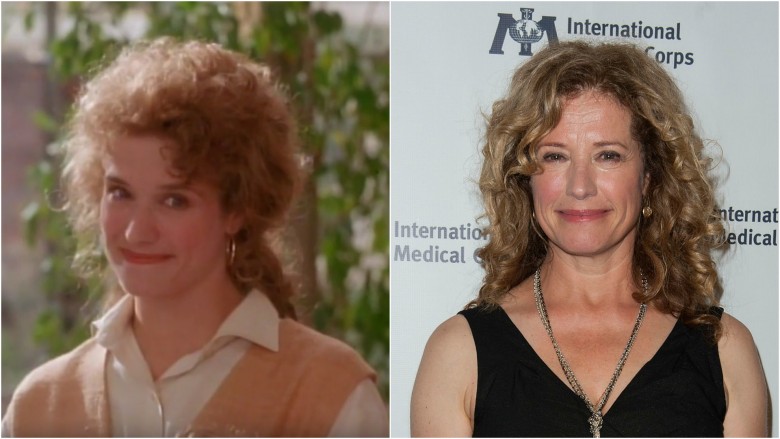 Getty Images
Nancy Travis played Sylvia Bennington, Jack's British baby mama and one-time fling who somehow had the Batman-like detective skills in the pre-internet '80s to find his luxury apartment, gain access to it while transporting a baby in a bassinet, then leave the little one behind for a few months. And no, she's somehow not the villain of this movie. In fact, she has the stones to come back at the end and reclaim baby Mary, at which point the guys somehow collectively agree that she probably won't just drop her off somewhere else when the going gets rough again. But by the laws of '80s movie resolutions, the guys come to their senses and rush to the airport, and Sylvia eventually agrees to move in with them so they can all raise the baby together in some kind of weird reverse Sister Wives situation.
It wasn't a huge role for Travis, but it was one of her first, and it would jump-start a long and prolific TV career that would see her reunite with Danson on Becker and land her a solid role as Tim Allen's wife on Last Man Standing (2011-) aka Home Improvement 2: This Time the Kids are Girls.
Lisa Blair & Michelle Blair Ontonovich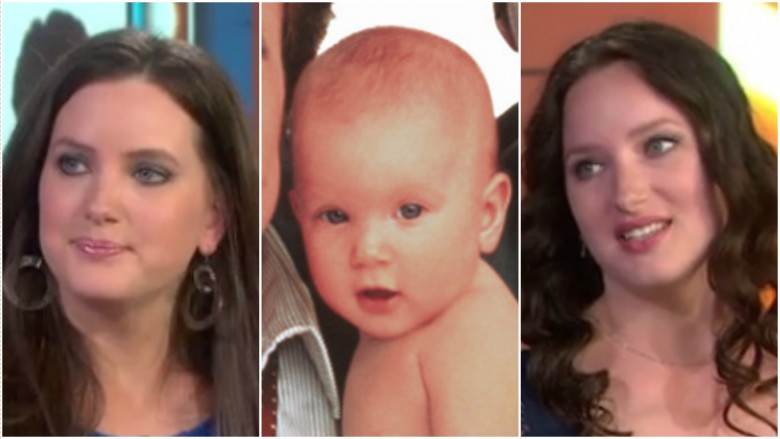 Baby Mary didn't have a whole lot of acting to do for this role since the twins who played her were just four months old, but her character was undoubtedly the massive "awe factor" that sold almost $170 million worth of movie tickets for this thing. According to their mom, Geriann Blair, it was a total spur of the moment decision that led to their role in the blockbuster. During an interview on Today, she said, "I was just bored at home on [maternity] leave, and I heard about this casting call. I thought it was just a scene in a movie." And since they were literally infants who do nothing but eat, sleep, pee, and poop, guess what kind of anecdotes mom has from the set?
That's right, momma Blair had not one, but two urination stories locked and loaded in the chamber. We already discussed Selleck's unfortunately realistic wet spot on the movie poster, but there was another scene in which Michelle was rigged up with tubing that was supposed to simulate those fantastic surprise baby pee cannons every parent knows about, but it wasn't working. So, like a true professional, baby Michelle actually peed right on cue as Selleck was holding her. Amazingly, all of these wonderful behind-the-scenes stories of the magic of filmmaking caused neither girl to catch the acting bug. According to the Daily Mail, Lisa works in insurance and Michelle has "a career in customer service," so let's hope their days of unexpectedly drenching their coworkers with urine are long behind them.
Margaret Colin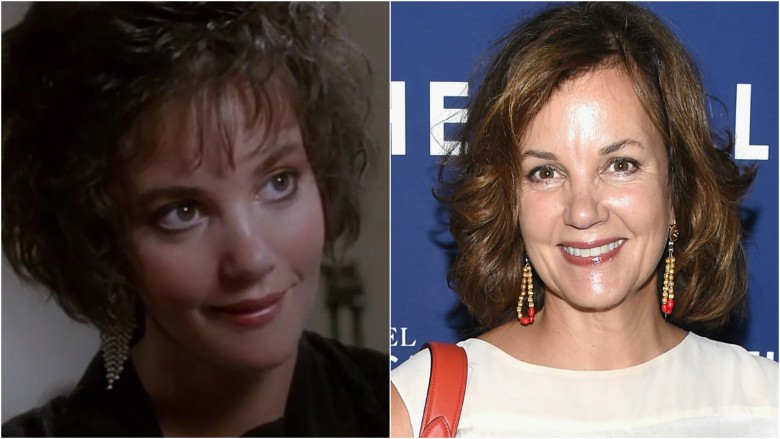 Getty Images
Despite the guys having declared themselves perpetual bachelors—at one point they joyously deliver their motto, "So many women, so little time"—Peter has a long-term casual relationship with Rebecca, played by Margaret Colin. She has the perfectly '80s movie job of "New York City attorney," so she's supposedly cool with she and Peter's vague status because her career monopolizes most of her time, yet she clearly wants something more. It's quite a subplot for a character who's barely in the movie after the first 15 minutes, but she does avoid getting soaked with baby pee, so Rebecca at least has that going for her.
Probably best known after Three Men and a Baby for her role as Blair's mom, Eleanor Waldorf, on Gossip Girl (2007-12), Colin also played Constance Spano, the press secretary in Independence Day (1996) who was also Jeff Goldblum's character's ex-wife. She was one of the only cast members who didn't return for the 2016 Independence Day sequel, Independence Day: Resurgence which, according to the internet, was because her character was killed off in a book sequel to Independence Day, so obviously you don't want to interrupt that continuity. Colin didn't seem to mind. In an interview with WTOP, she said "The only ones who don't make it that lived through the whole (original) film was Will Smith and myself. Everybody else is back...I'm boycotting it. I'm not in it! I'm dead. I actually called them up and said, 'A flashback? You know? Something?' No." She was joking, but we can tell it still stings a little.
Derek de Lint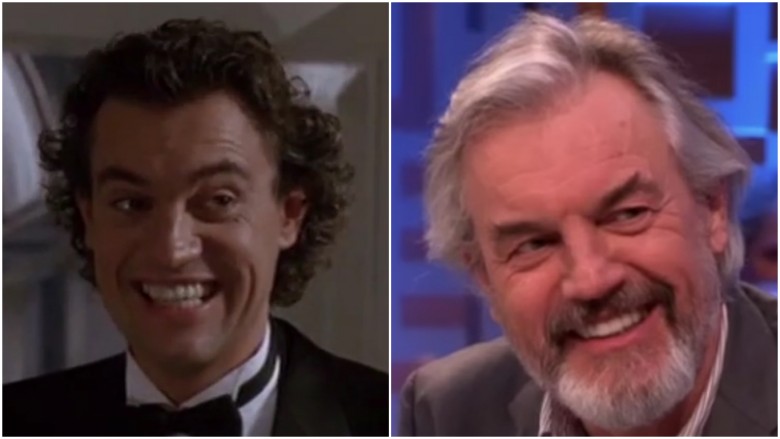 Derek de Lint had a small role as Jan Clopatz, the Hungarian cellist who Rebecca brought over to the guys' apartment to rub it in Peter's face that she was going on a date with him. He got to humorously react to Selleck saying that Mary "doodled," which is yet another reference to the child soiling her diaper. Ha! It's funny because babies are always doing that, get it? Anyway, Derek de Lint had just that one scene in the movie but it was a memorable one.
That's probably because he also happens to be an acclaimed Dutch character actor who's tackled heavy subject matter such as WWII in Soldier of Orange (1977) and Black Book (2006), as well as held his own in scenes with Daniel Day-Lewis in The Unbearable Lightness of Being (1988). He also almost snagged the role of Captain Benjamin Sisko on Star Trek: Deep Space Nine (1993-99), but was edged out by Avery Brooks, which is a shame, because Star Trek: Deep Space Nine is generally considered to be the fourth-best version of that show.
Philip Bosco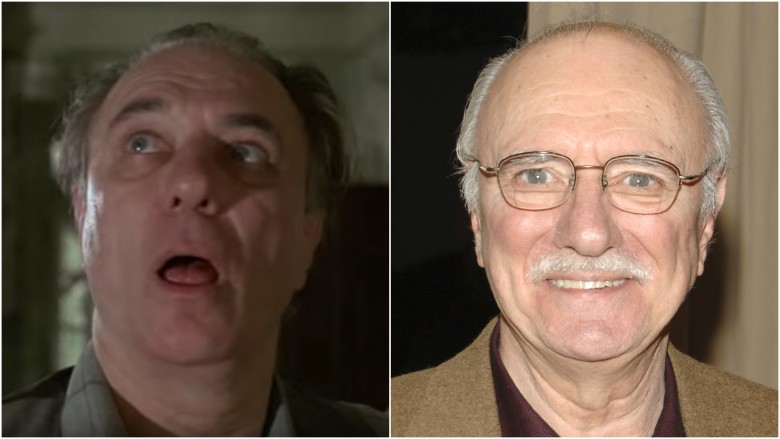 Getty Images
Like Derek de Lint, Philip Bosco is another celebrated character actor—one of those guys you recognize from everything the minute he hits the screen. He played Det. Sgt. Melkowitz, the cop who interrogated the guys over the wacky heroin mix-up, which they got out of by hiding the drugs in the diaper the baby was wearing—seriously. But this was far from Bosco's most memorable role. In fact, Bosco is actually an accomplished stage actor and opera singer, having won a 1989 Tony Award for his performance in Lend Me a Tenor.
As for the big screen, Bosco famously played Curly, the contractor who never met a deadline he wouldn't promise to make in another crazy popular '80s classic, The Money Pit (1986). He also had roles in My Best Friend's Wedding (1997), The First Wives Club (1996), and Shaft (2000), where he sported his own legendary Hollywood mustache. It was a look he developed after Three Men and a Baby, but he definitely rocked it for years. Thin, and shaved down to just barely hug his upper lip, Bosco's nose rug could somehow lend him either an affable, fatherly characteristic (My Best Friend's Wedding) or an evil, dastardly menace (Shaft).
Mario Joyner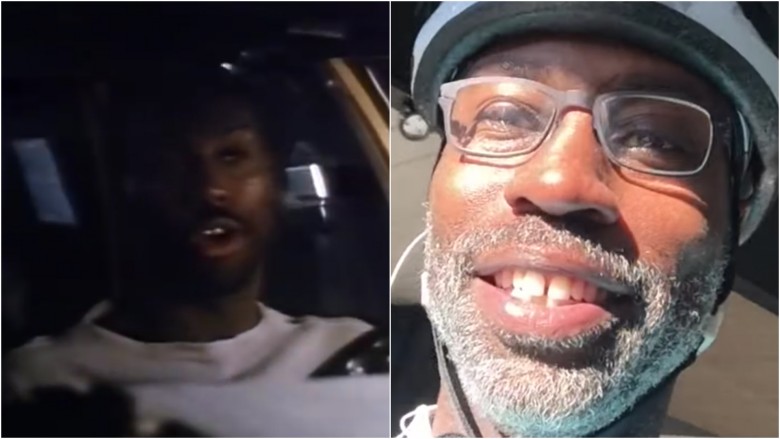 Another small but noteworthy role worth was the cab driver who races the guys to the airport as they attempt to prevent Sylvia from taking Mary back to London. The driver was played by Mario Joyner in his acting debut, and he did a great job making the guys feel even more guilty about letting Mary go back with her mom, who basically dropped her off like a FEDEX package. We did mention this is a weirdly dark family comedy, right?
Anyway, Joyner's Hollywood career failed to launch after that. He was a stand-up comic back then, and he still is today, headlining at comedy clubs all over the country and performing regularly with Jerry Seinfeld, so his acting roles have mostly been bit parts in movies that had fellow comics as the driving force, such as Chris Rock's Pootie Tang (2001) and Seinfeld's Bee Movie (2007).