Inside Jurnee Smollett's Relationship With Jussie
Shutterstock
Jurnee and Jussie Smollett have been in the spotlight since they learned to read, and these former child stars are still kicking out content decades later. Jussie's first big role was in the classic 1992 film "The Mighty Ducks," while Jurnee had a string of guest appearances on Jeff Franklin's "Full House" and "Hangin' with Mr. Cooper," according to their respective IMDb pages. In 1994, they came together with their four other siblings Jojo, Jazz, Jake, and Jocqui for the short-lived sitcom "On Our Own," about siblings who are suddenly orphaned and must fend for themselves.
Now, more than 25 years later, both Jurnee and Jussie continue to churn out hits. Jussie is best known for his role as Jamal Lyon on the hit show "Empire," which he left under scandalous circumstances, and Jurnee currently stars in HBO's new hit series "Lovecraft Country." With grueling work schedules taking a toll on everyone who works in the entertainment industry, it's tough to maintain relationships with friends and family while working. So what is Jussie and Jurnee's relationship like now?
Jurnee continues to stand by her brother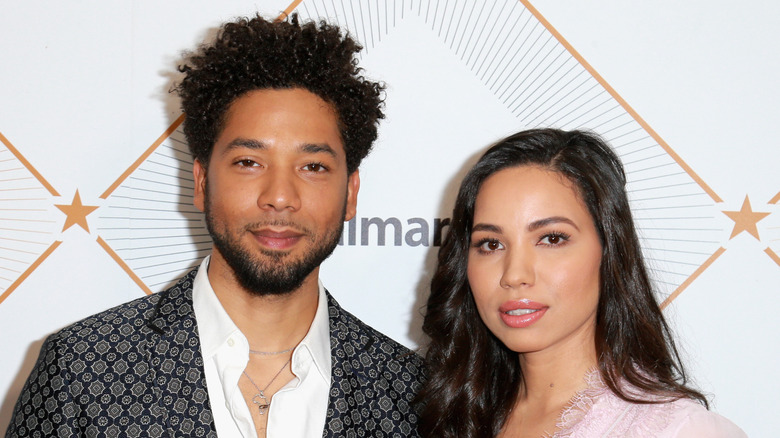 Leon Bennett/Getty Images
Jussie Smollett earned national attention in early 2019 when he claimed he was attacked in a hate crime in Chicago. Per Buzzfeed News, "Smollett told police that his attackers yelled 'this is MAGA country' as they put a noose around his neck and poured a chemical substance on him." But in a shocking turn of events, Jussie was later arrested and charged with falsifying a police report, a class 4 felony, according to The Hollywood Reporter. The Chicago police superintendent called Jussie's attack a "hoax" and a "shameful ... publicity stunt." Reports later came out claiming he staged the attack because he was unhappy with his salary on "Empire." Nonetheless, Jussie maintained his innocence the entire time.
In 2020, Jurnee opened up about her brother's saga in an interview with The Hollywood Reporter. "It's ... one of the most painful things my family's ever experienced," she said. "... I've tried to not let it make me pessimistic. But everyone who knows me knows that I love my brother and I believe my brother." She also spoke with Extra about protesting with Jussie and her other siblings that summer at one of the largest protests in Los Angeles. "It's incredibly beautiful to witness, just this intersection of all identities saying, 'Enough is enough.'"
The Smollett siblings prove that no matter what may end up happening, blood is always thicker than water.