The Tragic Death Of Hitchcock Actor Norman Lloyd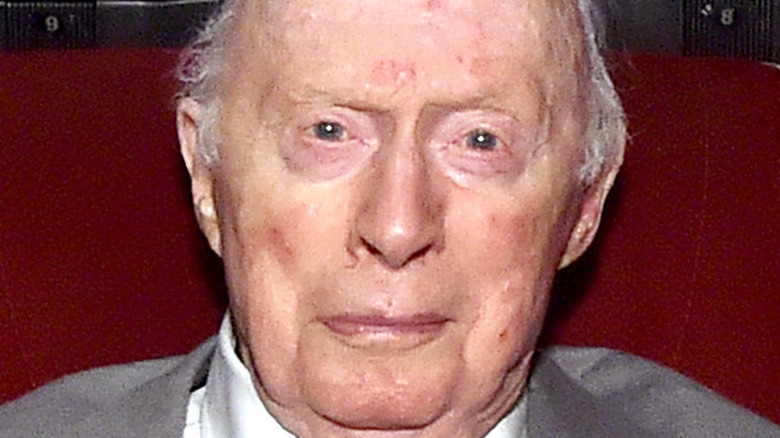 Stefanie Keenan/Getty Images
Hollywood legend Norman Lloyd, who worked with everyone from Charlie Chaplin to Alfred Hitchcock, has died at the age 106. Lloyd's son, Michael, revealed his father died on May 11 at his home in Brentwood, Los Angeles, per Associated Press. The distinguished actor appeared in cherished films and shows such as "Dead Poets Society" and "St. Elsewhere," but got his start after being asked by Orson Welles to join the Mercury Theatre in the mid-1930s, per The Hollywood Reporter.
Lloyd appeared in Welles' anti-fascist Broadway adaptation of "Julius Caesar" in 1937, and at the age of 22, made the cover of Time magazine. His relationship with Welles continued after being cast in his legendary film "Citizen Kane" — however, Lloyd eventually opted out due to budget problems. On his 100th birthday, he told The Hollywood Reporter he "always regretted" walking away from it. Despite this, his career went from strength-to-strength, eventually making his mark in film after Hitchcock hired him as the villainous title character of his 1942 film "Saboteur." Lloyd told KCRW in 2012, "The big scene, if I may say so, was my falling off the Statue of Liberty." 
Lloyd's career wasn't without controversy, though, with the actor unable to get work in the 1950s after being "suspected of having communist ties," per THR. However, his strong working relationship with Hitchcock saw the director insist Lloyd be hired to co-produce his popular TV shows "Alfred Hitchcock Presents" and "The Alfred Hitchcock Hour." While most famously working during The Golden Age of Hollywood, Lloyd's final acting job was at the age of 100.
Norman Lloyd worked alongside Amy Schumer for his final screen role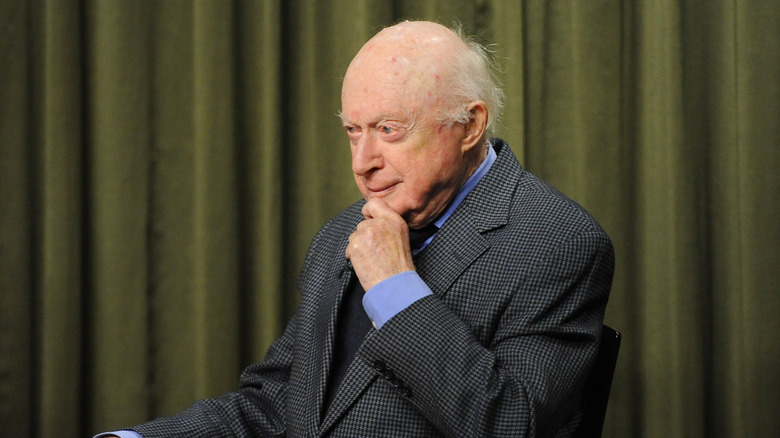 Angela Weiss/Getty Images
Normal Lloyd worked on almost 20 iconic films, which included Alfred Hitchcock's 1945 thriller "Spellbound" with Gregory Peck, "Limelight" in 1952 opposite Charlie Chaplin, and Buster Keaton and Martin Scorsese's 1993 period film "The Age of Innocence." But the New Jersey-born actor, director, and producer was a man about Hollywood for most of his life — even calling popular comedy director Judd Apatow, known for "The 40-year-old Virgin" and "Knocked Up," a friend, per The Hollywood Reporter.
His relationship with Apatow led him to being cast in his 2015 hit "Trainwreck," featuring Amy Schumer and Bill Hader, at 100 years old. In the film, Lloyd played Schumer's dad's crotchety friend. He later joked about his casting in the rom-com and said, "I appreciated Apatow's choice of me for his film but was upset he didn't put me in any of the hot scenes." 
Apatow, known for his likening of improvisation, saw Lloyd work off-script for the first time in his 80 year career. "I did one improvisation with a six foot two Jamaican rapper and I couldn't understand anything he was saying!" he told The Telegraph. While he called the experience "marvelous," Apatow's raunchy style of humor not only threw him off a little, but also his family. "I expressed lechery," he says. "And my daughter, who's 76, walked out of the picture. She wrote me a letter -– 'It's not the kind of picture I thought I'd see you in, Dad!' "