Inside Queen Elizabeth's Assassination Attempt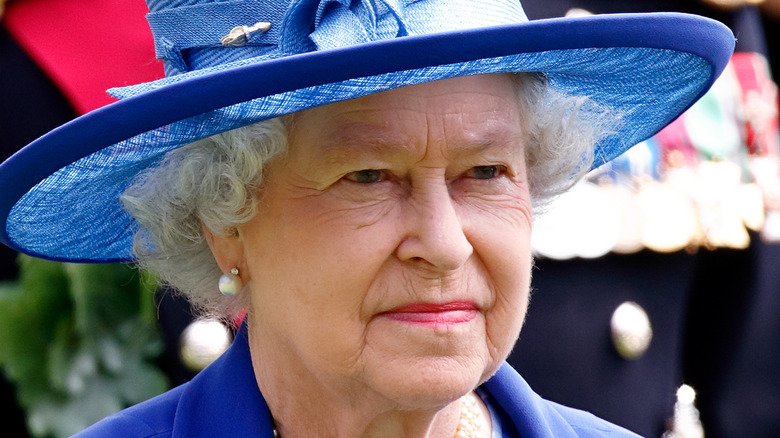 Max Mumby/indigo/Getty Images
On June 13, 1981, Queen Elizabeth II rode her horse outside Buckingham Palace as part of the annual Trooping of the Colour parade to celebrate her birthday. During the event, a 17-year-old teenager, Marcus Serjeant, approached the queen and fired off six shots, per Express. Fortunately, they were blank rounds and Her Majesty was unharmed. Unfortunately, this would not be the last attempt made on the queen's life that year.
When she visited New Zealand soon after in October, another teenager took a shot at the Queen. 17-year-old Christopher John Lewis, who was a "troubled" teen and a "self-described loner" boasting "the most detentions and the most canings of anyone in the high school," as covered by Stuff, made an attempt on Elizabeth's life. On Oct. 14, 1981, Lewis was armed with a .22 caliber rifle, which he wrapped in a pair of jeans to carry on his bike. He made his way up to the fifth-story bathroom of a building as Elizabeth's convoy made its way down the street below. When the teenager saw a Rolls Royce drive by with the queen inside, he fired off a round with his rifle but missed the monarch.
At the time, bystanders and members of the media in attendance were told that the gunshot noise was just nearby fireworks, per Reuters. "The Queen just carried on," Frank Van Der Eik, an officer on the scene, recalled (via Stuff). Keep reading to see how the assassination attempt was covered up ... for decades.
Declassified documents emerged decades after the 1981 attempt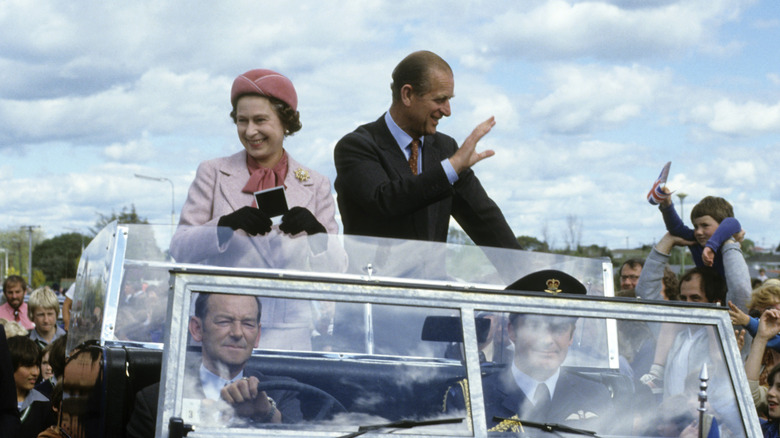 Anwar Hussein/Getty Images
Authorities downplayed how close Christopher John Lewis came to shooting Queen Elizabeth. It was only in 2018, decades after Lewis took his shot from that bathroom window, that New Zealand's Security Intelligence Service even confirmed the wayward teenager made an attempt on the Queen's life. "Lewis did indeed originally intend to assassinate the Queen, however, did not have a suitable vantage point from which to fire, nor a sufficiently high-powered rifle for the range from the target," a declassified document from 1997 read, per Reuters.
In 1981, Lewis was apprehended by police for an unrelated robbery, and he wound up handing over the rifle, per Reuters. In the end, he was not charged with attempted murder or treason, but with possession of the .22 rifle and discharging it, as covered by Stuff. That is, after being questioned eight times over 13 days. "Had the bullet hit her, would it be treason?" the then-17-year-old reportedly asked while detained. 
In 1997, the life-long criminal ended his life while behind bars at age 33. Lewis had written an unpublished autobiography, claiming high-end officials made him keep quiet about the attempt. "If I was ever to mention the events surrounding my interviews ... they would make sure I 'suffered a fate worse than death,'" he wrote, per The Guardian. Lewis' former lawyer, Murray Hanan, described the attempt as "just too politically hot to handle" in 1981, per the outlet. 
It certainly was treated that way.