Celebs Who Used To Be Friends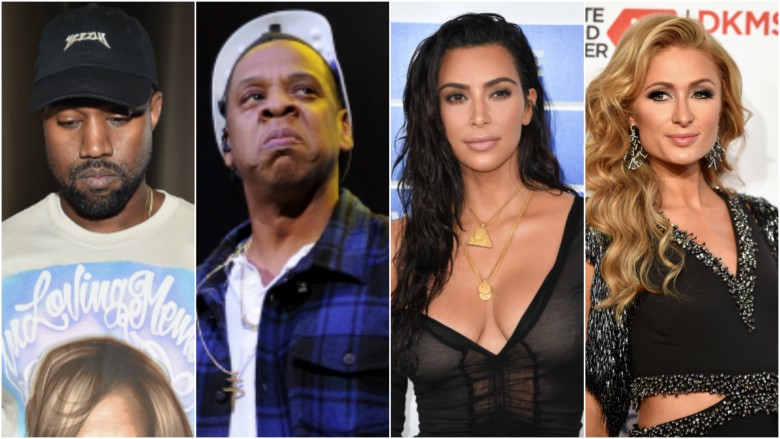 Getty Images
These celebrity friends have partied together, worked together and broken bread together. Despite the happy memories they once shared, these folks now share hatred for one another. They diss each other in music lyrics, in Twitter rants and even in biographies. There's no love loss in Hollywood, it seems. From Kanye West going off about his alleged friend Jay Z to Paris Hilton bashing her once-BFF Kim Kardashian." See which celebrity friends now despise each other.
Jay Z vs. Kanye West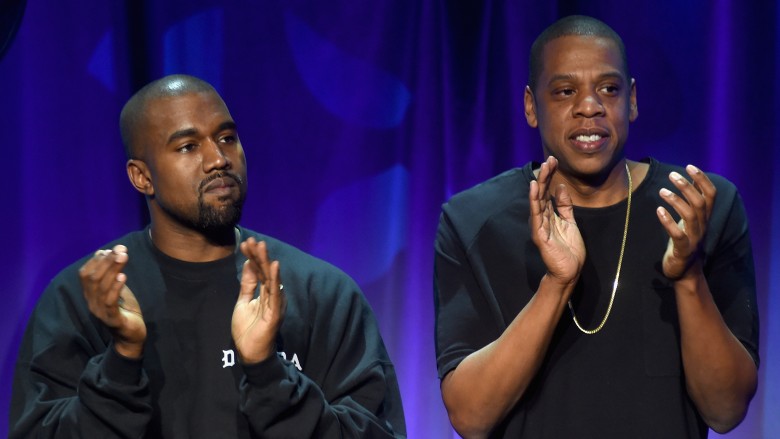 Getty Images
Jay Z and Kanye West collaborated on one of the most successful hip-hop albums in history, Watch the Throne, but that doesn't mean they're buddies. In fact, the rappers' egos have seemingly gotten in the way of their friendship. As the story goes, people often thought of Jay Z and West as brothers who work together creatively and hangout socially. Even their wives, Beyoncé Knowles and Kim Kardashian, appear to be cordial. But as West revealed in an October 2016 rant while in concert, he and Jay Z are hardly friendly these days. In fact, their friendship appears to have been destroyed over Jay Z's lack of concern about Kardashian being robbed at gunpoint in Paris.
"Don't call me after the robbery say, 'How you feelin'?' You wanna know how I'm feeling? Come by the house," West ranted, according to an Us Weekly transcript. "Bring the kids by the house, like we're brothers... I can't take this sh*t, bro! Our kids have never even played together." After that showing, Jay Z was radio silent — never once commenting on the failing friendship. Perhaps that silence spurred West to share even more revealing information.
The following month in Sacramento, West's feelings once again ran hot and his emotions caused him to end a concert 30 minutes after starting. This time, West hinted that Jay Z could hire hit men for talking trash about him. "I've been sent here to give y'all my truth even at the risk of my own life, my own success, my own career," West ranted, reports the Sacramento Bee. "Jay Z, call me. Talk to me like a man."
From there, West ended up in the hospital for more than a week. And it appears that Jay Z and West never patched up their rocky friendship.
Ariana Grande vs. Victoria Justice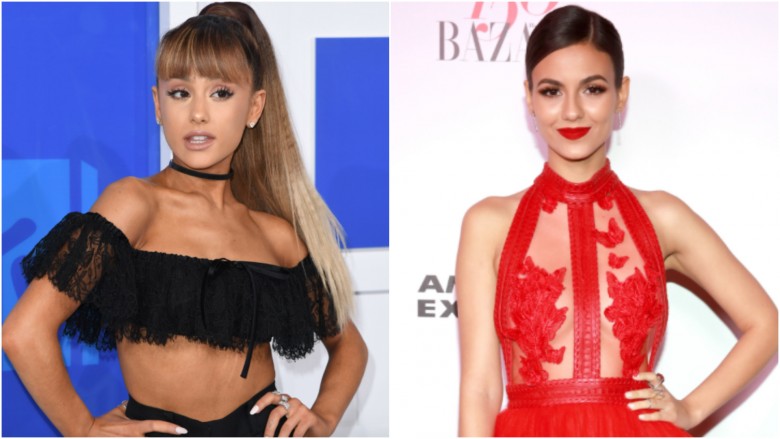 Getty Images
For three years, on and off screen, Ariana Grande and Victoria Justice were inseparable. The pair co-starred in Victorious for three seasons ending in 2013. At the end of the popular show, Grande landed a spot in a spin-off called, Sam & Cat, with her Victorious character as the star.
Fans weren't thrilled with the show's cancellation, begging many to wonder what forced Nickelodeon to pull the plug. According to Cosmopolitan, who dug up the dirt, Grande let it rip on ask.fm in February 2013 that the show was axed due to some pretty terrible diva behavior. "Sweetheart the only reason Victorious ended is because 1 girl didn't want to do it," she told inquiring fans. "She chose to do a solo tour instead of a cast tour. If we had done a cast tour Nickelodeon would have ordered another season of Victorious while Sam and Cat filmed simultaneously but she chose otherwise. I'm sick of this bs."
At the time Justice did in fact attempt to launch a solo career — which has yet to reach the heights of Grande's. That slick remark pushed Justice to tweet, "Some people would throw some1 they consider a friend under the bus just 2 make themselves look good. #StopBeingAPhony #IfTheyOnlyKnew."
Fast forward to 2015 and fans still can't stop talking about Grande and Justice's tit for tat moments. Justice attempted to clear the air once and for all on The Meredith Vieira Show. "There's no feud," she opened up. "We can put this behind us now and we can practice what Frozen preaches, my friends, and let it go. Let's let it go!"
It should be noted since the pair starred on television together, they have yet to meet up for a reunion or pose for photos together. If there was no real drama, why not prove it? Actions always speak louder than words.
Naya Rivera vs. Lea Michele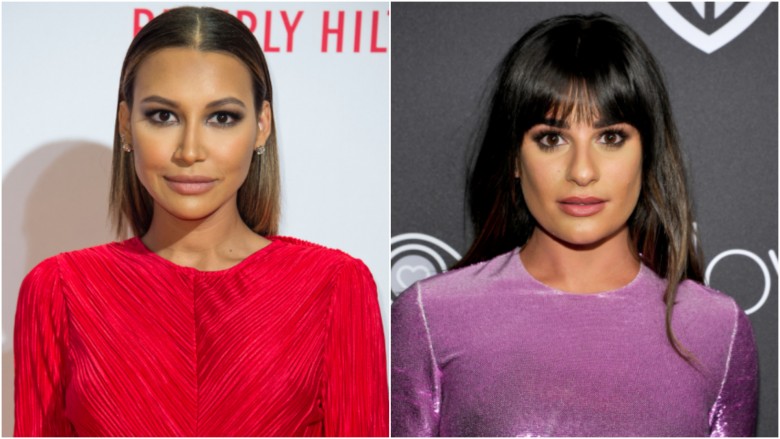 Getty Images
While the Fox series Glee was a ratings monster and a hit with viewers, there was drama brewing behind the scenes. Little did people know from watching their interactions, Naya Rivera (Santana) and Lea Michele (Rachel) were anything but buddies on set.
According to a 2014 Us Weekly story, the pair could barely contain their resentment toward each other while filming. "They're always icy to each other," an insider told the magazine. "Naya is jealous that Lea is the show's main star.... There is a lot of sighing and eye-rolling between them." A second person added, "They talk behind each other's back — a lot."
In Rivera's 2016 memoir, Sorry Not Sorry, she address her long rumored anger with Michele. "One of the Glee writers once said that Lea and I were like two sides of the same battery and that about sums us up," she unapologetically said, according to E! News. "We are both strong willed and competitive — not just each other but with everyone — and that's not a good mixture." She adds that once her character Santana earned a bigger role in the show, it pushed Michele to an uncomfortable place. "On top of that, she had a hard time separating work from our outside friendship, whereas it was a lot easier for me," Rivera wrote. "I'm not offended when people offer feedback or criticism, and if things get heated on set, I try to keep perspective.... Lea was a lot more sensitive, though, and it seemed like she blamed me for anything and everything that went wrong."
These two have yet to officially kiss and makeup.
Williams Shatner vs. George Takei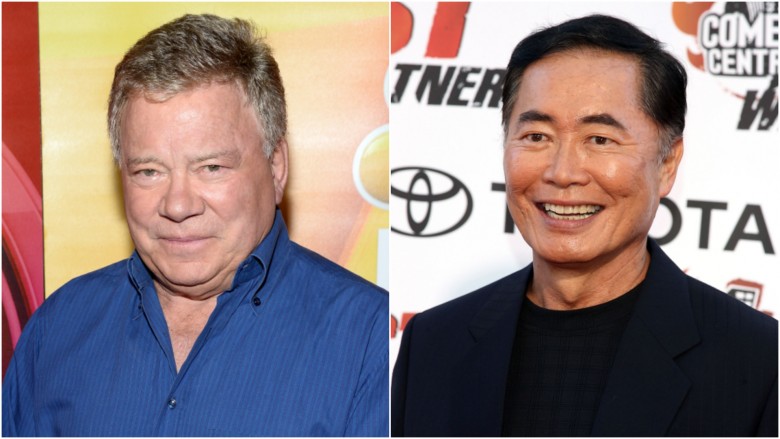 Getty Images
William Shatner and George Takei have been fake friends for decades. Occasionally they exchange pleasantries but most of the time they're hurling insults at each other. Sure, the public probably thinks it's to get attention, but if one reads between the lines, they'll discover these stars really hate each other.
Their troubles date back to the '60s when both Shatner and Takei starred in Star Trek. According to the New York Post, Takei, in his book To the Stars, accused Shatner of changing the script of Star Trek V so his character would have less of a presence. Over the next four decades the friends would take jabs at each other — Takei even once claimed Shatner has a big ego. He also slammed his former co-star on Real Time with Bill Maher adding, " Candians have a certain image of being even-tempered and friendly and all that. Well, he is a person who is that way with himself. He is very self-centered."
Shatner delivered his fair share of blows over the years. He once flew into rage after not getting invited to Takei's wedding. "There's such a sickness there, it's so painfully obvious that there's a psychosis there. I don't know what his original thing about me was, I have no idea. I didn't read his book that was printed many years ago," Shatner dissed.
He took it a step further saying he is the target of Takei's misdirected anger. "There must be something else inside George that is festering, and it makes him so unhappy that he takes it out on me, in effect a total stranger," Shatner explained. "Why would he go out of his way to denigrate me? It's sad, I feel nothing but pity for him."
Maybe perhaps on their deathbeds will these two ever makeup instead of casually taking punches at each other through the media.
Diddy vs. Drake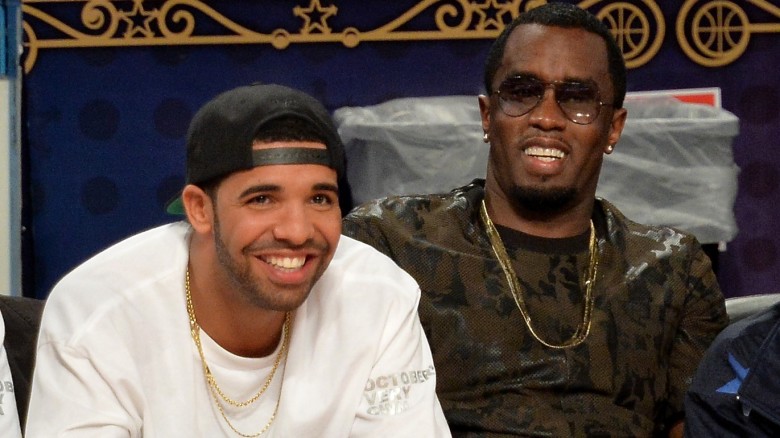 Getty Images
While Diddy and Drake are two of hip-hop's most influential artists, the once-friendly stars have had their ups and downs in the public eye. TMZ reports Diddy and Drake duked it out at DJ Khaled's birthday party in Miami back in December 2014 over the song "0 to 100/The Catch Up." As the story goes, both men were given the beats to a song but Diddy was taking too long to record a version. In a moment of impatience, Drake created his own version, using the same beats, and released it for the public. That didn't go over well with Diddy — especially after the song was nominated for two Grammys. So frustrated by the alleged disrespect, Diddy punched Drake adding, "You'll never disrespect me again." The scuffle landed Drake in the emergency room with a injured shoulder.
Almost a year later, after the drama between the men had been simmering for months, Diddy addressed his beef on New York City's Breakfast Club radio show. According to Complex, Diddy says he sent the song to Drake to ghostwrite — essentially claiming the chaos to be a complete misunderstanding. "Yeah, '0-100' was initially a record that was my record and somehow it became a misunderstanding because he was working with the same producers," Diddy said. "Honestly, Drake is my favorite rapper as far as songwriting and albums... It wasn't anything that was that big of a deal at the end of the day." Also in that interview, Diddy denies hitting Drake at the night club.
TMZ also reported both Diddy and Drake squashed their drama with a simple phone call. To further sell there is no anger between the the men, Diddy accepted Drake's 2016 VMA for Best Hip-Hop Video on his behalf. Despite the public showing of unity, the internet isn't buying it. Prior to their rift, Diddy and Drake were regular buddies spotted at basketball games and other outings. After their rift, they were never seen near each other again. Perhaps the men are pretending to be nice to each other for their sake of their images.
Paris Hilton vs. Kim Kardashian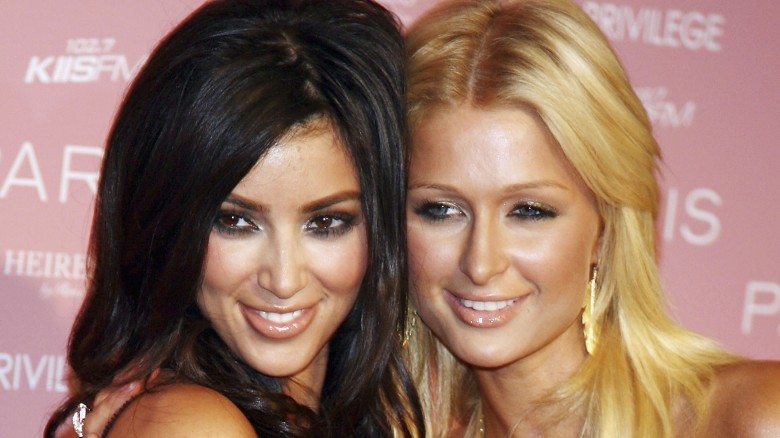 Getty Images
Jealousy is what caused this friendship to fall flat. Paris Hilton introduced the world to a young, bright-eyed Kim Kardashian back in 2005, reports TMZ. At the time, Kardashian was an unknown in Hollywood working as a stylist for Hilton and other rising reality stars.
In 2007, their friendship turned sour when Kardashian became more famous than Hilton after a sex tape starring her and Ray J stormed the internet. In the years that would follow, the former pals wouldn't be seen together but exchanged blunt blows through the media. Hilton nearly drew blood in 2008 telling the Morning Zoo Show (via Cosmopolitan) that her former BFF's backside is nasty. "I would not want [Kim's butt] — it's gross," Hilton explained. "It reminds me of cottage cheese inside a big trash bag."
For many years, Kardashian said they didn't speak with each other but gave no real explanation why. "As I always say, everyone comes into your life for a reason, a season, or a lifetime," Kardashian told Harper's Bazaar in 2011. "And she was in my life for a long time ... there comes a point in life where you just grow apart and you realize you're not as similar as you thought."
Hilton proved she's the queen of shade by telling the world who really made Kardashian famous. According to Us Weekly, Hilton liked an Instagram meme poking fun at Kanye West's "Famous" video. Only Hilton's face was super-imposed over Taylor Swift's mug while laying next to West and Kardashian and a caption reading "I made his b*tch 'famous.'"
As long as Kardashian is the center of attention, these two will never go back to being BFFs.
Demi Lovato vs. Taylor Swift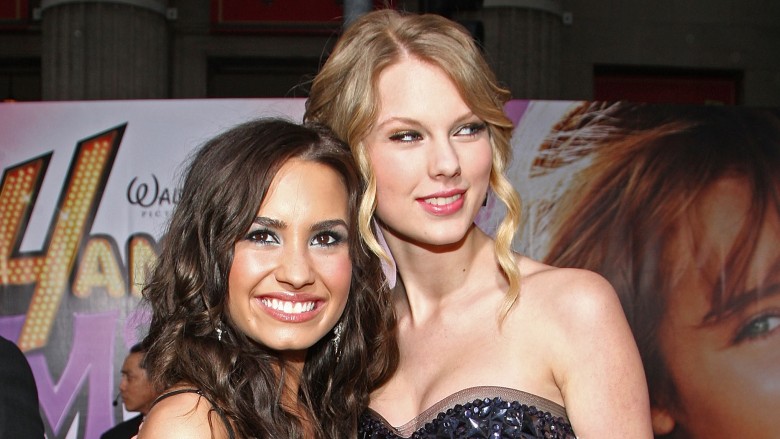 Getty Images
Sometimes superstars are not afraid to share their true thoughts — even if those comments cause mini fires across the internet. Demi Lovato is no different and in fact, she's willing to set the internet ablaze bashing Taylor Swift.
The young pop stars, who have posed for pictures next to each other, aren't the best of friends. In a 2016 Glamour magazine interview, Lovato slammed Swift's squad for its lack of diversity. "I think in certain situations, certain people could be doing more if they're going to claim that as part of their brand," she told the magazine (via E! News). "To be honest, and this will probably get me in trouble, I don't see anybody in any sort of squad that has a normal body. It's kind of this false image of what people should look like. And what they should be like, and it's not real."
Earlier that year, Lovato went on another rant, per E! News. This time the vocal power house slammed Swift for giving money to Kesha to fight her legal battles instead of spearing heading changes in law to protect women. As the story goes, Swift donated a whopping $250,000 to Kesha, which sent Lovato into rage. "Take something to Capital Hill or actually speak out about something and then I'll be impressed," she quipped on Twitter.
Their unsettling friendship, which could be considered pure hate for each other, gives new meaning to the term "bad blood."
The Wests vs. Taylor Swift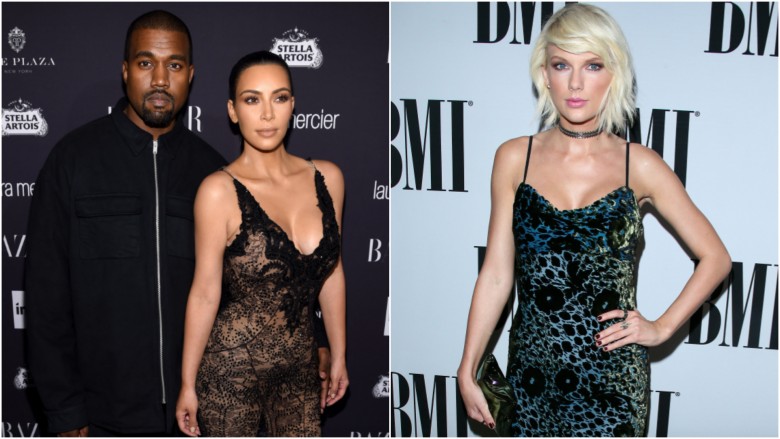 It took years, and dozens of flowers, for Kanye West and Taylor Swift to patch things up after he crashed her VMA acceptance speech in 2009. The tender friendship between the rapper and pop star was stronger than ever until West released his song "Famous" in February 2016. He raps "I feel like me and Taylor might still have sex / Why? I made that b*tch famous." Those lyric spread like wildfire prompting each side to lawyer up. West took to Twitter to announce he allegedly had Swift's "blessing" to use her name in that context.
Swift, of course, denied any such conversation. "Kanye did not call for approval, but to ask Taylor to release his single 'Famous' on her Twitter account," her rep said, according to Time. Fighting back in her own way, Swift took the stage at the Grammys weeks later to take a dig at West saying, "I want to say to all the young women out there — there are going to be people along the way who are going to try to undercut your success or take credit for your accomplishments or your fame." Fast forward to June 2016 and Kim Kardashian, West's wife, inserts herself into the drama by sharing footage of Swift giving consent to the lyrics. Almost immediately the hashtag #KimExposedTaylorParty began trending.
Swift releases a statement through Instagram attempting to clear her own name and dodge the labels of being a liar. "Where is the video of Kanye telling me he was going to call me 'that bitch' in his song?" she barked. "It doesn't exist because it never happened. You don't get to control someone's emotional response to being called 'that bitch' in front of the entire world." She also added, "I wanted us to have a friendly relationship..."
West and Swift are basically right back where they started in 2009 with pure hatred for each other.
Friend or foe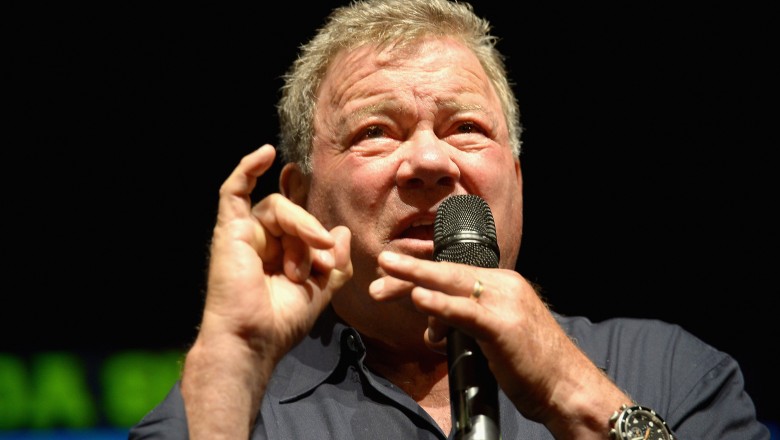 Getty Images
Looking into the future, it's unlikely any of these former celebrity BFFs or pals will ever repair their friendships. Some comments or actions just can't be forgiven. And if they ever are, they'll never be forgotten. Let's hope their deep-seeded hatred for one another won't affect their professional lives, or worse, their personal well being.