Trevor Noah And Minka Kelly Have Sad News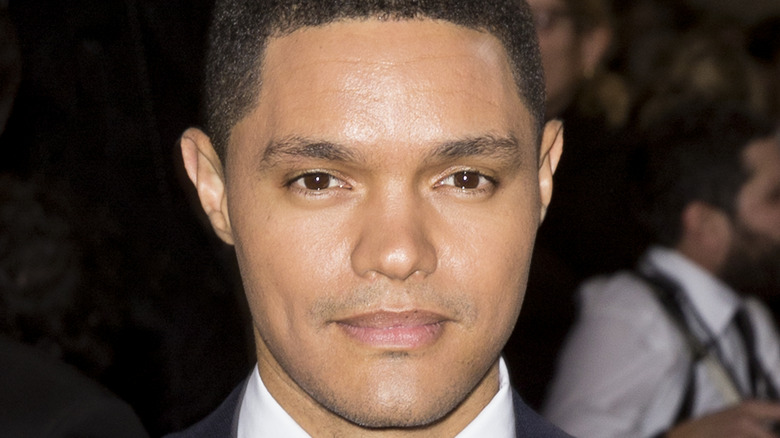 Shutterstock
He is the trendy, comedic socio-political commentator du jour and she is an in-demand Hollywood veteran. On paper and in real life, Trevor Noah and Minka Kelly seem like a natural match. In August 2020, a source confirmed to E! that the pair, after several months of dating, were "getting serious" and quarantining together at Noah's Manhattan apartment, from where he had been carrying on his "The Daily Show" hosting duties virtually. 
Things sure moved even faster in 2020 for the pair, with People reporting in December that Noah and Kelly had hiked their relationship up one notch with Noah dropping $27 million on a Los Angeles home together. "They're making plans for a future together, and it's a very stable relationship," People's source shared. "They've been spending time between coasts over the last year and had been looking for a place in L.A. as a couple." The home, boasting six bedrooms and 11,000 square feet of space, would certainly afford enough room for a future Noah-Kelly brood. 
Moreover, Page Six reported in February 2021 that Kelly and Noah were spotted spending his 37th birthday together, with Kelly seen exiting a Californian Party City, mask-on-face, with a handful of balloons that would make Pennywise the Clown proud. The pair was later seen that night diving into In-N-Out Burger takeout in Noah's car — what a cute, low-key birthday date! 
Unfortunately, it was also People which got the first scoop on some unfortunate news for the couple.
Could cohabitating have split up Trevor Noah and Minka Kelly?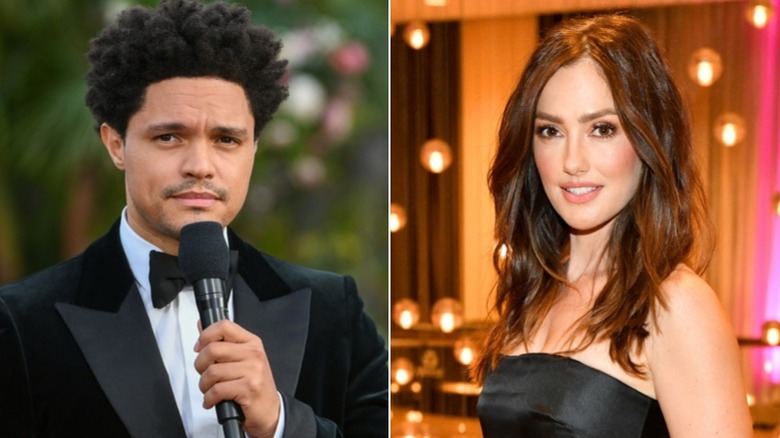 Kevin Winter, Craig Barritt/Getty Images
Grab your tissues — the couple with the matching brown doe eyes, Trevor Noah and Minka Kelly have called it quits, People reported on May 16. Although the private couple had never confirmed their relationship themselves, TMZ shared the first paparazzi shots of the pair together carrying luggage (and Kelly's dog) into Noah's apartment building in September 2020. That certainly sounds as couple-y as it gets!
Kelly revealed her Zen attitude toward personal relationships being outed in the media. "It's a small price to pay for the extraordinary life that I live," she said during a 2016 Power 106 interview (via E!). The "Friday Night Lights" alum's gracious approach to tabloid rumors are refreshing words to live by. "Look, if it's true and it's out, then it's true and it's out," Kelly quipped. "When it's not true and it's out, it's really frustrating. You just have to find the comedy in all of it."
Perhaps tellingly, Noah told "The Howard Stern Show" in 2019 that he was dubious about marriage and even more dubious about cohabitating with his partner. Largely, his hesitation at the time was due to most relationships' lack of honesty from the start. "You should let the person love you — or hate you! — for who you are. Not for who you portray yourself to be," Noah observed. 
But, so far, both Noah and Kelly seem to be soaking up the single life — and the sun — as they dashed off for some R&R with friends.
Trevor Noah and Minka Kelly have both been on vacation since the split
The actual reason for Trevor Noah and Minka Kelly's breakup hasn't been confirmed, but as People reported, the split comes after months of the pair living together. Now the two have gone their separate ways (literally) by taking different vacations.
Noah has been spotted with DJ Steve Aoki and nightclub owner Dave Grutman at various parties in Miami, where he recently received an award for philanthropy, per The Miami Herald. The host of "The Daily Show" gave a shout out to Grutman on Instagram, celebrating his trip and his COVID-19 jab: "We fight about politics, argue about social media and make peace over food. Thank you for another great weekend in Miami my friend," Noah wrote. "It was a great way to enjoy my vaccine!"
Kelly, on the other hand, recently visited Mexico with a group of friends. "When it feels good to feel good," she wrote under an Instagram picture of herself laughing below a palm tree. Another post showed the actor focusing on her wellness and self-care at Mexico's Copa Del Sol: "woke up from a dream of a sound bath meditation at sunset in the copa," Kelly captioned alongside pictures of her meditating and practicing yoga.
So both stars have been staying busy since their breakup — possibly a lesson they learned from previous relationships. According to People, Kelly's last public split was with "Grey's Anatomy" star Jesse Williams. They decided to break up in January 2018, while Williams was divorcing ex-wife Aryn Drake-Lee.