This Was One Of Carrie Fisher's Huge Career Regrets
Shutterstock
Carrie Fisher's name is synonymous with Princess Leia and the "Star Wars" franchise as a whole. While she starred in the trilogy that revolutionized the movie industry, the actor had a tumultuous career filled with personal highs and lows. The daughter of singer Eddie Fisher and well-known actor Debbie Reynolds, the "Star Wars" icon had a love-hate relationship with Hollywood.
From a young age, Fisher saw "behind the curtain" of Hollywood, as she said during a December 2008 appearance on "Today." In addition to being exposed to the world of entertainment nearly all her life, the actor also lived with mental health issues, including bipolar disorder. She often used her acerbic wit to cope. "I make light of stuff," she said on the daytime show. "It's better to get funny fast, or it's just going to haunt you."
The "When Harry Met Sally" actor became an advocate for mental illness awareness later in life. "I now get awards all the time for being mentally ill," she wrote in her 2008 memoir "Wishful Drinking" (via Polygon). Unfortunately, Fisher developed a substance abuse issue as she struggled to cope with her bipolar disorder which went undiagnosed for decades.
Although she was a screen legend, Fisher had several moments of regret throughout her impressive career.
Carrie Fisher's off-screen romance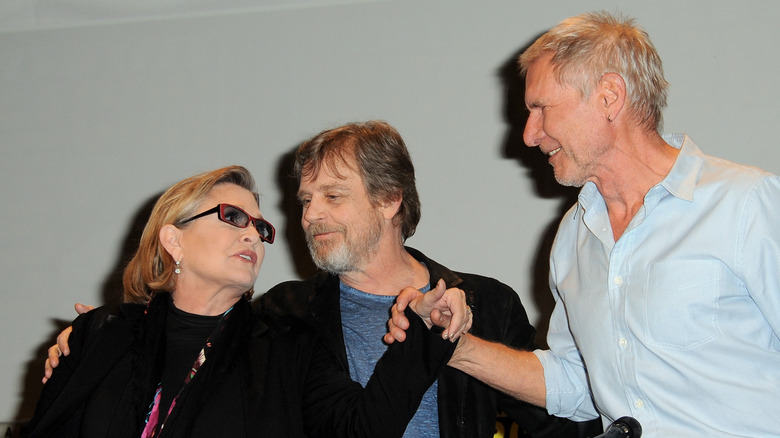 Albert L. Ortega/Getty Images
Not only did her role in "Star Wars: Episode IV – A New Hope" propel Carrie Fisher to stardom, but it led to an on-set romance with a famous co-star, Harrison Ford. There was a sizable age difference between the two, as Fisher was 19-years-old and Ford was 33-years-old at the time, and to complicate matters further, he was married. "It was so intense," Fisher told People in November 2016. "It was Han and Leia during the week, and Carrie and Harrison during the weekend."
That relationship spawned multiple regrets for the actor, as the secret tryst made her feel lonesome. "I had no friends, and I couldn't talk about [the affair with Ford] because he was married," she said on NPR's "Fresh Air" in November 2016 (via NPR). During that time, Fisher recorded her feelings and musings in a journal. Years later, in 2016, she published those journal entries in her memoir "The Princess Diarist." Prior to going public with the affair, Fisher allowed Ford to read the pages she had written about their relationship, but she never heard back from him.
Not only did Fisher regret the affair with her older co-star, but she later regretted taking the relationship public, as covered in the book "My Girls: A Lifetime With Carrie and Debbie," by her brother Todd Fisher, as per Vanity Fair. "You're right. I shouldn't have told that story," Fisher said to her mother, Debbie Reynolds, after the story gained traction.
Carrie Fisher saw dark side of fame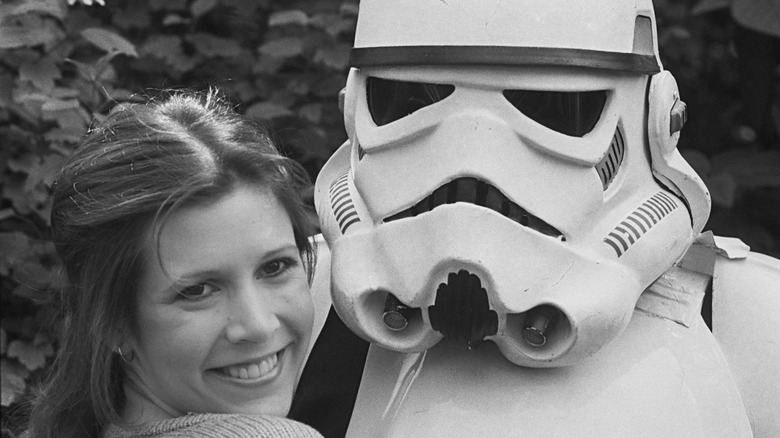 Chris Ball/Getty Images
Carrie Fisher's mother, Debbie Reynolds, had a profound effect on how she viewed Hollywood. "I'd seen my mother's career kind of diminish," she said on NPR's "All Things Considered" (via NPR) in November 2016. The actor said she knew from a young age that a career in Hollywood could be "heartbreaking," and she spoke about how fleeting fame was. "And they say really, really vicious things about you based in some sort of truth," Fisher added. "So it's painful. And eventually it's going to dump you."
Initially, Fisher was drawn to "Star Wars" because of George Lucas' ambition, but she had no clue it would become one of the most successful movies of all time. In fact, the actor said she would have turned the role down had she known it would be so successful. "I would never have done it," she said while appearing on "Today"  in December 2008. Although Princess Leia was a career-defining role, Fisher regretted taking it due to all the trappings of fame that were attached. "All I did when I was really famous was wait for it to end," she admitted.
Although Fisher had a tenuous relationship with stardom, she was still able to find a humorous take. In her memoir "Wishful Thinking," she joked about how stressful success can be. "There is no point at which you can say, 'Well, I'm successful now. I might as well take a nap,'" she wrote (via SyFy).