Vogue's Latest Photoshop Fail?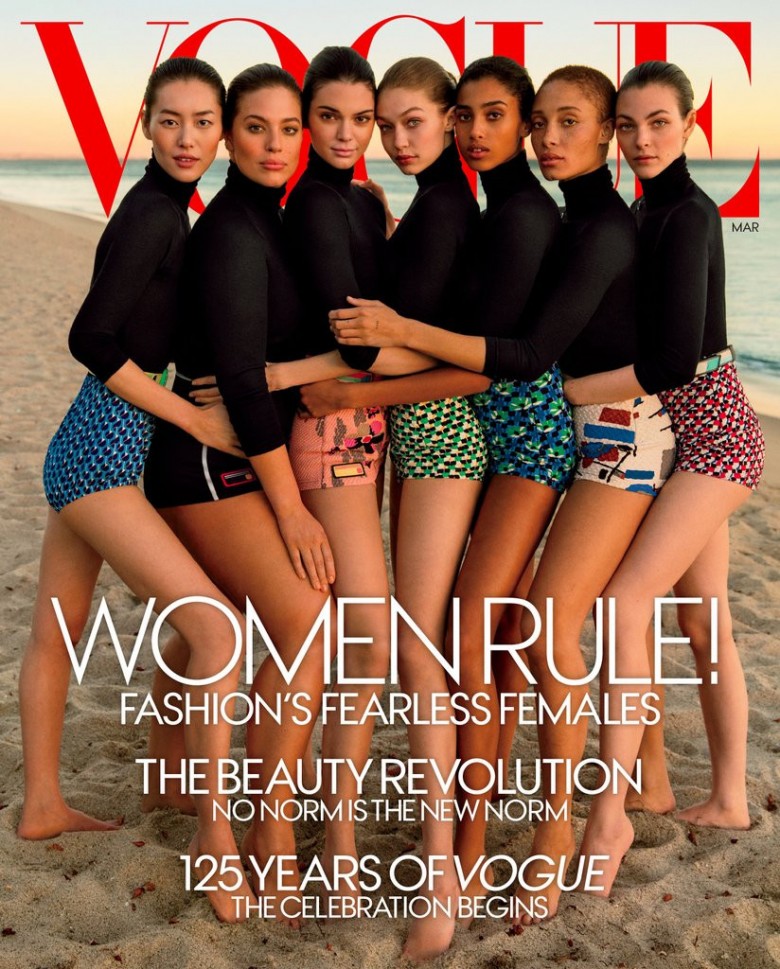 Does something look off to you about the cover of Vogue's March issue?
If you're thinking Gigi Hadid's arm looks unusually long, well, you're not alone. The fashion bible's latest cover features Hadid, along with power models Kendall Jenner, Ashley Graham, Adwoa Aboah, Liu Wen, Vittoria Ceretti, and Imaan Hammam, all donning matching black Prada turtlenecks and shorts. "With our March issue, Vogue celebrates modern American women," the magazine states on their Instagram page.
Despite the positive message, some are criticizing Vogue for the possible Photoshop error and—more alarming—attempting to downplay Graham's signature curves as she's the only model in the photo with her hand placed over her thigh. Graham attempted to put those rumors to rest by clarifying on Instagram (via People), "I chose to pose like that..no one told me to do anything."
Hadid hasn't commented on Vogue's latest firestorm, and this isn't the first controversy to follow the 21-year-old this week. She faced accusations of racism after her younger sister, fellow model Bella Hadid, posted a (since deleted) video on Instagram seemingly showing Gigi imitating Asian facial features. In the video, Gigi holds what appears to be a cookie of Buddha's face while at dinner and then squints her eyes and smiles to appear similar to the cookie.
As with the unfolding Vogue drama, the elder Hadid sister is keeping mum on these allegations too, but her boyfriend, former One Direction member Zayn Malik, is leaping to her defense via his Twitter page. Malik, who is half-Asian being of Pakistani descent, assured his followers, "trust me.. she likes asians
" [sic]
Hadid faced a similar online backlash last year after she impersonated Melania Trump while co-hosting the 2016 American Music Awards. She later apologized via her Twitter, stating, "I was honored to host the AMAs last night and to work with some of the most respected writers in the business. I removed or changed anything in the script that I felt took the joke too far, and whether or not you choose to see it, what remained was done in good humor and with no bad intent. I too have been the center of a nationally televised comedy skit that poked fun at my actions and was able to find the humor in it. I believe Melania understands show business and the way shows are written and run. I apologize to anyone that I offended and have only the best wishes for our country."