Who Is Elliott Gould's Ex-Wife, Jennifer Bogart?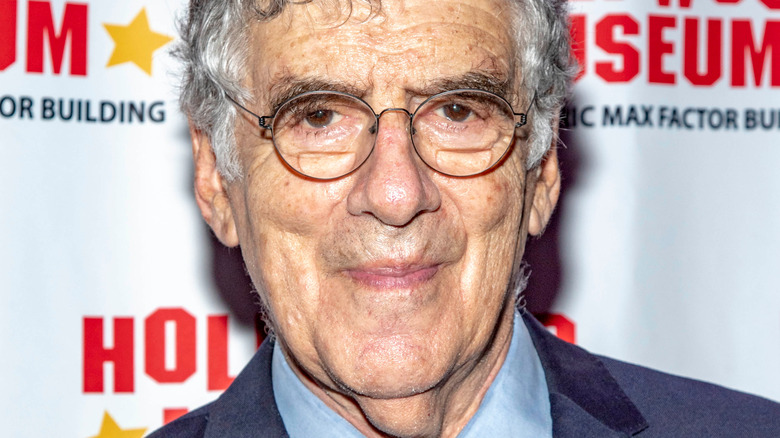 Shutterstock
Elliott Gould has had an impressive career that's spanned decades and included major hits. Gould's first acting credit spans all the way back to 1964 for the TV movie called "Once Upon a Mattress," where he played the character Jester, per his IMDb page.
While this movie might not be a familiar title, Gould has starred in some huge hits, like the TV series "E/R" and "Friends," where he played Monica and Ross Geller's dad, Jack Geller. He was famously in the beloved casino-heist franchise, "Ocean's Eleven," "Ocean's Twelve," and "Ocean's Thirteen," in which he played Reuben Tishkoff. It'll come as no surprise that Gould has a healthy net worth!
While Gould has had an impressive career, he's also had an eventful private life. Perhaps most amazingly, Gould was married to Barbra Streisand from 1963 to 1971, per People. They have a son together, Jason Gould. In an interview with CBS Sunday Morning in October 2020, Gould said that Streisand called him to ask why their marriage had fallen apart. He said the two of them "didn't grow together," via People. "We made it very fast and nobody has what we have," Gould recalled saying to Streisand at the time. But although things didn't work out with Streisand, it wasn't Gould's or Streisand's only marriage. She went on to marry James Brolin. Meanwhile, Gould married again — two times, in fact, to the same woman. Keep reading to find out more about Elliott Gould's marriages.
Elliott Gould married Jennifer Bogart twice
Following his split from Barbra Streisand, Elliott Gould got together with Jennifer Bogart. They met in 1969, according to The Independent, while Gould was separated from Streisand. Bogart was 18 at the time, while Gould was 31.
The duo married in 1973, per People, then split in 1975 and married again in 1978. During this time, they welcomed two children, Samuel and Molly. Gould and Bogart ultimately divorced for good in 1989, and The Independent compared their marriage to a "rollercoaster." And while Gould and Bogart are divorced, the actor had good things to say about her. According to The Independent, Gould once said of Bogart: "Jenny is the best fighter I've ever met. She fights for everything, she fights for life."
Gould is the more famous of the two, but Bogart has her own history with Hollywood. According to her IMDb credits, she played the character Linda in the 1962 TV series "The Defenders" and was a writer on the 2000 TV movie "Frankie & Hazel." She and Gould have been divorced for decades, but they seem to be on good terms and happy in their own ways.